Peking University in Memory - International Alumni celebrate the 120th Anniversary
MAY . 17 2018
Peking University, May 14, 2018:
On May 2, 2018, Peking University in Memory — Peking University International Alumni Sharing Meeting was held in J. S. Lee Building, Langrun Garden. The sharing meeting chose time axis as a clue, illustrating foreign students' lives in Peking University since 1950s. Tian Gang, vice president of Peking University, Ksawery Burski, former Poland ambassador to China, Professor Kong Fanjun, chief editor of Peking University International Alumni Oral Histories, Leutner, Mechthild Maria Theresia , famous Sinologist in Germany and professor of Freie Universität Berlin, Jaime A. Florcruz, vice president of Peking University Alumni Association and other leaders, professors, and representatives of alumni organizations, attended the sharing meeting.
a photo of attendants

Peking University's history is permeated with the youth of students, while lives of PKUers are also permeated with those days in Peking University. Time flies, more than 90 thousand foreign students have grown in Peking University, making their own contribution to its history. However fast time flies, the friendship between Peking University and all the alumni is as precious as usual.

1950s' Peking University in Memory

Ksawery Burski, former Poland ambassador to China, came to Peking University in 1955. At that time, the university authority provided satisfactory learning conditions for foreign students. Apart from formal classes, counsellors also delivered continuation classes for them twice a week. In Peking University, Ksawery Burski not only learned Chinese well, but also developed special interest in Chinese culture, including Chinese stage plays, films and novels. After tasting all the styles of cooking, he fell in love with Sichuan cuisine and learned fish flavored pork slices, double cooked pork slices, Kung Pao Chicken and other Chinese dishes by himself, bringing Chinese culture back to his own hometown.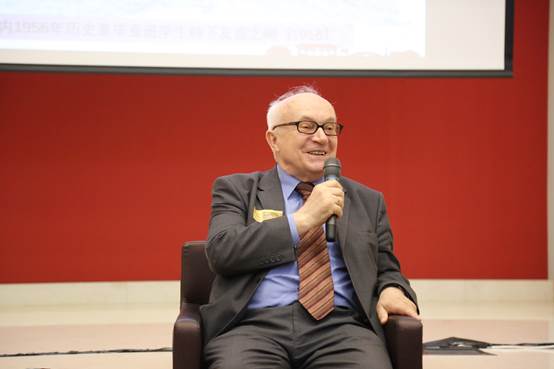 Ksawery Burski sharing his experience
1960s' and 1970s' Peking University in Memory
As the represent of 1960s' alumni, Tahir Elezi, former Albania ambassador to China, also mentioned the excellent counsellor's help to him, not only in courses, but also in language. He concluded his life in Peking University as a short period of time, but a deep memory in heart.


Leutner, Mechthild Maria Theresia, famous Sinologist in Germany, introduced her teachers and schoolmates with precious photos, which not only reflect the times spent in PKU, but also display their deep friendship. Leutner, Mechthild Maria Theresia's days in Peking University was during the period of learning industrial skills and farming affairs, which offered her opportunities to know about the history of factories and labor life in China. She still remembers clearly The Internationale chorused by workers crossing nationalities and colors of skins, which struck a chord in her heart.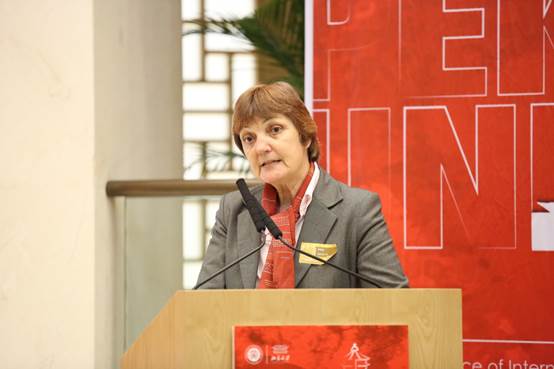 Leutner, Mechthild Maria Thersia sharing her experience
1980s' Peking University in Memory


As the represent of 1980s' alumni, Martin Cyriakus Claus described the differences between ages. In 1981, from his dormitory Shaoyuan, he could directly see West Mountain without any constructions as obstructions and that the Second Ring Road was yet to be built. Now, there stand high buildings, run countless cars, and spread subway lines. Beijing has changed rapidly.  
1990s' Peking University in Memory
Nai Chen Huang, president of Malaysia Alumni Association, said in 1990s, Peking University was already quite international and comprehensive. After graduation, Nai Chen Huang has devoted himself to the cultural communication between China and Malaysia. Thanks to the illumination provided by the time in Peking University, Nai Chen Huang established Peking University Southeast Asia Association, which not only offers teachers and students a platform to communicate, but also encourages Southeast Asia's development.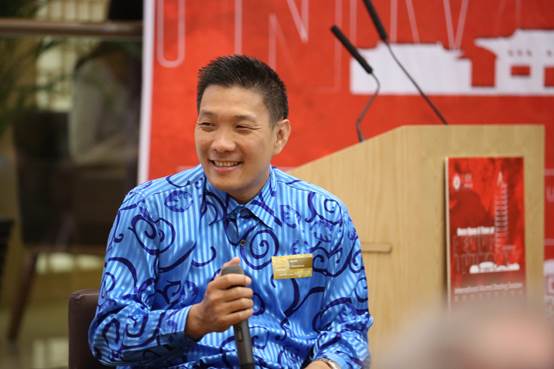 Nai Chen Huang Sharing his experience
At last, Professor Lu Jianming, former president of International Society for Chinese Language Teaching , made a conclusion with his 5 years' studying and 50 years' teaching experience in Peking University. He emphasized that Peking University was special for its unique humanistic spirit, independent personality, science and democracy, inclusiveness, and diligence, preciseness, confirmation, innovation as well. He pointed out that the concept of a community of common destiny was very appropriate and penetrating. Foreign alumni, the bridges connecting Peking University and the world, should shoulder their responsibilities. He himself will also make his own contribution to build a community of common destiny.
Source:
Office of International Relations (Chinese)