PKU Foreign Experts visits Beijing University of Chinese Medicine
MAY . 30 2018
Peking University, May 28, 2018:
On the afternoon of May 18, the Foreign Experts Club of the Office of International Relations held the "Appreciation of Chinese Medicine Culture" event and organized foreign experts from Peking University to visit the Museum of Chinese Medicine and Experience Hall of Beijing University of Chinese Medicine to experience the culture of Chinese medicine.


Foreign Experts first visited the Museum of Chinese Medicine of Beijing University of Chinese Medicine. A wide range of Chinese herbal medicine specimens greatly attracted their interest. Traditional Chinese medicine is an important component of traditional Chinese culture as well as a medical science system with unique theoretical style and rich experience in diagnosis and treatment gradually accumulated and continuously developed. The abundant collections of the Museum of Chinese Medicine gave foreign experts a vivid Chinese medicine class.
Visiting Chinese Medicine Museum
Then, foreign experts went to the Chinese Medicine Experience Hall and experienced Chinese medicine treatments such as massage, acupuncture, moxibustion, auriculotherapy, and cupping, diagnostic methods of inspection, olfaction, inquiry, and palpation, as well as Qigong, cosmetology and other health exercise. They also asked experienced Chinese medicine doctors about related issued and received valuable suggestions for rejuvenating mind and body. Through personal experience of Chinese medicine culture, they deeply felt the special effects of Chinese medicine therapy, admired the profoundness of Chinese medicine and expressed the hope that they would have more opportunities to learn Chinese traditional culture.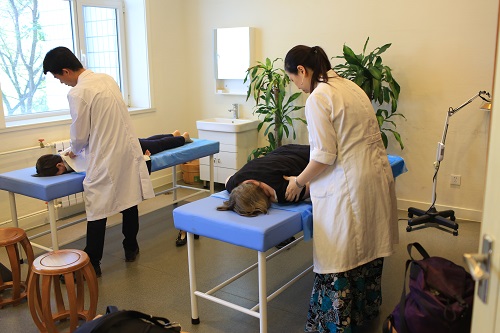 Experiencing Chinese medicine treatments
All the participants
Written by:
Ma Yaoli
Edited by:
Hu Rong
Source:
Office of International Relations (
Chinese
)