[2016 PKU Student of the Year] Ai Wen: an American youth, a Chinese expert
MAY . 31 2017
Peking University, May 31, 2017: "Hello everyone, I'm Ai Wen from the United States." Ai Wen, or Cody Abbey, introduced himself with fluent Chinese at the meeting of the first cohort of Yenching Scholars and deeply impressed his classmates. This American youngster who graduated from Princeton University has an affection for China and interest in Chinese education originating from the beginning of learning Chinese.

Smile to thee afore we come across; pledge my love to thee at our first meeting
In the following summer vacation after graduation from high school, Ai Wen spotted an enrollment advertisement saying that a federal funded public university is going to start a one-month Chinese class for for free. Before that moment, Ai Wen had seldom contacted with China; an eastern
country was the only vague impression he ever had of China. With some curiosity, he registered at this class and began his journey of learning Chinese.
Learning Chinese had never been easy. However his passion was growing because he found the language novel and interesting. As he studied further, he felt that a kind of mystical connection linking him to the country opposite the ocean was established. One day, he got a whimsical idea of wandering in the Chinatown to test his achievement in Chinese learning. He stood among a crowd of old people who were playing Chinese chess, with the expectation of chatting with them or at least catch the claimer "Jiang Jun" (Chinese "check"). However, to his great surprise, he could understand nothing but "Ni Hao" (Chinese "Hello"). At that time, he didn't know that the language the elderly spoken was actually the Cantonese, a dialect in the southernmost part of China, which can hardly be understood by most Chinese, not to mention a foreign newbie who had just started learning Chinese.
That month of learning Chinese passed quickly. Despite the fact that he could hardly communicate in daily life with Chinese, the seed of learning Chinese was sown in his heart. Since then, he took initiative in learning Chinese by himself from the Internet.

The first sight of you strikes me as if an old acquaintance has come home
After graduating from high school, Ai Wen participated in a public service project organized by the US government. For the first time, he came to China. He boarded at a family in Zhengzhou, Henan, and went to high school with a boy at about his age in that family.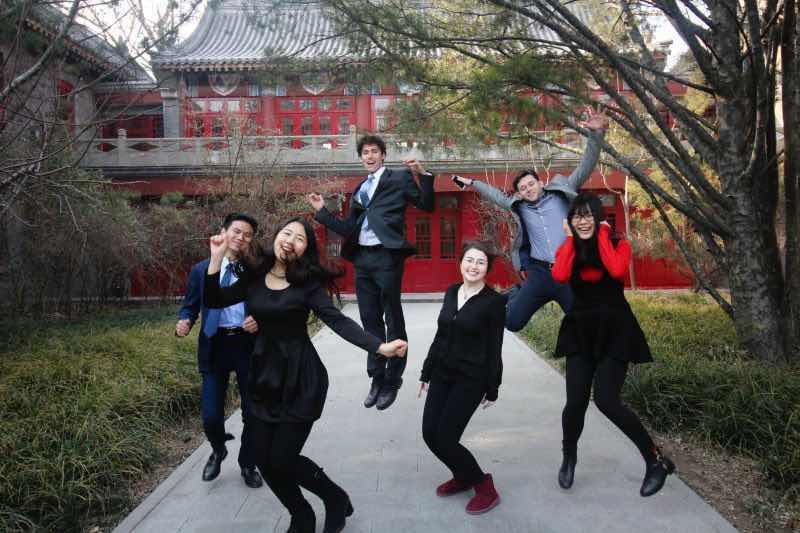 After entering Princeton, Ai Wen joined the Chinese drama club where he could contact with Chinese culture from many aspects. He performed in the drama "Rhinoceros in Love" and "had a Chinese-style romance". After the show, Ai Wen was very excited because he felt that he was no longer a cultural spectator. It seems that he stood on the real land of China and felt the breath of China.
With his enthusiasm for China, Ai Wen traveled to China several times during college. He went to Mianzhu, Sichuan and taught English to local middle school students. In the process of teaching, the local education inequality caught Ai Wen's attention. Back to Princeton, Ai Wen wrote his undergraduate thesis "A Re-examination of Gaokao Reform: Assessing Acceptability across China's Urban-rural Divide", with his own perspective to China's education, college entrance examination and urban and rural gaps.
Chen Zhenxing, Ai Wen's friend and vice president of Yenching Academy Students' Union, said, "Ai Wen knows a lot about China, even some Internet slangs. He is an American with deep love for China."

Young we were schoolmates, at life's full prime
In 2015, Ai Wen became one of the first cohort of Yenching Scholars. With the enthusiasm for Chinese culture and education, Ai Wen began a series of attempts starting from scratch. "Lu Xun once said: The first person to eat crabs is very admirable. I found that in the past year, I have done things inadvertently and become such kind of people."
After entering Yenching Academy, Ai Wen took the lead in forming a graduate students' union, and was elected chairman of the first executive committee. He and his colleagues discussed and organized students' events and developed a deep friendship. In the eyes of Chen, Ai Wen has the cheerful character of the Americans. But he can also understand the thoughts of Chinese. He has the "Chinese style".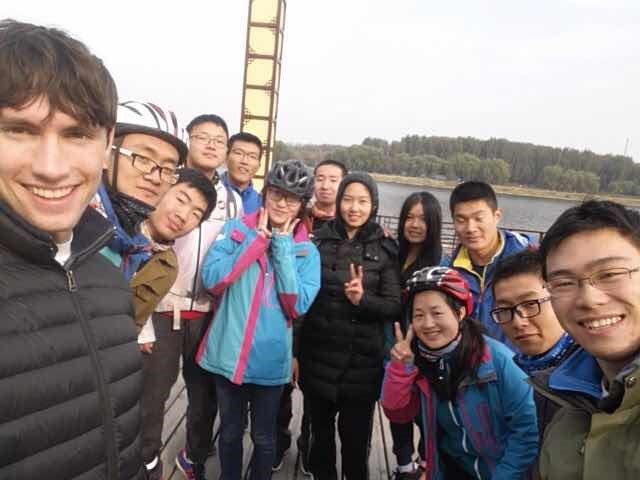 Although life at the Yenching Academy was busy, Ai Wen had never reduced his concern on Chinese education. He and his friends contacted the Office of Student Financial Aid at PKU to form an English news study group, creating an opportunity for undergraduates from poor areas to practice English. They held a group discussion every Friday to discuss the campus life or current affairs of the world. Ai Wen said this is not just an English training group, but a cross-cultural communication and sharing platform. And those group meetings have become his "exclusive memories" at PKU.
After the end of this semester, Ai Wen's study at PKU will come to an end. Talking about his future career, Ai Wen said maybe he would find a job in China and hopefully he can contribute to society. Ai Wen has a Chinese language teaching certificate. He may teach Chinese, or engage in the cause of education, or learn some new skills, as he has learned Chinese. No matter what career he chooses, he will always keep a place in his heart for China.