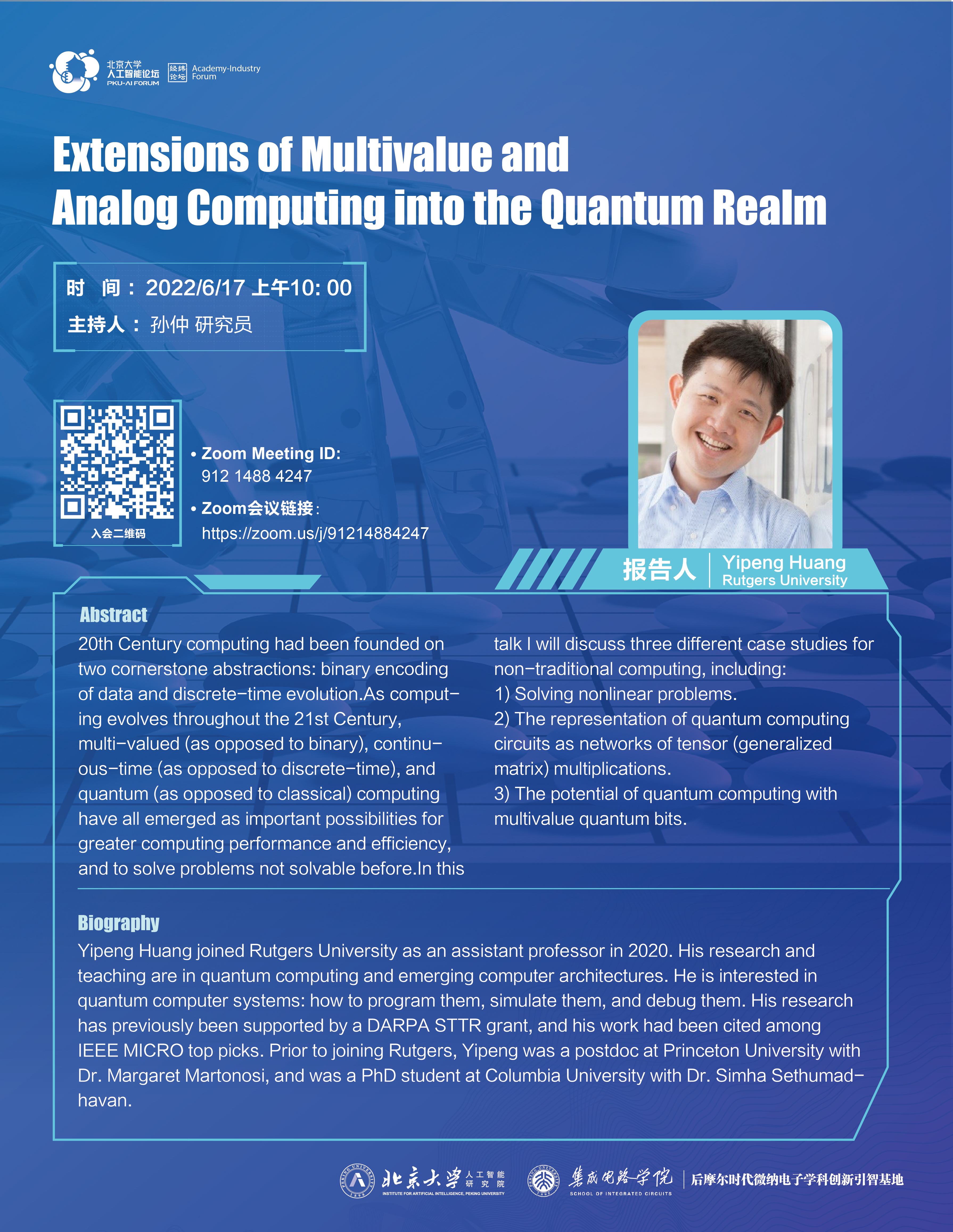 Speaker:
Yipeng Huang,Rutgers University
Host:
Zhong Sun, Institute for Artificial Intelligence, Peking University
Time:
10:00 am, June 17, 2022, GMT+8
Venue:
Zoom Meeting ID: 912 1488 4247
Abstract:
20th Centurycomputing had been founded on two cornerstone abstractions: binary encoding of data and discrete-time evolution. As computing evolves throughout the 21st Century, multi - valued (as opposed to binary), continuous time (as opposed to discrete - time), and quantum (as opposed to classical) computing have all emerged as important possibilities for greater computing performance and efficiency, and to solve problems not solvable before. In this talk I will discuss three different case studies for non-traditional computing, including: 1) Solvingnonlinear problems. 2) Therepresentation of quantum computing circuits as networks of tensor (generalizedmatrix) multiplications. 3) The potentialof quantum computing with multivalue quantum bits.
Biography:
Yipeng Huang joined Rutgers University as an assistant professor in 2020. His research and teaching are in quantum computing and emerging computer architectures. He is interested in quantum computer systems: how to program them, simulate them, and debug them. His research has previously been supported by a DARPA STTR grant, and his work had been cited among IEEE MICRO top picks. Prior to joining Rutgers, Yipeng was a postdoc at Princeton University with Dr. Margaret Martonosi, and was a phD student at Columbia University with Dr. Simha Sethumadhavan.
Source:
Institute for Artificial Intelligence