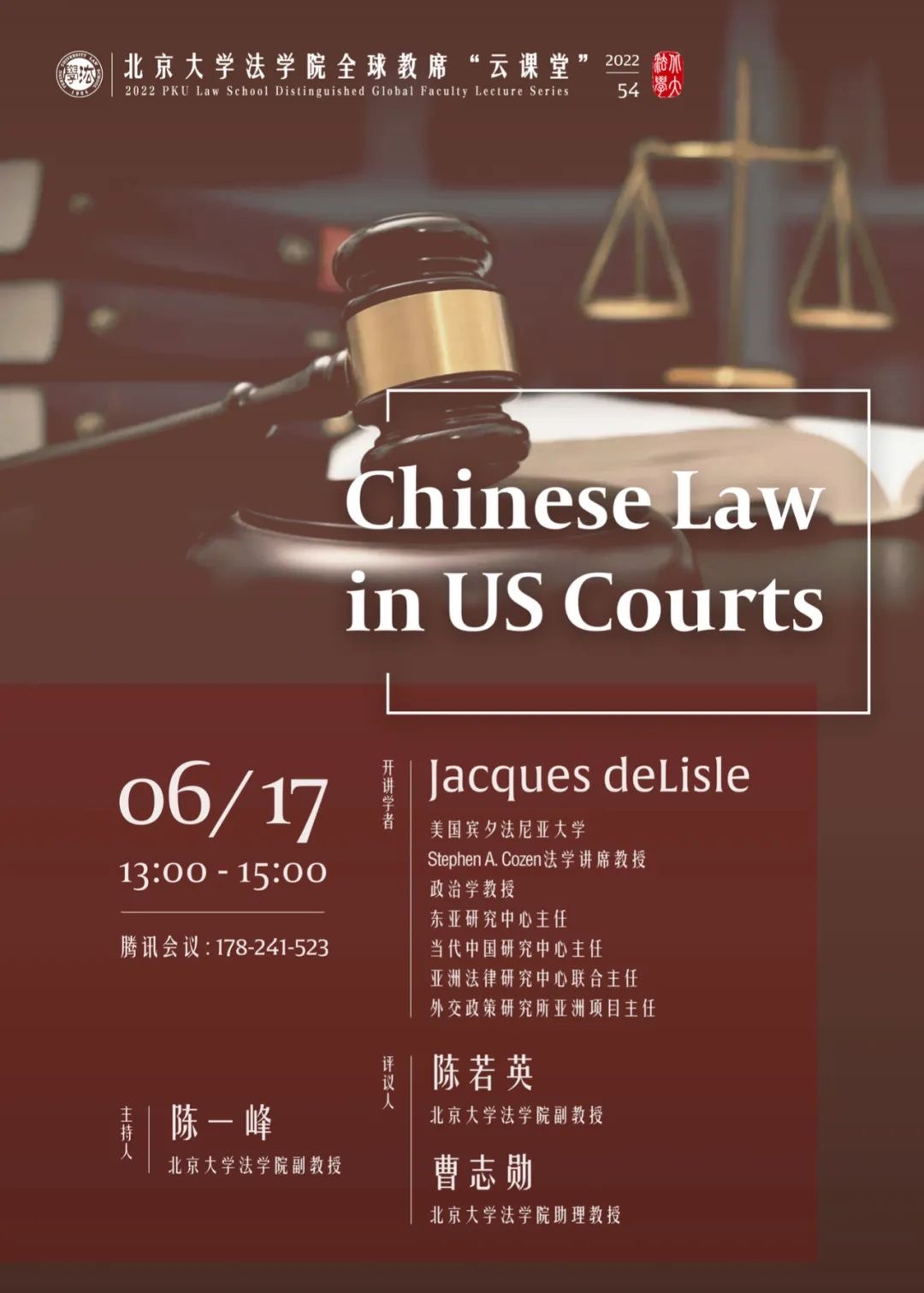 Speaker: Jacques deLisle, Law School of the University of Pennsylvania
Host: Chen Yifeng, PKU Law School
Commentators:
Chen Ruoying, PKU Law School
Cao Zhixun, PKU Law School
Time: 13:00-15:00, June 17, 2022, GMT+8
Venue: Tecent Meeting ID: 178 241 523
Biography
Jacques deLisle is the Stephen A. Cozen Professor of Law, professor of political science, director of the Center for East Asian Studies, director of the Center for the Study of Contemporary China, co-director of the Center for Asian Law at the University of Pennsylvania, and director of the Asia Program at the Foreign Policy Research Institute. His writing, which has appeared in Journal of Contemporary China, Orbis, Asia Policy, and other foreign affairs and areas studies journals, law reviews, edited volumes of interdisciplinary scholarship, and other media, focuses on China's engagement with the international legal and political orders, domestic legal reform and rule-of-law issues in China, and U.S.-China relations. He is co-editor of To Get Rich Is Glorious, China's Global Engagement, New Media, the Internet and a Changing China, and China's Challenges. He frequently serves as an expert witness on Chinese law, and has been a consultant to U.S. government, Chinese, and international NGO projects relating to law and legal reform in China. He was a law clerk to then-Judge Stephen Breyer, and an attorney-adviser in the Office of Legal Counsel, U.S. Department of Justice.