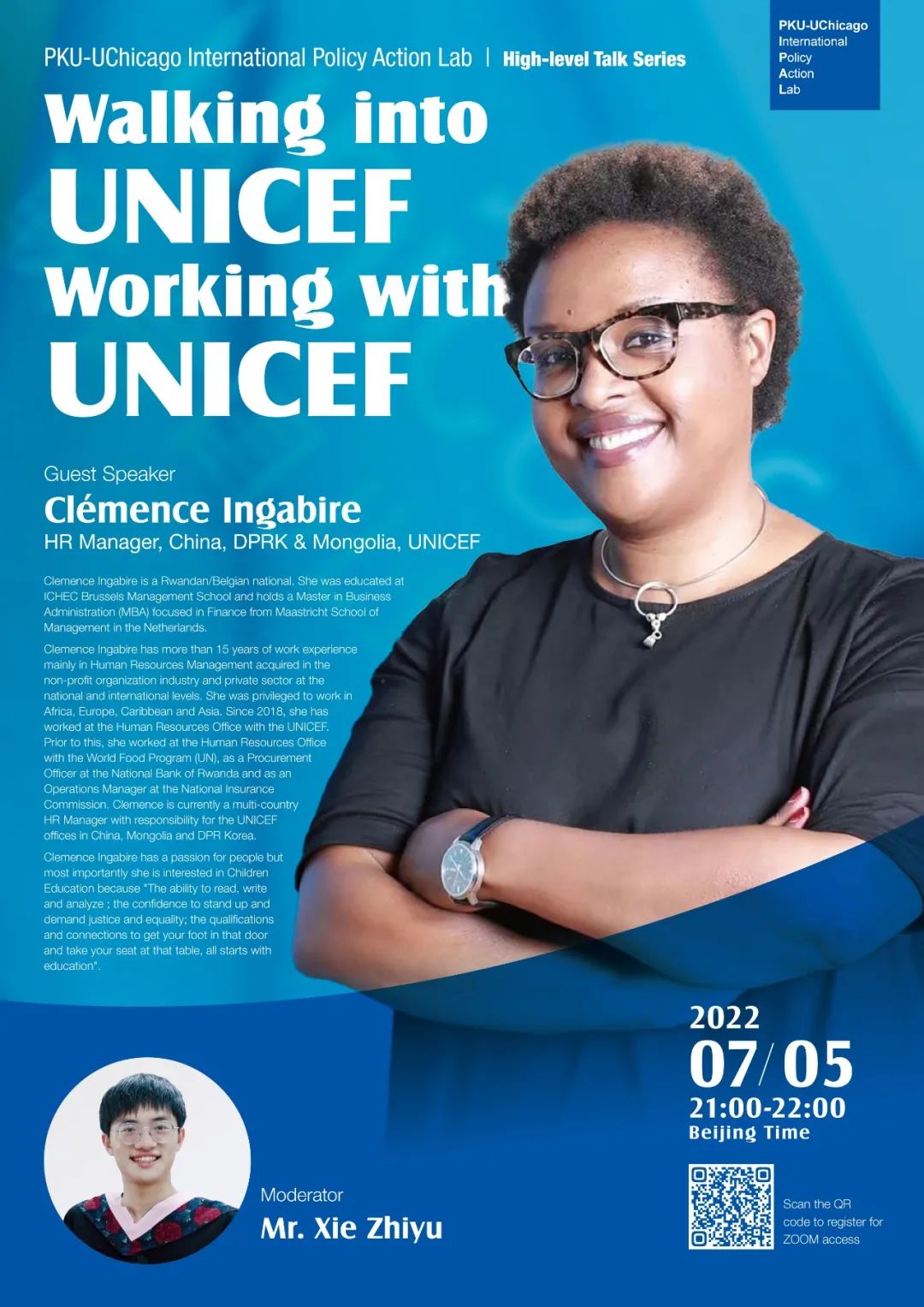 Guest Speaker:
Clemence lngabire, HR Manager, China, DPRK & Mongolia, UNICEF
Moderator:
Mr. Xie Zhiyu
Time:
21:00-22:00 pm, July 5, 2022, GMT+8
Venue:
Scan the QR code to register for ZOOM access
Biography:
Clemence lngabire is a Rwandan Belgian national. She was educated at ICHEC Brussels Management School and holds a Master in Business Administration(MBA)focused in Finance from Maastricht School of Management in the Netherlands.
Clemence Ingabire has more than 15 years of work experience mainly in Human Resources Management acquired in the non profit organization industry and prlvate sector at the national and international levels. She was privileged to work in Africa, Europe, Caribbean and Asia. ince 2018, she has worked at the Human Resources Office with the UNICEF. Prior to this, she worked at the Human Resources Office with the World Food Program (UNj as a Procurement Officer at the National Bank of Rwanda and as an Operations Manager at the National lnsurance Commlssion. Clemence is currently a multi-country HR Manager with responsibility for the UNICEF offices in China, Mongolia and DPR Korea.
Clemence lngabire has a passion for people but most importantly she is interested in Children Education because "the ablllty to read, write and analyze; the confidence to stand up and demand justice and equality; the qualificatlons
and connections to get your foot in that door and take your seat at that table,all starts with education".
Source:
PKU_world