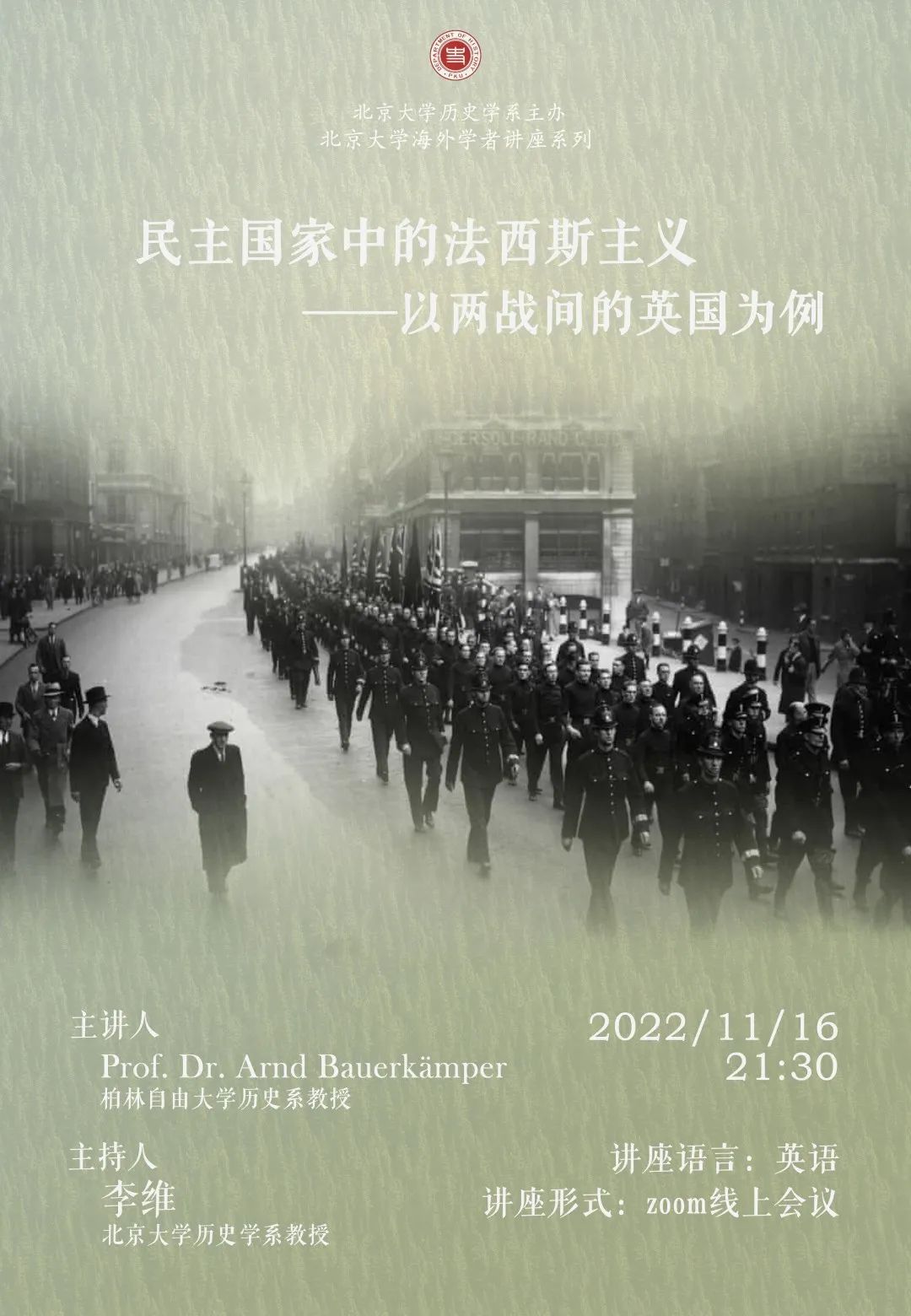 Speaker:
Prof. Dr. Arnd Bauerkämper, Professor of History, Free University of Berlin
Host:
Prof. Li Wei, Peking University
Time:
21:30 pm, November 16 (Wednesday), 2022, GMT+8
Language:
English
Venue:
Zoom Meeting
Due to the need to maintain the order of online lectures, we will limit the number of participants. Please send your name, school, major and other information to liuting_pku@163.com before 12:00 am on November 16th. After the application is approved, we will send the meeting link to your email.
Abstract:
In October 1932, former Conservative and Labour politician Oswald Mosley founded the British Fascist Coalition, which shocked many political commentators. However, the turmoil of the 1926 general strike had shown that even democracies were vulnerable to fascism. While the British Fascist Party is ultimately a fringe group, Home Secretary William Joyson Hicks has indicated he was ready to accept their offer to maintain "order" and suppress the workers' movement. Likewise, radical conservatives are poised to ally, at least partially and temporarily, with the British Fascist Alliance. Influenced by their anti-communism and sympathy for Nazi Germany, they called the British Fascist Alliance a new and promising political force in 1933-34 and a harbinger of peace in 1938-39. This serious domestic threat to democracy was not eliminated until the summer of 1940, when many fascists were imprisoned. But at the same time, imprisoning members of fascist groups without due process violates democratic freedoms.
Biography:
Arnd Bauerkämper, professor of history at the Free University of Berlin, member of the Friedrich Meineck Institute for History, visiting professor at the Institute of German History and London School of Economics. His main research areas are the European fascist problem, the social history of the Federal Republic of Germany, etc.
Source:
Department of History