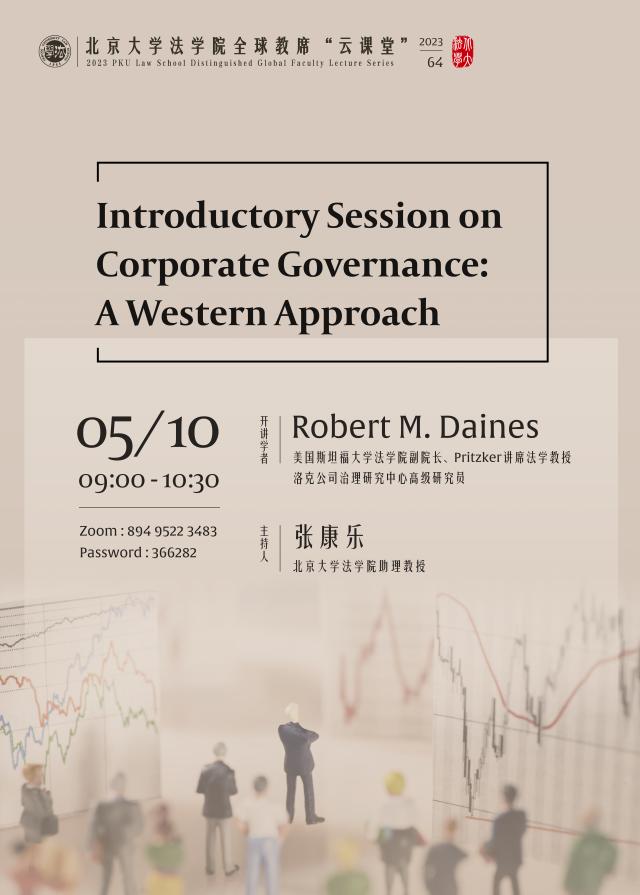 Speaker:
Robert M. Daines
Time:
9:00-10:30 p.m., May 10, 2023, GMT+8
Venue:
Zoom Meeting ID: 894 9522 3483 Passcode: 366282
Abstract:
We will focus on the legal rules and corporate governance norms that constrain and should shape the actions of a Board of Directors. We will start with the general aims of corporate governance and the primary legal duties of officers and directors. These legal duties are easy to state -- directors must act in the best interest of the firm, work hard and tell the truth. Though these rules are easy to state, they are often hard to apply. So we will spend most of our time working through examples of how these duties play out in specific settings.
Biography:
Robert M. Daines is the Pritzker Professor of Law and Business, Associate Dean, and Senior Faculty for the Rock Center on Corporate Governance at Stanford. He is also Professor of Finance (by courtesy) at the Stanford Graduate School of Business. His research focuses on the intersection between law and finance, including CEO pay, corporate governance, mergers and acquisitions, mandatory disclosure regulations, IPOs, shareholder voting and takeover defenses. Professor Daines' work has appeared in such top publications as the Journal of Financial Economics, the Journal of Financial and Quantitative Analysis, the Journal of Law, Economics and Organization and The Yale Law Journal. His research has also been covered by The Economist, The New York Times, The Wall Street Journal, Financial Times, Forbes, Fortune and other media. Before entering academia, he was an investment banker at Goldman Sachs, where he advised firms on bank and bond financings. He clerked for Judge Ralph K. Winter of the U.S. Court of Appeals for the Second Circuit. Prof. Daines was awarded the 2012 John Bingham Hurlbut Award for Excellence in Teaching.
Source:
Peking University Law School