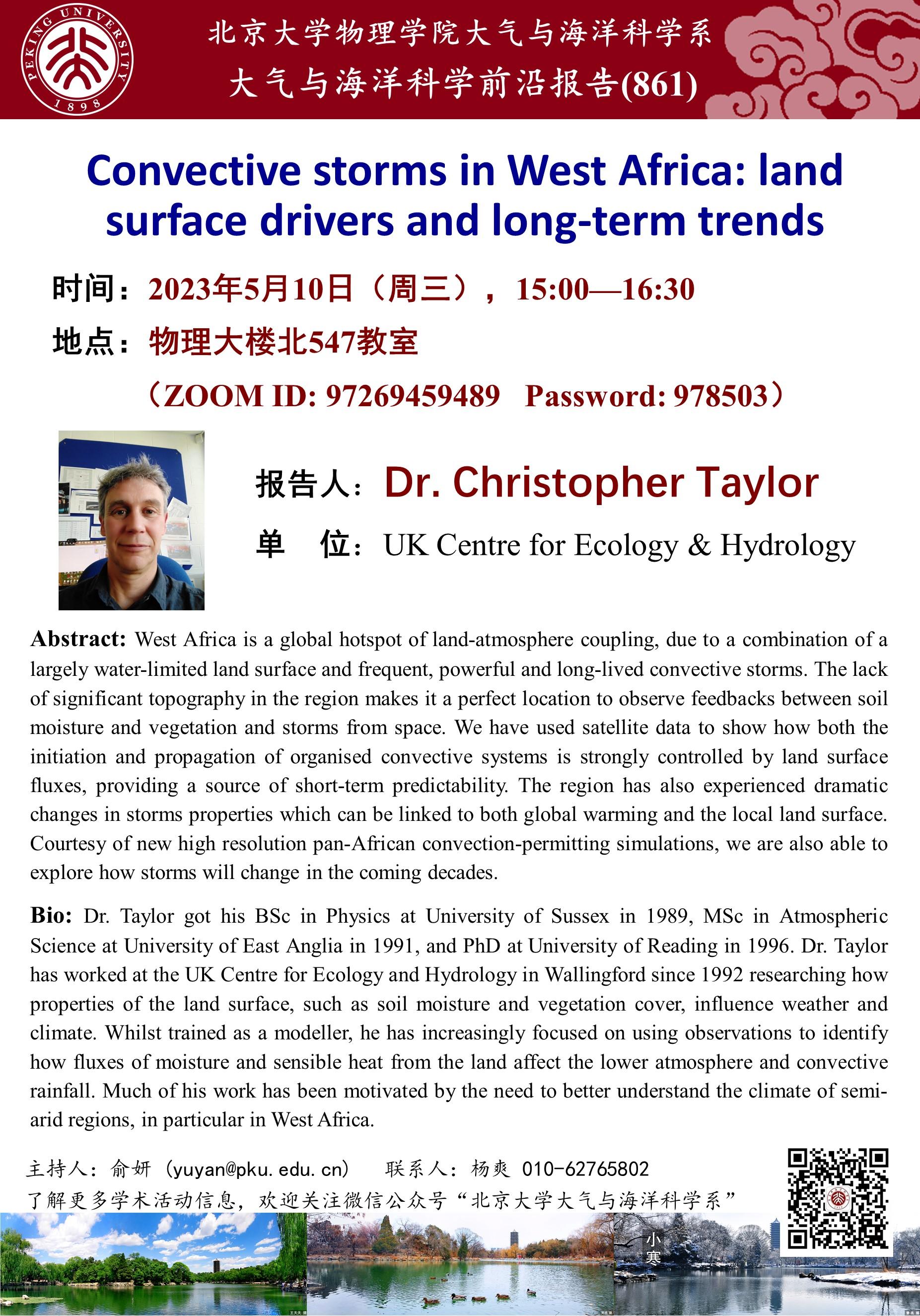 Speaker:
Dr.Christopher Taylor, UK Centre for Ecology & Hydrology
Time:
15:00-16:30 p.m., May 10, 2023, GMT+8
Venue:
Zoom Meeting ID: 97269459489 Password: 978503
Abstract:
West Africa is a global hotspot of land-atmosphere coupling, due to a combination of alargely water-limited land surface and frequent, powerful and long-lived convective storms. The lackof significant topography in the region makes it a perfect location to observe feedbacks between soilmoisture and vegetation and storms from space. We have used satellite data to show how both theinitiation and propagation of organised convective systems is strongly controlled by land surfacefluxes, providing a source of short-term predictability. The region has also experienced dramaticchanges in storms properties which can be linked to both global warming and the local land surfaceCourtesy of new high resolution pan-African convection-permitting simulations. we are also able texplore how storms will change in the coming decades.
Biography:
Dr. Taylor got his BSc in Physics at University of Sussex in 1989, MSc in AtmosphericScience at University of East Anglia in 1991, and PhD at University of Reading in 1996. Dr. Taylorhas worked at the UK Centre for Ecology and Hydrology in Wallingford since 1992 researching howproperties of the land surface, such as soil moisture and vegetation cover, influence weather andclimate. Whilst trained as a modeller, he has increasingly focused on using obseryations to identifhow fluxes of moisture and sensible heat from the land affect the lower atmosphere and convectiverainfall. Much of his work has been motivated by the need to better understand the climate of semi-arid regions.in particular in West Africa.
Source:
School of Physics