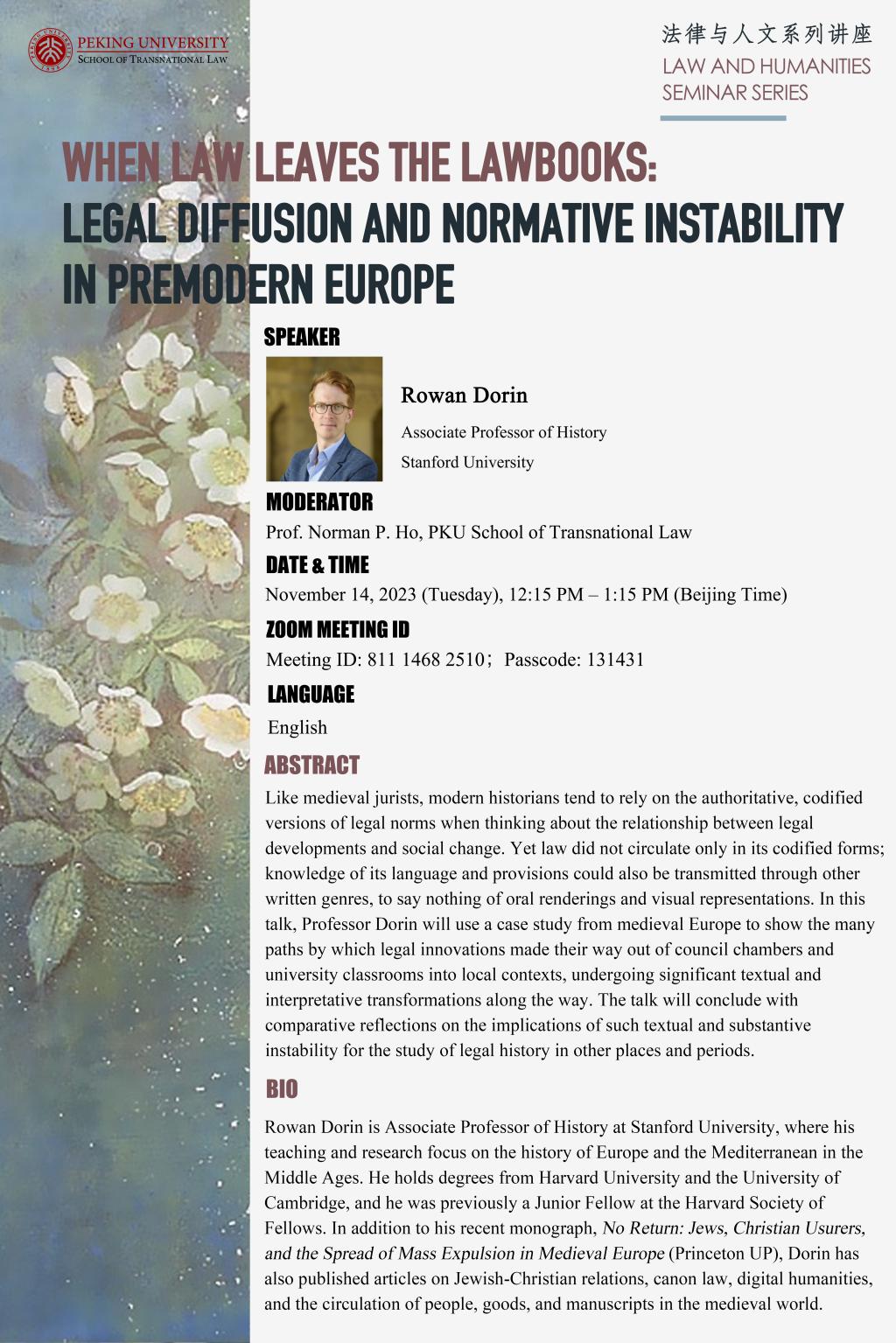 Speaker:
Rowan Dorin, Associate Professor of History, Stanford University
Moderator:
Prof. Norman P. Ho, Peking University School of Transnational Law
Time:
12:15-13:15 p.m., November 14, 2023, GMT+8
Venue:
Zoom Meeting ID: 811 1468 2510 (Passcode: 131431)
Abstract:
Like medieval jurists, modern historians tend to rely on the authoritative, codified versions of legal norms when thinking about the relationship between legal developments and social change. Yet law did not circulate only in its codified forms; knowledge of its language and provisions could also be transmitted through other written genres, to say nothing of oral renderings and visual representations. In this talk, Professor Dorin will use a case study from medieval Europe to show the many paths by which legal innovations made their way out of council chambers and university classrooms into local contexts, undergoing significant textual and interpretative transformations along the way. The talk will conclude with comparative reflections on the implications of such textual and substantive instability for the study of legal history in other places and periods.
Biography:
Rowan Dorin is Associate Professor of History at Stanford University, where his teaching and research focus on the history of Europe and the Mediterranean in the Middle Ages. He holds degrees from Harvard University and the University of Cambridge, and he was previously a Junior Fellow at the Harvard Society of Fellows. In addition to his recent monograph, No Return: Jews, Christian Usurers, and the Spread of Mass Expulsion in Medieval Europe (Princeton UP), Dorin has also published articles on Jewish-Christian relations, canon law, digital humanities, and the circulation of people, goods, and manuscripts in the medieval world.
Source:
School of Transnational Law