Peking University, January 20, 2022: A group of young people from Taiwan have visited the National Indoor Stadium in Beijing. The venue will host ice hockey competitions during the Olympics. CGTN's Cui Hui'ao has the story.
A rare opportunity to check out an Olympic venue. A group of 40 people from Taiwan paid a visit to the national indoor stadium. They are mostly graduate students at China's top universities Peking and Tsinghua. One of them is Chen Xinjie , a 35 year old studying English at Tsinghua University.
CHEN XINJIE Taiwan student at Tsinghua University "The structure, and also the preparation, everything. I can tell there are lots of preparation especially on the pandemic, the sanitizers, like special wires for the pandemic, and also different aisles for different people to go through."
And another student Zhou Boren, who studies journalism, is taking lots of videos of this venue.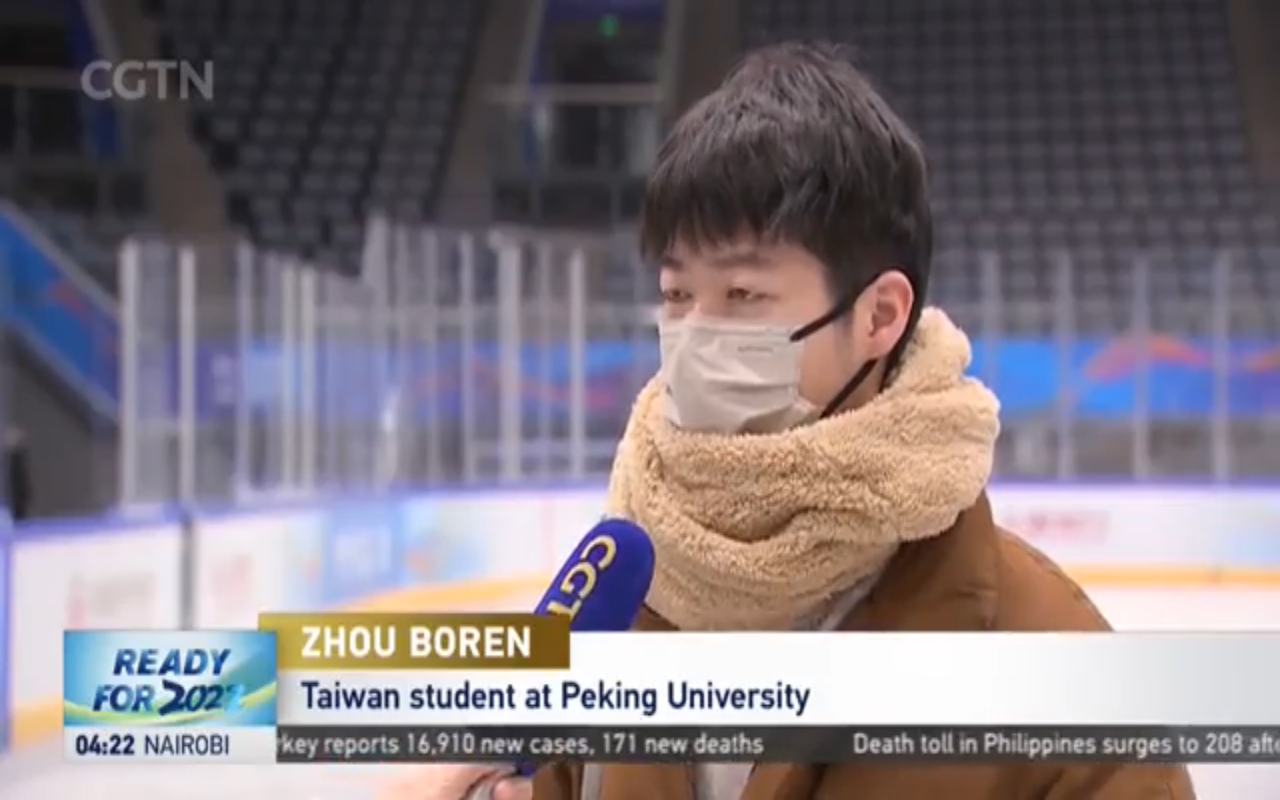 ZHOU BOREN Taiwan student at Peking University "Not everyone has the opportunity to be here. I am most impressed by the size of the stadium. It's very big, and I'm impressed by all the modern technology used here like the curved screen."
The students also checked out the locker rooms, which are specially designed for ice hockey players who need a lot of room for their gear.
CUI HUI'AO National Indoor Stadium, Beijing "This event comes just after the State Council's Taiwan Affairs Office recently said it welcomes people from Taiwan to be part of the Beijing Winter Olympics, and to share the excitement and joy."
CHEN YUN Director at Cross-Strait Exchange Center, State Council's Taiwan Affairs Office "We organized this event because Beijing 2022 is such a feast that our Taiwan compatriots want to feel the excitement first-hand. We hope they get a feel of the dazzling technology and the caring services for athletes and spectators."
Asked about what this exchange means for them, both Chen and Zhou said it helps deepen their understanding of the mainland.
ZHOU BOREN Taiwan student at Peking University "Because in Taiwan, you don't see a lot of changes say from ten years ago. But here, the economy is very strong and cities like Shanghai are going through very rapid changes."
CHEN XINJIE Taiwan student at Tsinghua University "Not only they held the summer Olympics but also Winter Olympics, which means it's influential. They have lots of resources and the ability to host the events."