Peking University, June 8, 2022: Chinese President Xi Jinping recently stressed the importance of furthering the study of Chinese civilization to enhance the historical awareness and cultural confidence of the Communist Party of China (CPC) and society.
Xi, also general secretary of the CPC Central Committee, made the remarks during a group study session of the Political Bureau of the CPC Central Committee on a national research program dedicated to tracing the origins of Chinese civilization.
The Global Times spoke with a number of Chinese scholars and experts, so they could break down the large-scale program and give readers a detailed and clear view of its accomplishments.
Can you imagine an intelligent robot with 360 degree flexible motion that is able to identify more than 10 types of burial remains? This type of tech-enabled support is making new stunning archaeological discoveries a possibility and leading Chinese archaeologists to say China is entering a golden era of archaeological discovery in which technology is an essential part.
Multidisciplinary trend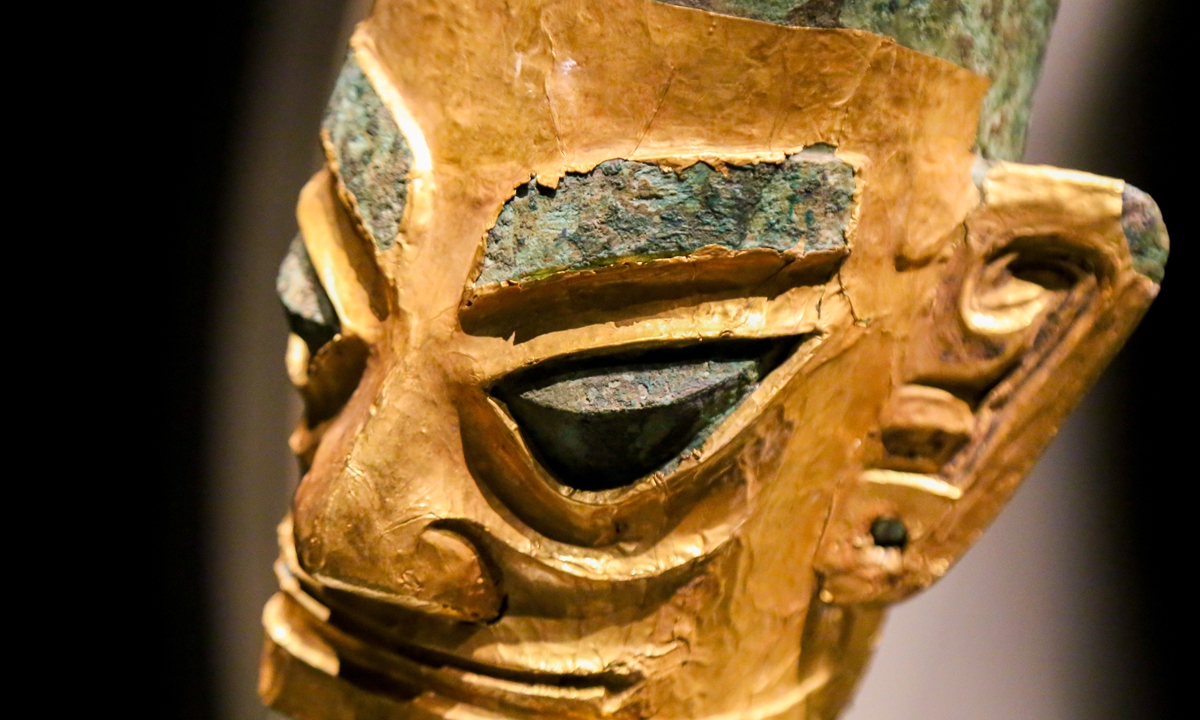 Replica of the Turquoise-inlaid Dragon-shaped Bronze Object at the Erlitou Relic Museum Photo: IC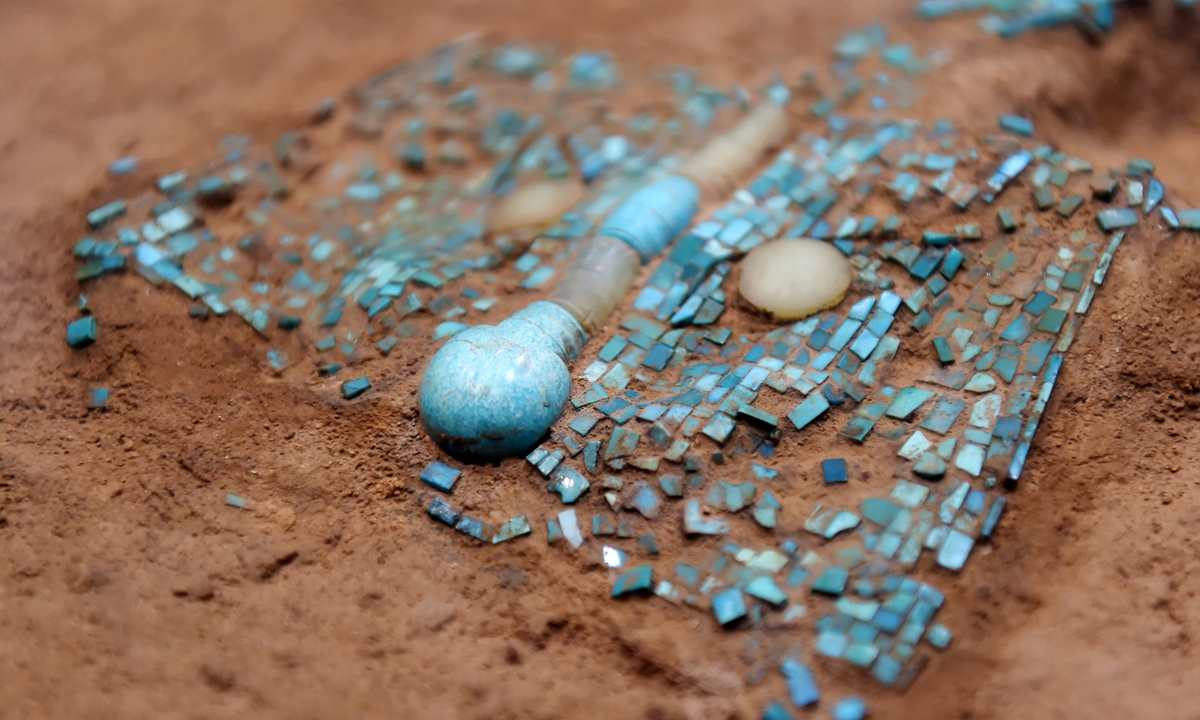 A gold mask from the Sanxingdui Ruins Photo: IC
Chen Xianglong, a research fellow at the Chinese Academy of Social Sciences' Institute of Archeology, told the Global Times that archaeological science and technology is a branch of archaeology. It mainly focuses on research concepts and methods in archaeology and seeks to solve problems using methods and techniques from the related disciplines of natural science.
He noted that since the launch of the national research program dedicated to tracing the origins of Chinese civilization, the ability to gather information and the reliability of archaeology in Chinese civilization research have greatly improved thanks to the increased use of natural science and technology in archaeology.
"In the new era of continuous improvement of China's overall scientific and technological strength, archaeological science and technology will continue to be enriched with the application and promotion of the latest technologies in frontier disciplines such as biology, molecular biology, chemistry, geology and physics," he said.
According to Chen, China's digital archaeology, especially the application of UAV ultra-low altitude photography and 3D reconstruction technology in archaeology, is leading the world. Other technologies such as testing of ancient DNA, residues and isotopes as well as the archaeological study of animals, plants, ceramics and jade have also produced very satisfying results.
"Radiocarbon dating by accelerator mass spectrometry (AMS) we use is in a leading position in the world in terms of both precision and accuracy," Wu Xiaohong, a professor at the School of Archaeology and Museology of Peking University, told the Global Times.
She added that the technology has provided an absolute chronology measurement scale for major scientific research projects such as the Xia, Shang and Zhou dynasties (c.2070BC-256BC) project and the Chinese civilization origins exploration project.
"Archaeology has always been interdisciplinary," Jia Xiaobing, a research fellow at the Chinese Academy of Social Sciences' Institute of Archeology, told the Global Times.
China's 14th Five-Year Plan (2021-25) clearly states that it is a priority to "promote the innovation and upgrading of both the precision and accuracy of science and technology... and comprehensively enhance the ability of multi-disciplinary collaborative solutions by actively cultivating cutting-edge interdisciplinary disciplines, while supporting the branches of archaeology, geological archaeology, animal archaeology, plant archaeology and so on."
Providing support
Chinese archaeologists say tech-enabled archaeology has provided key scientific support for research into China's more than 5,000-year-long civilization and has enhanced the credibility of historical research into the development China's diverse and integrated civilization.
Wu said in the study of the Liangzhu Culture, archaeologists took the lead in proposing and systematically researching the culture's ability to make use of local water resources, such as the use of complicated flood control systems in major Liangzhu urban clusters. Archaeologists were also able to narrow down the age of the Liangzhu City Ruins discovered in the Yangtze River Basin to around 4,300 to 5,300 years ago through radiocarbon dating by AMS.
According to Chen, though multidisciplinary research spanning environmental, human bone, metallurgical and other archaeological disciplines, archaeologists concluded that the Erlitou site located along the banks of the Luohe River south of Erlitou village in Henan Province belonged to the Xia Dynasty (C.2070-C.1600BC), China's earliest dynasty.
Although China's archaeological science and technology has made some great leaps, experts say there is still room for improvement.
As Chinese archaeology enters its second 100 years of development, Chen pointed out that the development of the discipline should be planned as a whole to promote the cross-integration and collaborative innovation of archaeology and natural science.
Meanwhile, they should actively invite more professionals in cutting-edge disciplines such as biology, chemistry and physics to partake in archaeology to cultivate more interdisciplinary elites.