Peking University, June 16, 2022: Health experts in China have called for long-term mental health support for vulnerable groups, especially teenagers, who may experience psychological harm as a result of measures to control COVID-19.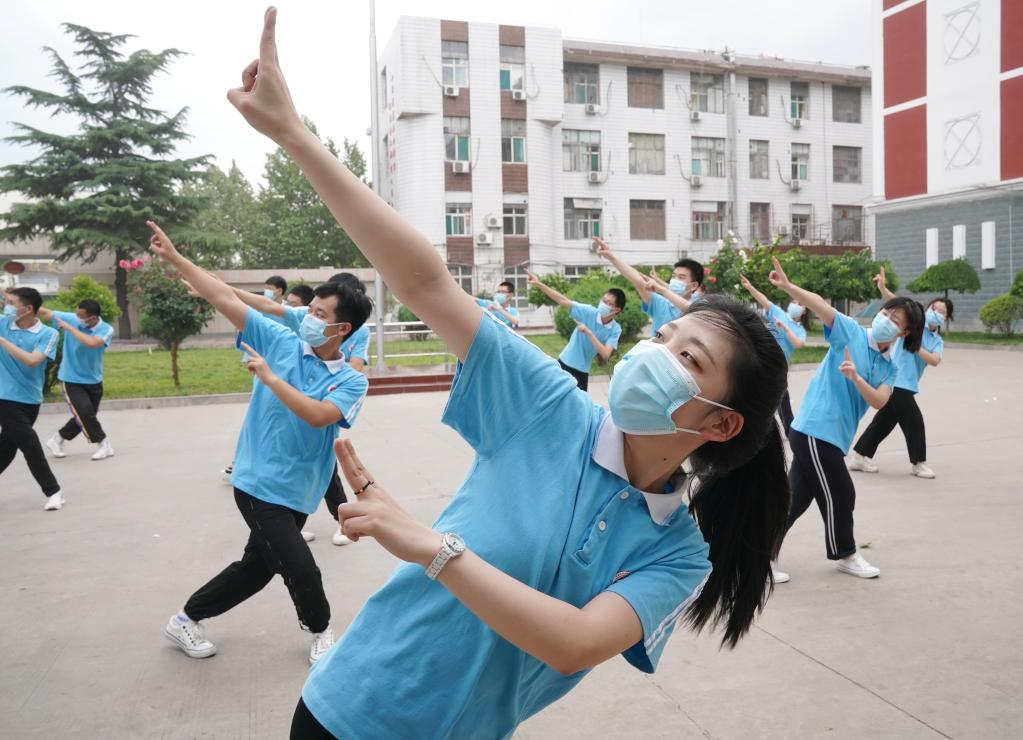 Senior high school students dance to folk opera music at a high school in Shijiazhuang, North China's Hebei province, May 26, 2022. [Photo/Xinhua]
According to a study published on May 1 in The Lancet Public Health, a peer-reviewed medical journal, prompt and stringent COVID-19 control measures, including international travel curbs, widespread testing and contact tracing, not only result in fewer infections and deaths, but also fewer mental health effects.
Researchers led by those at Simon Fraser University in Canada analyzed data from 15 countries between 2020 and June 2021.
These countries were grouped into two categories-those who sought to eliminate COVID-19 transmission such as Australia, Japan and Singapore and those who attempted to mitigate the virus' spread such as Canada, Italy and the United Kingdom.
"Strategies that aim to eliminate transmission while promoting early actions and targeted stringency can reduce deaths while also protecting people's mental health in the process," Rafael Goldszmidt, a co-author of the study and a researcher from Getulio Vargas Foundation, a think tank based in Brazil, said in a news release.
"At the same time, governments need to provide clear and consistent information about policy measures to increase residents' confidence in the government's handling of the pandemic," he said.
He added that as harsher virus control policies are proven to be effective at reducing deaths, "they may help offset the effects they have on psychological distress and life evaluations".
The concern over mental health has grown as the COVID-19 pandemic drags on. The World Health Organization said during a news conference in March that rates of anxiety and depression rose by about 25 percent worldwide in the first year of the pandemic, with young people and women bearing the brunt of the psychological burden.
Lu Lin, an academician at the Chinese Academy of Sciences and president of Peking University's Sixth Hospital, said that COVID-19's toll on people's mental health could last over two decades.
He said previous research has shown that more than 20 percent of people likely suffered post-traumatic stress disorder during the pandemic.
"For a large number of infected cases in Europe and the United States, they could have regained physical strength, but still experience mental health problems," he said during an online speech.
In China, where the virus' spread has been effectively controlled and rates of infection and death are among the world's lowest, the toll on mental health is not to be overlooked, he added.
Lu said that based on data from the early phases of the domestic outbreak in early 2020, about one-third of residents who underwent home-based isolation had suffered depression, anxiety, insomnia and other mental conditions.
"The majority of them would recover after an outbreak subsides, but 10 percent of them would be unable to completely return to normal," he said.
In particular, Lu said he had received a number of teenage patients who reported gaming addiction and disrupted circadian rhythms during an outbreak and continued to be downcast and reluctant to go outdoors after the virus was brought under control.
Lu said it is vital to devote attention and resources to such vulnerable groups to help them to return to normal lives.