Just before Spring Festival, the 54-year-old sat behind his stand of candied-hawthorn skewers wondering if the Year of the Rabbit would bring back the customers for his once popular sugary snack.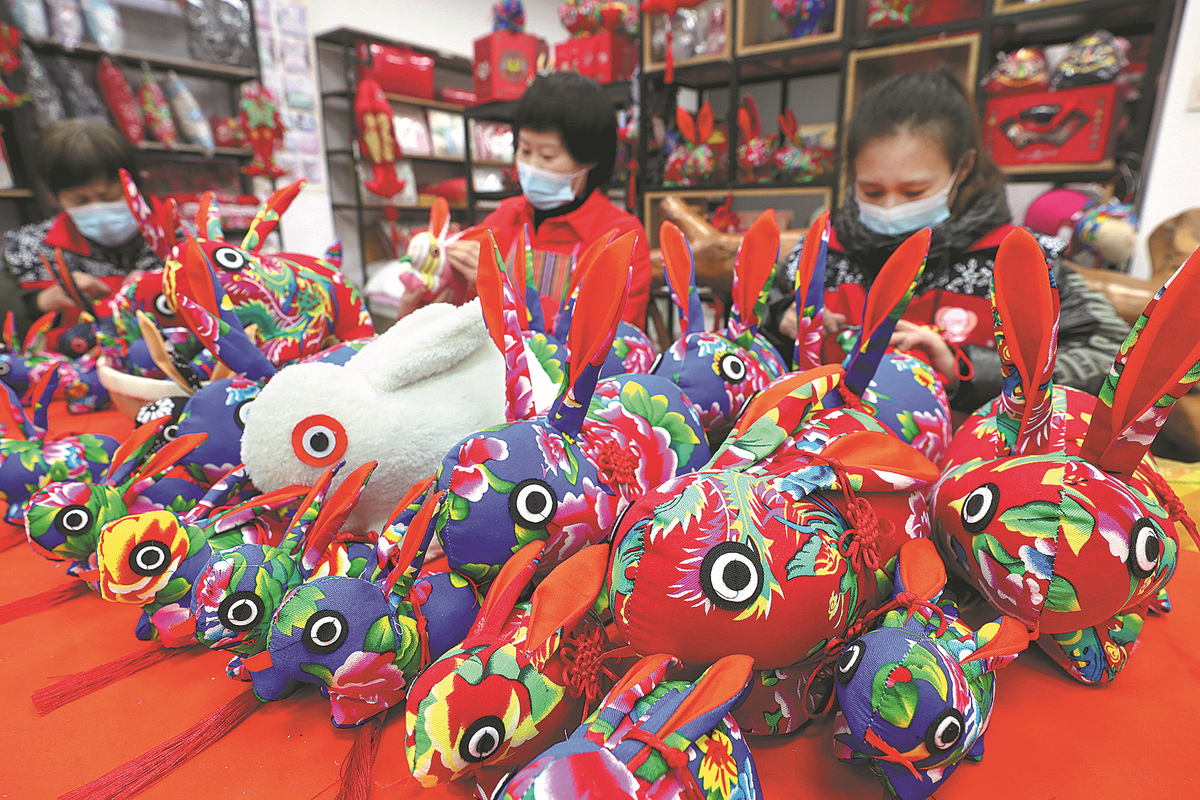 Employees work at a production facility of a handicraft company in Linyi, Shandong province, on Thursday. [Photo by Du Yubao/For China Daily]
Surnamed Zhang, the 54-year-old has been selling the traditional Chinese delicacy in Beijing for 20 years. Before the COVID-19 pandemic broke out, his business was profitable, earning him more than 15,000 yuan ($2,175) a month. But he had to close down two of his outlets across town after the pandemic struck. Worse, he had to let go of all his employees while struggling to hang in there by using up his hard-earned savings.
Zhang is one of many small self-employed people who stoically endured the tough three years of the pandemic. He is the owner of one of the millions of micro, small and medium-sized enterprises that contribute more than 60 percent to China's GDP, while accounting for 70 percent of the innovations in technology and employing 80 percent of the urban labor force. No doubt they serve both as a barometer of economic vibrancy and strong anchor for social well-being.
However, micro and small enterprises, or MSEs, constitute a particularly large but often underappreciated group of businesses in China. While an estimated 100 million self-employed people in China create 230 million jobs (almost 30 percent of the total employment), this group remains highly vulnerable to fluctuations in demand and rising costs, primarily because of the small scale of their businesses.
To better understand how the MSEs fared during the pandemic, scholars from the Center for Enterprise Research, Institute of Social Science Survey and the Guanghua School of Management of Peking University, in collaboration with the Ant Group Research Institute and MYbank, conducted quarterly surveys from the third quarter of 2020 to February 2023.
The researchers collected data on business performance, the problems facing small businesses and their confidence level over the past 10 quarters. An analysis of these data gives a clear picture of the MSEs: their scale is indeed small in terms of manpower and/or revenue, with nearly one-third of their owners being self-employed and about half of them employing only one to four people. Also, more than 40 percent have a turnover of less than 25,000 yuan per quarter.
And like Zhang, they are heavily concentrated (more than 80 percent) in the service industry, a sector that has been hit hard by the pandemic. According to surveys, weak demand and escalating costs of running a business were the top two challenges for MSEs throughout the past 10 quarters.
Although MSEs were among the worst hit by the pandemic, aided by various supporting government measures, they courageously fought against all adversities, using coping strategies such as adjusting prices and production plans, reducing costs, and switching to online operations when feasible.
In particular, the anti-pandemic measures prompted MSEs to adopt digital technologies for survival. By the end of 2022, about 50 percent of all MSEs had adopted at least one type of digital technology, be it online payment or electronic sale management. Overall, nearly half of the MSEs are now operating in either online-only or online-offline-combine mode, thus improving their chances of weathering the pandemic storm.
The lifting of almost all anti-pandemic measures is finally breathing new life into the domestic market. And Premier Li Qiang, at his news conference on Monday, said private enterprises will enjoy a better environment and broader space for development. Li stressed that "this government will continue to foster a market-oriented and law-based business environment …, treat companies under all types of ownership as equals, protect the property rights of enterprises and the rights and interests of entrepreneurs in accordance with law".
But can the millions of MSEs bounce back, and if so, how quickly? The latest survey, conducted immediately after Spring Festival, gives an idea about how the MSEs are faring and what is their outlook about the near term.
Early signs suggest the worst time for the MSEs is over, and the resilience and optimism of small business owners like Zhang will likely prevail. As of the beginning of February, more than 85 percent of the MSEs had reportedly resumed business, with the majority among the rest yet to do so due to the Spring Festival holidays.
Also, an overwhelming majority (84 percent) of the surveyed businesses were confident that business will improve this year, with 78.5 percent of them saying orders and sales will increase, albeit to varying degrees.
Nearly half of the MSEs expect a year-on-year increase of more than 50 percent in turnover. Propelled by their optimistic forecast on market demand, over 40 percent of the MSEs have started to increase stock and production capacity, with about 40 percent planning to develop new products and services and over 30 percent thinking of increasing full-time or flexible employment.
Yet more than 60 percent of the surveyed MSEs said they need financing, with the typical size of the loan required being less than 100,000 yuan, to maintain daily operations and expand business.
Interestingly, the survey data show that the primary sources of financing for the MSEs are found online. Digital inclusive financing has greatly benefited small businesses, because it provides secure and timely credit.
Together with more favorable government policies, particularly those aimed at boosting market demand, the MSEs will soon be able to regain their strength and embrace the post-pandemic era in high spirits.
Kong Tao is director of the research department at the Institute of Social Science Survey, Peking University; and Zhang Xiaobo is a professor at the Guanghua School of Management, Peking University. The views don't necessarily reflect those of China Daily.
Written by:
Kong Tao/Zhang Xiaobo
Sourse:
China Daily