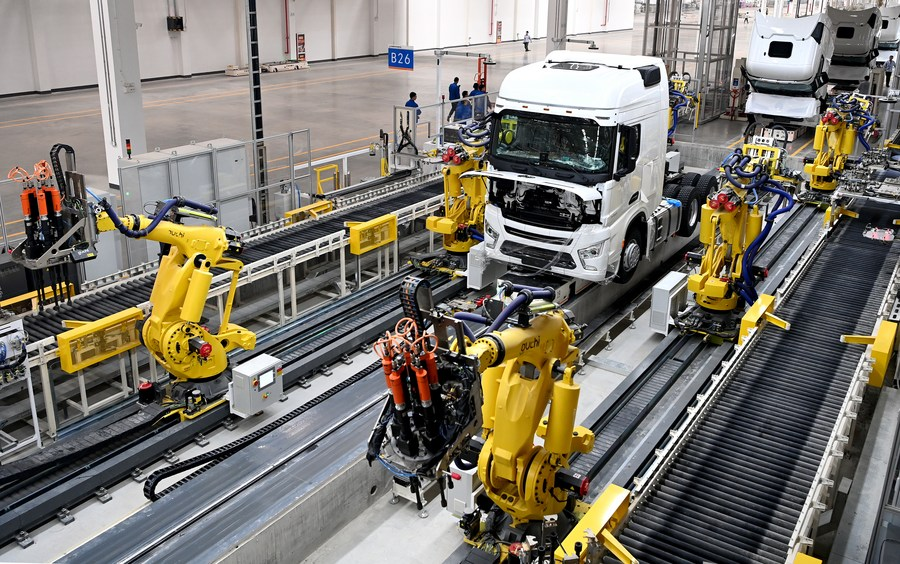 A heavy truck is assembled on the production line at the Shaanxi Automobile Holding Group Co., Ltd. in Xi'an, northwest China's Shaanxi Province, Sept. 27, 2022. (Xinhua/Liu Xiao)
China's economy is expected to bounce back this year as mobility and activity ramp up following the easing of pandemic restrictions. This will provide a boost to the global economy. According to IMF projections, China's GDP will grow by 5.2 percent in 2023.
How will the Chinese economic recovery and growth affect other developing countries, with a special emphasis on Africa? What sort of cooperation will be required between China and Africa to ensure that the continent reaps the greatest possible benefits from this growth?
The Chinese government's major objective this year will be to stimulate domestic demand. This is a good chance for African countries to gain access to China's massive consumer market.
China also waived tariffs on 98 percent of taxable imports from nine countries in Africa on December 1, 2022.
As part of China's plan to increase its trade with African nations to $300 billion by 2025, the Chinese government has enacted a policy that covers almost 8,800 different products, some of which are clothes and footwear, agricultural goods and chemical products. This objective is attainable due to the huge and rising trend of agricultural imports to China from African countries.
Although China does not have tariff-free access to African markets, it has become the continent's second-largest export market, behind the US.
The challenge at hand is how African nations can increase their exports to China so that they can take advantage of China's tariff-free market access. They need to grow production on the continent and learn more from the expertise of the Chinese government. They also need to raise their productivity and diversify the products they offer.
The majority of Africa's economic growth has not been followed by a rise in the continent's general level of productivity. Africa's recent economic growth has been primarily driven by exports of agricultural raw materials. This is despite the fact that Africa has a relatively young population.
Although many people have switched to working in the services industry, most of the increase in services is restricted to low-productivity activities such as commerce and production sectors. The agriculture sector continues to provide jobs for a significant proportion of the labor force.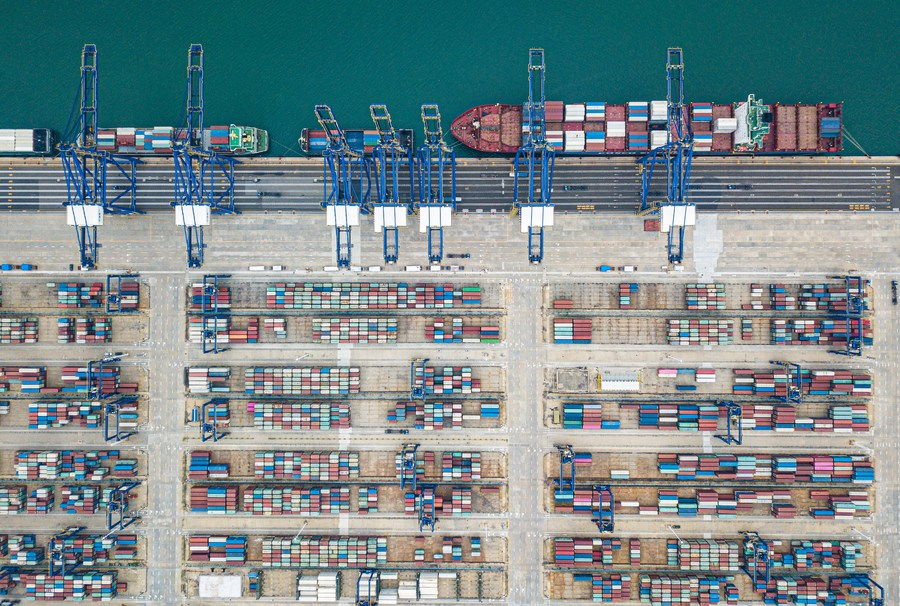 This aerial photo taken on Nov. 5, 2022 shows a view of the Yangpu international container terminal in the Yangpu Economic Development Zone, south China's Hainan Province. (Xinhua/Pu Xiaoxu)
Diversity of African products
The diversity of products offered by African nations needs more attention from these nations. In Africa, 45 out of the 54 countries are still reliant on exports of primary products from the agricultural, mining, and extractive industries.
To facilitate the production and export of more complex goods and services, Africa should encourage the use of inputs that require a high level of expertise and technology.
The tourist industry is an area in which African nations desperately need China to form a strong collaboration. The removal of pandemic control measures will lead to an increase in the number of Chinese tourists who travel to Africa. For example, before the pandemic, a report from FOCAC indicated that more than 1 million Chinese tourists were traveling to Africa every year.
African nations need to improve the effectiveness of their border services, and other government and hotel services. In addition, the services provided by inland transportation should be improved and made more effective.
China's success in producing the skills that are required to accept technology was the key cause for the country's success in attracting investment in manufacturing. Again, this is an area in which Africa can gain a great deal by studying China's practices.
Enticing Chinese firms
Consequently, an issue that Africa should give priority to is the best way to entice more Chinese enterprises to establish branches on the continent.
African nations should have the intelligence to attract more Chinese investors by giving effective industry policies, but they also need to retain the companies that are already investing, through effective industry policies and better services. .
According to the UNCTAD (2022) Economic Growth in Africa Report, there are already more than 2,200 Chinese businesses, the vast majority of which are privately-run businesses, operating across Africa. China's commercial activities have made a contribution to the expansion of the African economy.
Foreign direct investment from China has led to job creation. In order for African countries to take advantage of China's tariff-free policies, China might provide a hand to African nations in addressing the structural and logistical restrictions that limit the competitiveness of these exports.
Increasing Chinese investment in African countries, from both public and private sources, presents an opportunity to enhance local infrastructure, as well as expand manufacturing and agricultural exports.
China's interest in investments in Africa has a significant impact on economic transformation and export diversification. For this reason, cooperation and partnership between China and Africa should be strengthened.
African nations need to be aware that Chinese businesses are investing in their continent, and that these investments bring access to technology, skills, training and knowledge transfer, in addition to linkages to global value chains.
The author is a doctoral student (Class of 2021) in the Institute of South-South Cooperation and Development (ISSCAD) of Peking University, former state minister of the Ministry of Trade and Industry of Ethiopia.
Written by:
Teka Entehabu
Source:
Global Times