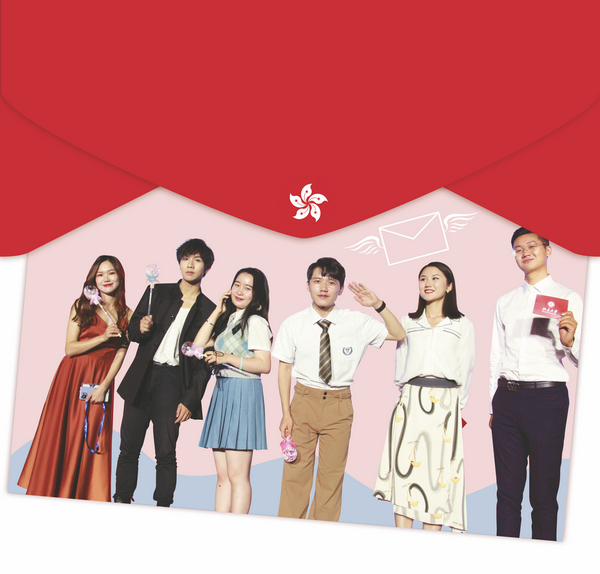 Hugo Kong (second from left) takes a picture together with fellow student singers at the 2022 Peking University graduation singing gala. CHINA DAILY
Young Hong Kongers who came to the mainland to broaden their horizons share how they are giving back to their region and country.
Editor's Note: In many young people's eyes, the Guangdong-Hong Kong-Macao Greater Bay Area is a hotspot for both national and personal development. As Hong Kong prepares to celebrate the 26th anniversary of its return to the motherland on July 1, we invite youngsters born and raised in Hong Kong to tell their stories of growing together with the city and integrating themselves into the overall development of China.

Alice Ho, 24
Growing up in Hong Kong, I witnessed and participated in the city's growth after its return to China over 20 years ago. Under the significant advantages of the "one country, two systems" principle, Hong Kong has seen rapid economic and social development, and the well-being of its people has steadily improved. With its unique blend of Chinese and Western cultures, Hong Kong has continued to prosper, making it one of the most dynamic cities in Asia.
However, as I grew older, I felt a growing desire to explore China's vast culture and history in even greater depth. That's why I decided to continue my studies at Tsinghua University in Beijing. Studying in Beijing has provided me with a unique opportunity to immerse myself in China's rich culture and witness firsthand the country's impressive socioeconomic development.
Living in Beijing has also allowed me to connect with many other young people from Hong Kong who, like me, are driven by a passion for learning about China's traditional culture. Together, we have formed a community of friends that share our common goals and aspirations. What was once a dream of experiencing and understanding China's culture has become a reality for me. By exploring China's rich history, I have gained a deeper appreciation for the country's unique identity, which is an exciting blend of ancient and modern culture.
Moreover, I have had the opportunity to actively participate in social practice and state affairs activities, allowing me to stand on a bigger stage. As the Chief Youth Officer of the Global Alliance of Universities on Climate (GAUC), I led our flagship projects, such as the "Climate X" campaign. We hosted the Global Youth Summit on the Net-Zero Future and the Global Youth Climate Week. As the representative of the China Pavilion, I led our GAUC delegation with 20 candidates to participate in the 27th COP Event, where we discussed climate change issues with delegations from many countries and senior officials of the United Nations. Through these countless events and transformative bonding experiences with international students, we showcased the virtues of Chinese youth and shared our voices and perspectives with the world.
As Hong Kong marks its 26th anniversary of the return to the motherland, I hope to inspire more young people to explore China's unique culture and witness its impressive growth firsthand. By seizing the opportunities that China's development offers young people in Hong Kong, we can grow together with the country and contribute to the high-quality development of both the Chinese mainland and Hong Kong. I am full of confidence in the future of Hong Kong. With the "one country, two systems "principle, and the support of the patriots who govern Hong Kong, I believe that the city will continue to prosper while upholding its unique identity and culture.

Hugo Kong, 23
In the summer of 2015, I signed up for a music-themed summer camp and traveled to Beijing for the first time from Hong Kong. I'll never forget the first day of the summer camp. I was taught by a professor from a prestigious music conservatory for the first time. It was also the first time I got to meet so many other young people with the same aspirations. That night, I stood on the overpass and made a phone call, telling my mother that I must come here to study for college.
In 2018, I was admitted to my dream university — Peking University. As I pursued my musical dream, I also began to study Chinese history, literature, and philosophy. Only then did I realize that beneath the apparent modernity of Beijing still lies an ancient cultural heart. Every once in a while, I would visit the Forbidden City to look for stories in books among fragments of the ancient library and recall the common memories of this country under the red and gold tiles of the majestic palace.
Since leaving Hong Kong for Beijing five years ago, I have traveled to dozens of cities, been to hundreds of shows and performances and given public speeches in front of thousands of people. I have worked as a supporting teacher in an ancient village in western Hunan as well as a reporter at the Beijing Winter Olympics. I have encountered so many wonderful things that I had never envisaged before.
Last year, on the occasion of the 25th anniversary of Hong Kong's return to the motherland, I wrote a song and named it Bauhinia. I invited 12 young people from the Chinese mainland and 12 from Hong Kong, all of whom were studying in eight chosen representative universities in both Beijing and Hong Kong, to sing this song together. The 25 Chinese youths, including me, sang from our hearts of Hong Kong's beauty and the motherland's rapid progress.
Just as I wrote in Bauhinia: "We are born with the same yellow skin, black hair, and black eyes. With renewed hope, we shall embark on the journey once more. We'll write a new chapter of Hong Kong and strive for a better future." I hope that my songs and stories can help more Hong Kong youth gain experience in the Chinese mainland for a better future, in which I will continue to do my best to tell Chinese stories, spread the voice of China and let the world see the lively spirit of Chinese youth.

Harry Hung, 27
As one of the first batch of Hong Kong youth to serve as public officials in Guangzhou, I was honored to participate in the establishment of the Hong Kong University of Science and Technology (Guangzhou) and witness the "speed of China". At the same time, as a member of the Guangzhou Youth Federation and co-sponsor of the Hong Kong Coalition, I hope to attract more brilliant Hong Kong youth to participate in the development of the Greater Bay Area by sharing my own stories.
Born and raised in Hong Kong, I made an important life decision during the summer of 2014. Instead of going to Hong Kong University, I chose Tsinghua University for my undergraduate studies in order to step out of my comfort zone. My four years at Tsinghua greatly broadened my horizons and deepened my understanding of Chinese history and society. What impressed me most was a visit to the Memorial Hall of the Victims in Nanjing Massacre by Japanese Invaders. There, I could get a real feeling of that period of history, which was so much more than the few photos and short paragraph in my textbook.
An opportunity came again soon after graduation. In 2019, Hong Kong issued the Outline Development Plan for the Guangdong-Hong Kong-Macao Greater Bay Area, in which Hong Kong, as one of the cities in the 9+2 urban agglomeration, plays an indispensable role. At that time, I noticed that Guangzhou's Nansha district was in need of talent from Hong Kong and Macao since there were quite a few joint projects between Guangdong and Hong Kong and Macao. Without hesitation, I sent out my resume, and after examinations and rounds of interviews, I signed on as a civil servant in Nansha. Just as an ancient Chinese saying goes, it was the right time, right place, right people. I feel lucky to have these opportunities to bridge Hong Kong and the Chinese mainland and make my own contributions to the country.
This year, I transferred to work at Hong Kong Metropolitan University, where I am mainly responsible for the mainland affairs of the university. With new roles and responsibilities, I will make it my earnest endeavor to help the university establish better and deeper communication and cooperation between Hong Kong and the Chinese mainland, including promoting more integration and exchange of scientific research, culture, talent, and other aspects.
This year also marks the 26th anniversary of Hong Kong's return to the motherland. I believe that Hong Kong will be better integrated into the overall development of the country, and its economy and people's livelihoods will also improve. With my original intention remaining unchanged, I will continue to serve as a bridge in fostering communication between Hong Kong and the mainland and keep devoting myself to the development of Hong Kong.

Louis Tsui, 24
Born to a Chinese mainland father and a Hong Kong mother, I think my calling in life is to bridge Hong Kong and the Chinese mainland.
So when I joined the Sihai College Student Union at Jinan University, Shandong province, in 2018, I took the opportunity to actively serve the students from Hong Kong and Macao. I still remember once meeting a shy freshman from Hong Kong on campus during my volunteer work. He told me that as a person with social phobia, he found it difficult to adapt to the campus life here. So I paid more attention to him and encouraged him to take part in campus activities. Taking my suggestions on board, he even plucked up the courage to run for a position as a student leader, giving himself a good start in his university years.
What President Xi Jinping told me and my peers when he visited the university in 2018 has also given our work more direction. He encouraged us to promote China's brilliant traditional culture to all corners of the world. Actively responding to his expectation, we have been working on organizing various activities promoting traditional Chinese culture, such as events themed on the 24 solar terms and the Lingnan culture in South China. These activities have allowed young people to learn more about our motherland. To date, we have served over 3,000 students from Hong Kong and Macao.
After graduating from Jinan University, I continued my commitment to serving the youth of Hong Kong and Macao. I have started my own business to help secondary school and university students from Hong Kong and Macao get involved in the development of the Guangdong-Hong Kong-Macao Greater Bay Area. To be more specific, I hope to provide more study, internship, and employment opportunities for these young people to contribute to their personal and professional growth while supporting the economic development of the region.
Now I am also working as Youth Liaison Officer at the Guangzhou Center for Youth Exchange between Guangzhou, Hong Kong and Macao. I believe with my extensive experience in serving the youth of Hong Kong and Macao, I can make more meaningful contributions to the development of the Guangdong-Hong Kong-Macao Greater Bay Area together with my peers.
As we commemorate the 26th anniversary of Hong Kong's return to the motherland, I firmly believe that Hong Kong will continue to prosper in the years to come. My commitment to supporting and promoting the growth of the Guangdong-Hong Kong-Macao Greater Bay Area will never falter.
Source:
China Daily