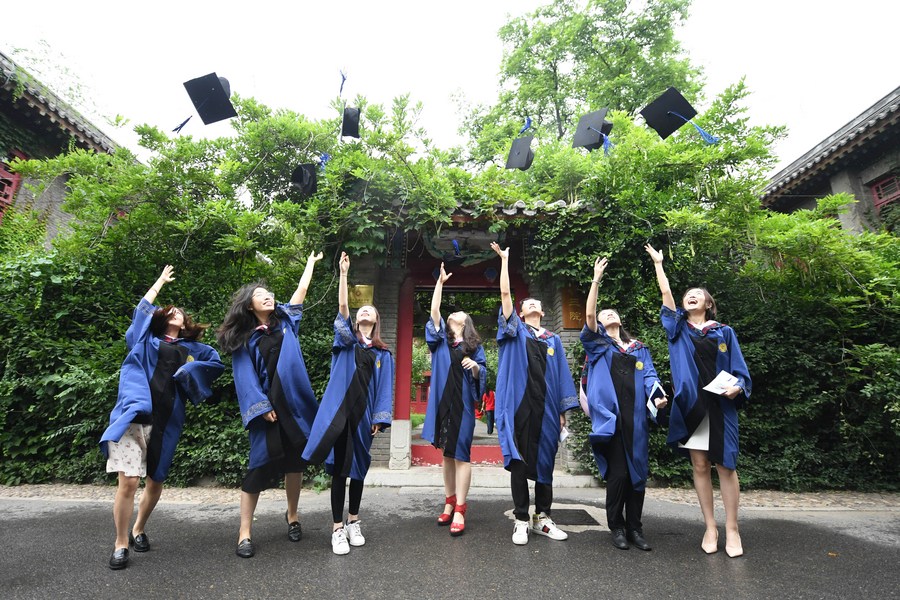 Graduates throw their hats in the air at Peking University in Beijing, capital of China, July 2, 2020. (Xinhua/Ren Chao)
SHANGHAI, July 1 (Xinhua) -- Carol Folt, president of the University of Southern California (USC), expressed confidence in the educational exchanges between China and the United States during her maiden visit to China on Friday.
Founded in 1880, USC is renowned for its excellence in fields such as the sciences, cinematic arts, engineering, communication and journalism, business, architecture, medicine and gerontology. It is also one of the most preferred American universities among Chinese students.
"We are thrilled to celebrate the exceptional achievements and contributions of our tens of thousands of Chinese graduates. They have consistently demonstrated outstanding capabilities and made significant impacts on society. Chinese students have been an integral part of our diverse and innovative community since the early 20th century," Folt said during an alumni event of USC in Shanghai.
With over 450,000 alumni worldwide, USC boasts a strong alumni network that has led to the establishment of USC alumni organizations across the globe. To support Chinese students and alumni, USC has set up the USC China Career Center, offering comprehensive career guidance, employment counseling, direct engagement with global employers, and career training and development assistance.
At present, USC has collaborations with esteemed Chinese institutions such as Tsinghua University, Peking University, Shanghai Jiao Tong University, and ShanghaiTech University on various projects related to data science, journalism and communication, healthcare, cinematic arts, and the creative industry.
"China boasts excellent universities and talented, hardworking students. We welcome Chinese students to pursue their studies at USC. We have full confidence in the educational collaboration between China and the United States," Folt said.
Source:
Xinhua