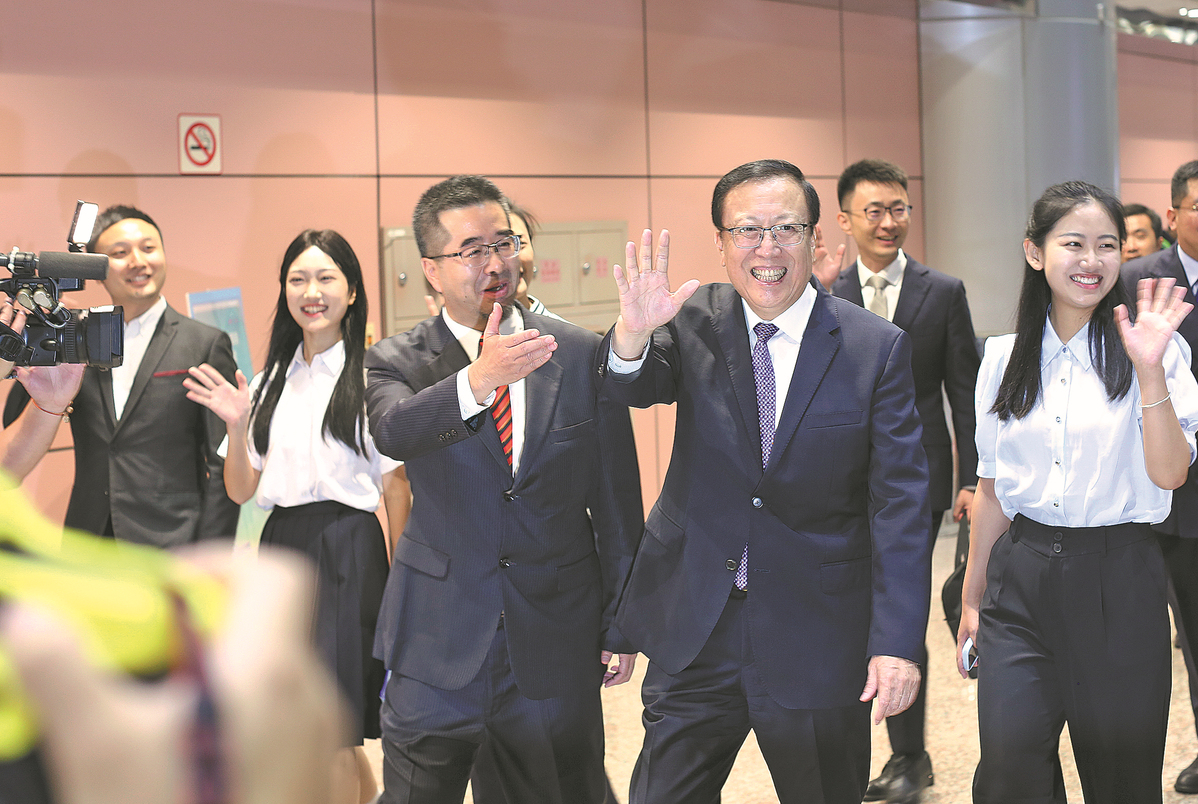 Led by Hao Ping (second from right in front), Party chief of Peking University, a group of 37 teachers and students from five mainland universities arrive at Taoyuan International Airport on Saturday, starting an exchange visit to Taiwan. [Photo/Xinhua]
Peking University, July 17, 2023: A group of 37 students and teachers from five mainland universities arrived in Taipei on Saturday to start their visit to Taiwan. The trip is expected to help increase exchanges and clear misunderstandings between young people on the two sides of the Taiwan Strait, the organizer said.
The group, which is being led by Hao Ping, Party chief of Peking University, is the first major academic delegation to travel to Taiwan in more than three years. Hao said that the nine-day trip will promote friendship between young people on both sides of the Strait, and will advance cross-Strait exchange in education and culture.
At the invitation of the Taiwan-based Ma Ying-jeou Foundation, mainland visitors from Peking University, Tsinghua University, Fudan University, Wuhan University and Hunan University will have exchanges with their peers from universities on the island, including Taiwan University and Chengchi University.
Chinese table tennis legend Ding Ning is part of the group. She has been studying for a master's degree in Physical Education at Peking University since her retirement. In addition to exchanging views on sports, she said that she is also looking forward to tasting Taiwan cuisine, which is also very popular on the Chinese mainland.
Hu Xue, a student from Fudan University, said that she is very excited about the trip and cannot wait to learn more about the views of Taiwan students on environmental protection.
The group was greeted by Hsiao Hsu-tsen, executive director of the Ma Ying-jeou Foundation, at the airport. Hsiao called for more interaction between young people, as the future across the Strait lies with the young generation.
"We hope the trip will enable young people on both sides to learn more about each other and clear up misunderstandings, which will help reduce the chance of a cross-Strait conflict," Hsiao said.
The trip is scheduled to include stops in Taipei, Taichung, New Taipei, Hsinchu and Hualien.
On Saturday evening, Ma Ying-jeou held a dinner reception to welcome the group. He said the visit is the most important event to boost exchanges between young people on both sides in recent years.
He also expressed his hope that cross-Strait tensions could be eased and cross-Strait exchanges be fully resumed to benefit people on both sides.
Between late March and early April this year, Ma took a group of Taiwan students to the mainland and had discussions at three universities, during which he repeatedly expressed his hope that teachers and students from mainland universities could visit Taiwan on an exchange basis.
Source:
China Daily
Written by:
Cui Jia