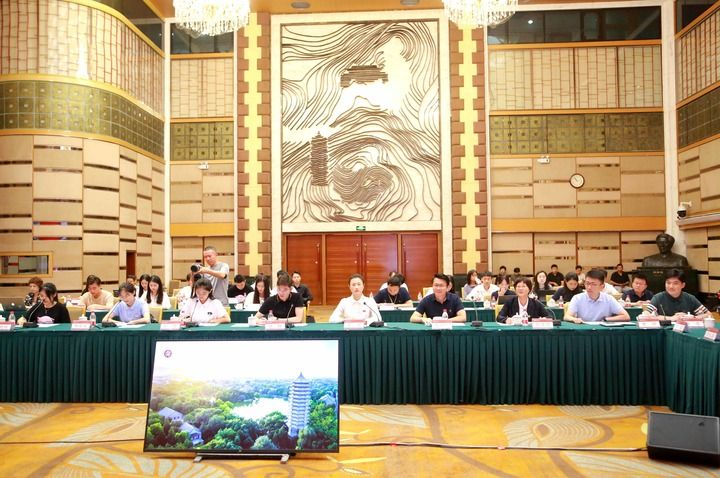 A group of students and teachers from five universities in the Chinese mainland has a symposium at Peking University on July 24, 2023 after concluding a rare nine-day visit to the Taiwan island. Photo: Xinhua
A close and sincere friendship has been established between young people across the Taiwan Straits and heart-to-heart exchanges have shortened psychological distances and broken stereotypes amid a very warm and cordial atmosphere, a mainland college delegation said after concluding a rare nine-day visit to Taiwan island on Sunday afternoon.
As the first delegation of its kind to visit the island in the past three years due to the impact of COVID-19 and political reasons, the delegation has exceptionally conveyed to the island the mainland's sincerity in promoting exchanges, Zhang Qiang, head of the Hong Kong-Macao-Taiwan Information Office under the Publicity Department of the CPC Central Committee, said at a symposium at Peking University on Monday morning.
The delegation, made up of 37 teachers and students from Peking University, Tsinghua University, Fudan University, Wuhan University and Hunan University, held direct and extensive talks, as well as sports and cultural exchanges with university students from Taiwan after they flew to the island on July 15.
Ma Ying-jeou, the former Taiwan regional leader who invited the mainland delegation after his own trip to the mainland in late March, expressed wishes for the mainland students to bring Taiwan's goodwill back to the mainland. Meanwhile, Zhang Qiang praised the ice-breaking tour as a vivid example of promoting youth exchanges and showing that people across the Straits are all part of the same family.
"Besides the same language, national memory and cultural recognition we share, we all use Chinese social media and e-commerce platform Xiaohongshu, the Chinese version of TikTok Douyin, popular short video platform Bilibili and China's Twitter-like Sina Weibo, and understand each other when using internet buzzwords, lines and jokes. Perhaps that is one of the features and strengths of communication between young people," Hu Xue, a delegation member from Fudan University, told the Global Times.
The delegation had free, sufficient and extensive talks with students from a number of Taiwan-based universities on a wide range of topics including hobbies, social life, academic studies, job-seeking after graduation, and cross-Straits relations, said Chinese table tennis world champion Ding Ning, who retired in 2021 to pursue a master's degree at Peking University and visited the island with the delegation.
Besides face-to-face talks, recreational activities were also arranged during the tour. On July 17, Ding had a friendly match with Taiwan students and gave them tips concerning their techniques.
"From the airport to train stations and as we traveled to different locations, I came across fans many times who gave our delegation a warm welcome and expressed their love for table tennis."
A traditional Chinese instrument concert was also held at Chinese Culture University, where Peking University students Chen Kaidi played together with two Chinese Culture University students. On Thursday, a cultural exchange event for Chinese classic dance and the island's folk dance was held.
"I'm impressed by the powerful role cultural and sports activities play in allowing cross-Straits youth to connect their hearts and minds in such a natural and smooth way," delegation member Zhang Runzhou, a teacher from Tsinghua University, said.
Zhang said more face-to-face exchanges, rather than online activities, are needed to achieve deeper communication between young people across the Straits and to smash through the inadequate information deliberately produced by pro-secessionists Taiwan-based media so that people on the island can see the real, vivid and comprehensive mainland rather than the one shaped by media.
While some pro-secessionist media outlets have opined that communication between college students is insufficient and empty due to a lack of debate on political issues, Cao Liu, a teacher delegation member from Hunan University, told the Global Times after the symposium that he hopes young people on both sides of the Straits can get to know each other better and develop empathy first, after which they can discuss all kinds of issues to attain mutual understanding.
Cao said they were originally worried if they would be welcomed by local people when they arrived, but during the entire tour they didn't see or hear any unfriendly or unpleasant scenes or voices.
Source:
Global Times
Written by:
Zhang Changyue