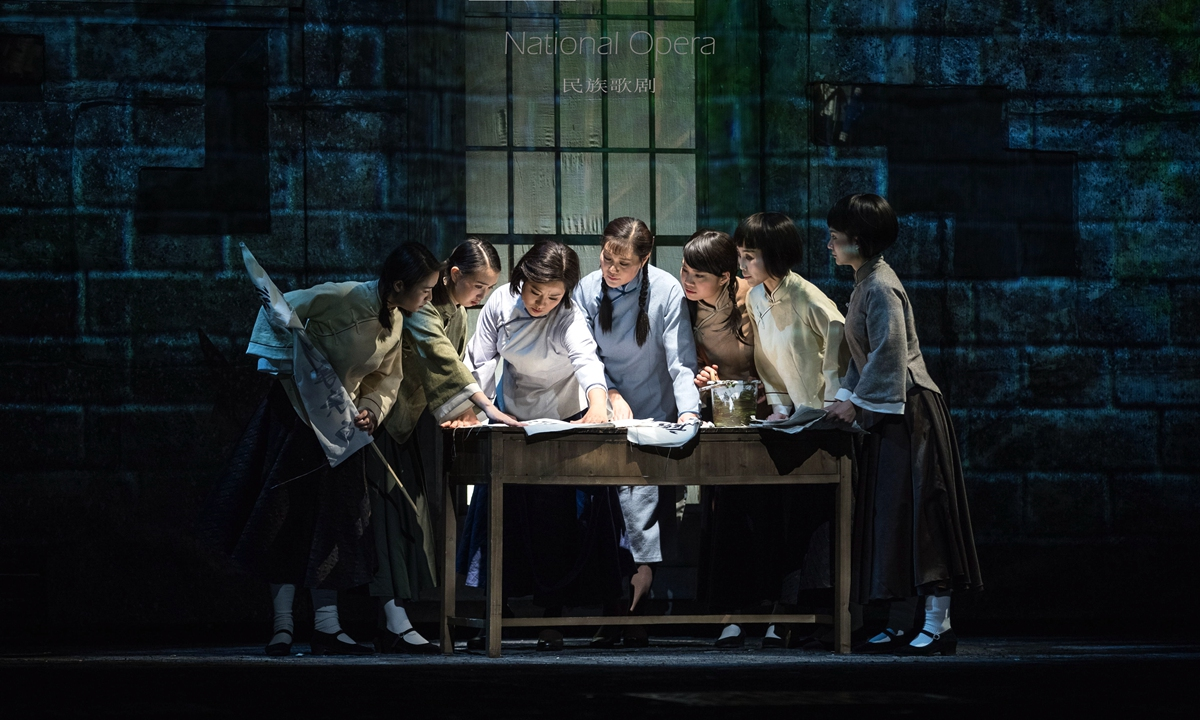 Promotional material for Hero Photo: Courtesy of Peking University
Opera in Beijing presents story of China's revolutionary pioneers
Chinese opera Hero is going to be staged at Peking University on Thursday.
The opera tells the story of Miu Boying and He Mengxiong, two of the first party members of the Communist Party of China (CPC).
Both Miu and her husband He were graduates from Peking University who sacrificed their lives for China's early revolutionary efforts in the 1930s.
Miu was also the first female CPC party member in history.
Based on historical facts, the opera includes four acts covering how Miu and He met, fell in love and worked to-ward their shared goal of Chinese revolution. The opera is full of passion, dreams and romance.
"Peking University gave birth to many heroes. Miao and He were among them. The story of Hero is passionate and inspiring, which is what youth should be like," a student surnamed Liu posted ahead of the opera's perfor-mance.
The opera has previously toured to Shanghai, Wuhan and Changsha and has plans to head to theaters in other major cities and even some remote villages in China.
Sir Stephen Hough's piano solo concert to be staged at Poly Theatre
Great Composers, Poetic Masterpieces: Sir Stephen Hough Piano Recital is going to be staged at the Poly Theatre in Beijing on Thursday.
Sir Stephen Hough is among the premier pianists and thinkers of our generation.
A professor at the Juilliard School, he has been hailed as "a pianist among pianists" not only for his exquisite playing but also for his research into the repertoire.
His thoughtfulness and thoroughness are apparent in every performance, as well as his infusion of authenticity in recapturing composers' original intentions.
The program also amplifies Hough's unique style. Scriabin's Fifth Piano Sonata, Debussy's Estampes and Liszt's Dante Sonata and Italie from Années de Pèlerinage are popular repertory for the piano, but Hough's atten-tion to detail will enrich every moment.
The program also includes one of Hough's own compositions Partita. Do not miss out on the chance to see a piece where composer and performer are one and the same.