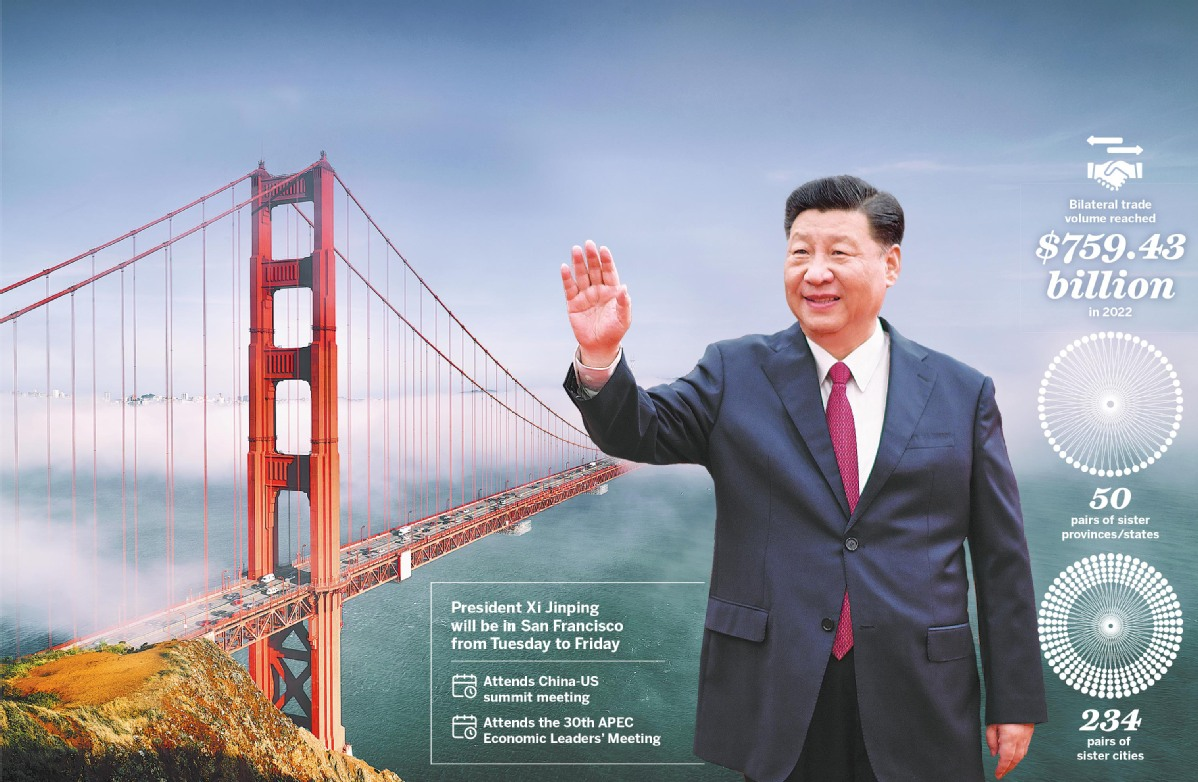 With relations at a crossroads, Beijing-Washington dialogue on bilateral, global issues highly anticipated
All eyes are on the China-United States summit as President Xi Jinping left Beijing on Tuesday for his face-to-face meeting with US President Joe Biden in San Francisco, where he will also attend the 30th Asia-Pacific Economic Cooperation Economic Leaders' Meeting.
Amid a complex international landscape, and at a time when China-US relations are at a critical crossroads, Xi's trip to the US has been highly anticipated.
Rebecca Fatima Sta Maria, executive director of the APEC Secretariat, said that for the world's two largest economies to have a very important conversation at such a critical time opens the door to other opportunities for the world.
Countries should look at more holistic benefits that can spur global growth from a broader perspective, she said.
The Foreign Ministry has said that the two presidents will have in-depth communication on issues of strategic, overarching and fundamental importance in shaping China-US relations, as well as major issues concerning world peace and development.
Xi will also use the APEC Economic Leaders' Meeting to fully elaborate on China's major propositions on deepening Asia-Pacific cooperation and driving regional and global growth, the ministry said.
Head-of-state diplomacy plays an irreplaceable strategic role in growing China-US ties. In November last year, Xi and Biden met in Bali, Indonesia, and reached a series of important common understandings.
During that meeting, Xi stressed that the development of China-US relations should be based on the three principles of mutual respect, peaceful coexistence and win-win cooperation.
Despite the tempered expectations for any substantive breakthroughs in relations between Beijing and Washington, it is possible that the long-awaited Xi-Biden meeting could deliver something noteworthy, analysts said.
The leaders' upcoming meeting can also help assure the world that both countries have no intention to decouple from each other and will take all possible steps to prevent the two sides from drifting into armed conflict.
Wang Jisi, a professor of international relations at Peking University, said that the meeting of the two presidents in San Francisco will be of crucial significance, because it could reset the tone for the development of bilateral ties in the years to come and prepare for high-level engagements between Beijing and Washington in the next year.
With the increasing number of high-level exchanges between China and the US, a series of outstanding issues will be brought up one after another, Wang said. In addition, security crises, such as the Russia-Ukraine conflict and the Palestine-Israel conflict, require joint and coordinated efforts by both countries, rather than allowing them to become factors that exacerbate strategic differences between the two countries, he said.
Still, both countries have continued to lock horns on many fronts, including the Taiwan question and the South China Sea issue, both of which concern China's core interests, as well as military issues and curbs on technology and trade.
Despite intensive interaction between the two countries since May, it must be recognized that China-US relations are far from out of the woods, and any mishandling of a sudden event can easily undermine the hard-won momentum of the stabilization of the ties, Wang said.
In San Francisco, where leaders and representatives of the 21 APEC economies will meet on Thursday and Friday, authorities have made full preparations for the event. Workers had begun placing heavy-duty fencing along sidewalks in a security zone surrounding the Moscone Center, where the meeting will be held, on Friday.
Meanwhile, San Francisco Mayor London Breed told reporters: "We want people, especially (those) who are coming here from other places, to experience San Francisco for themselves so that they can tell the story from their own experience of walking the streets and visiting other parts of our city. We want to make sure that the real story of San Francisco is told."
With mounting factors of instability and uncertainty in the world economy, there is a widely shared expectation that the Asia-Pacific region will remain an economic engine to lead global growth. Therefore, the hope is high that this year's APEC Economic Leaders' Meeting will boost regional economic cooperation to create a resilient, sustainable future for all.
Experts said that the host wants to use the meeting to spearhead efforts on "key issues such as supply chain resilience, digital trade, connectivity, opportunities for small and medium-sized enterprises, climate change and environmental instability".
Xi's attendance at the upcoming China-US summit and the APEC gathering will hopefully secure more comprehension of China's growth story, helping the world garner more drivers for development by drawing on China's modernization, observers said.
They expressed hope that China and the US will jointly bring their relations back to the right track for the good of the Asia-Pacific region and the world.
"Cooperation between the United States and China will strengthen both countries and benefit the world," Jeffrey Sachs, an economics professor and director of the Center for Sustainable Development at Columbia University, was quoted by Xinhua News Agency as saying. "It is correct and indeed possible."
Source:
China Daily
Written by:
Cao Desheng