[Peking University Landmark] The West Gate
May 07, 2019
Peking University, May 7, 2019:
The West Gate is the main entrance and one of the most representative buildings of Peking University. It is a classical palace-style vermilion gate of approximately seven meters high, with two stone lions on both sides. Standing as a symbol of the university, this quaint and simple architecture demonstrates an impressive solemnity and elegance, which is consonant with the overall architectural style of the campus.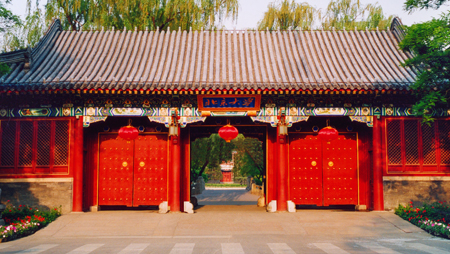 In Ming Dynasty, the area where the West Gate is situated now used to be part of the Shaoyuan Garden, a famous scenic spot where many literati enjoyed the view and composed poetry. Later in Qing Dynasty, the garden was rebuilt into an emperor's garden, also frequently visited by scholars of that time. In 1926, Yenching University, the predecessor of Peking University, moved into this area. The West Gate was built in the same year with donations from alumni of Yenching University and was called the Alumni Gate. In 1952, after Yenching University and some arts and science faculties of Tsinghua University merged into Peking University, the latter moved into the campus of Yenching University, and the West Gate has been the main gate of Peking University ever since.


The location of the West Gate is on the main axis of the campus, which makes it the best entrance to enjoy the landscape of Peking University. Different with the traditional architectural concept in China that buildings should face south, the West Gate, as the main gate of the campus, faces west. This location was chosen by Henry Murphy, designer of the campus, inspired by the pagoda on the Yuquan Mountain. He insisted that the main axis of the campus should point to that pagoda while the main buildings and Weiming Lake should also stand on that line. Therefore, the West Gate was built due east to the pagoda, on the end point of the east-west axis.


Right in the middle of the West Gate, there hangs a plaque with the name of the university on it. The four Chinese characters "Bei Jing Da Xue", which means "Peking University", were written by Chairman Mao in 1950, who used to work at the Peking University Library. On both sides of the gate stand two stone lions, which were bought from a civilian Wen Hanzhang in 1924. With curly hair and piercing eyes, they add more solemnity to the West Gate as well.

Presently, the West Gate is one of the most photographed spots in the university, because of its beauty and importance. Ever since its construction, it has witnessed the coming and going of many excellent scholars, researchers, statesmen and entrepreneurs, making it not only an important entrance, but also a significant symbol of Peking University.
Written By:
Liu Chang
Edited By:
Xu Penghang

Photo Credite to:
Wang Tiantian


Source:

Sun Xuejing, "The Change of Design and Architecture of Peking University." Chinese Cultural Heritage: 2014(1).
Chen Yuan, Yenching University: 1919-1952. Zhejiang People's Publishing House. 2013.
https://www.travelchinaguide.com/cityguides/beijing/peking-university.htm
http://rongqt.blogchina.com/969158.html