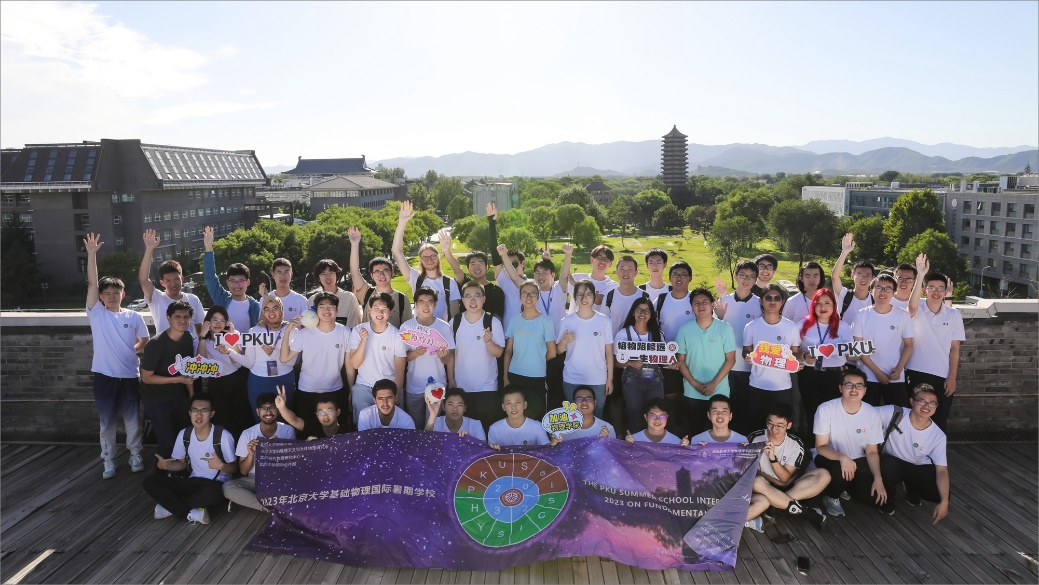 Peking University, September 8, 2023: As a cornerstone event within Peking University's "Global Engagement Year" initiative, PKU Summer School International 2023 on Fundamental Physics (PKUSSI), hosted in collaboration with the School of Physics, the Kavli Institute of Astronomy and Astrophysics, and the Beijing Institute of Modern Physics, unfolded its sessions from August 6 to August 27, 2023.
The program warmly welcomed undergraduate students pursuing degrees in physics from universities worldwide. Following a rigorous process of application, recommendation, and meticulous selection, over 50 exceptional undergraduates specializing in physics, hailing from 16 distinguished institutions across 9 countries, were admitted into this program.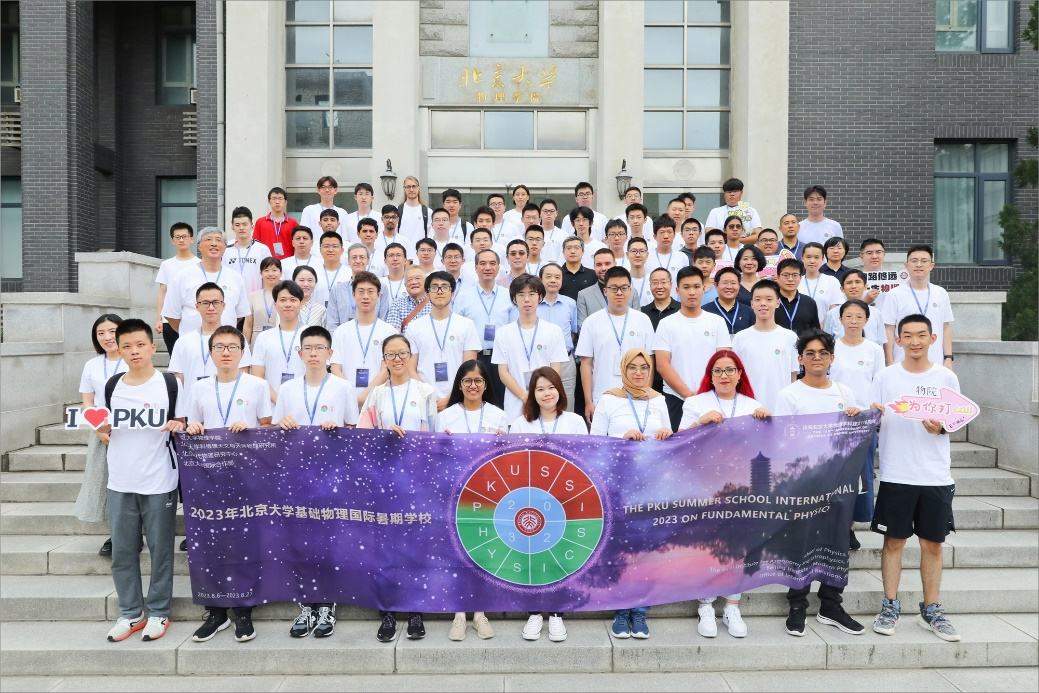 Group Photo for the opening ceremony
During the brief yet heartfelt opening ceremony, Gong Qihuang, the president of Peking University and an academician of the Chinese Academy of Sciences (CAS), underscored that within fundamental research, the global community still embraces open cooperation as the prevailing paradigm, adding that Peking University strives to tighten connections with universities and research institutes around the world to bring international science and technology cooperation to a new height.
During academic exchanges that ensued, young students were cordially invited to lead a series of lectures, imparting their knowledge at Peking University. Delivered entirely in English, these lectures encompassed a diverse spectrum of topics, including the forefronts and interdisciplinary intersections of physics, astronomy, atmospheric science, mathematics, etc.
The lecturers include Alain Aspect, the winner of the 2022 Nobel Prize in Physics, John E. Hopcroft, the winner of the Turing Award in 1986, David A. Weitz, the president designate of the American Physical Society, etc.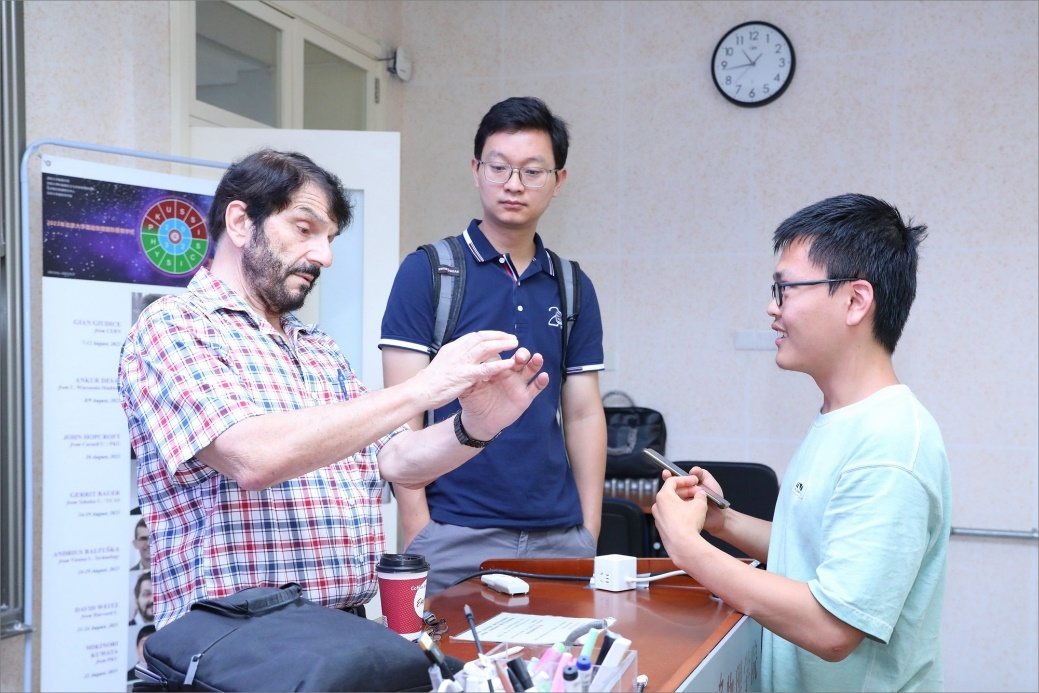 Drawing upon their pioneering contribution to different domains, these scholars masterfully steered students' attention towards the latest trends and burgeoning frontiers, nurturing a culture of intellectual curiosity and encouraging students to engage in independent thought while actively fostering an environment that promotes inquisitiveness.
During their leisure moments, the students embarked on a captivating journey through the annals of history and culture. Their explorations took them to the Museum of Peking University History and the Authur M. Sackler Museum of Art and Archeology, both nestled within the campus grounds.
On the weekends, the students ventured beyond the campus to explore iconic landmarks of Beijing's ancient imperial heritage, including the Confucius Temple and Imperial College Museum. Additionally, their thirst for knowledge led them to the halls of the National Laboratory of the Beijing Electron Positron Collider (BEPC), providing them with a glimpse into cutting-edge scientific research.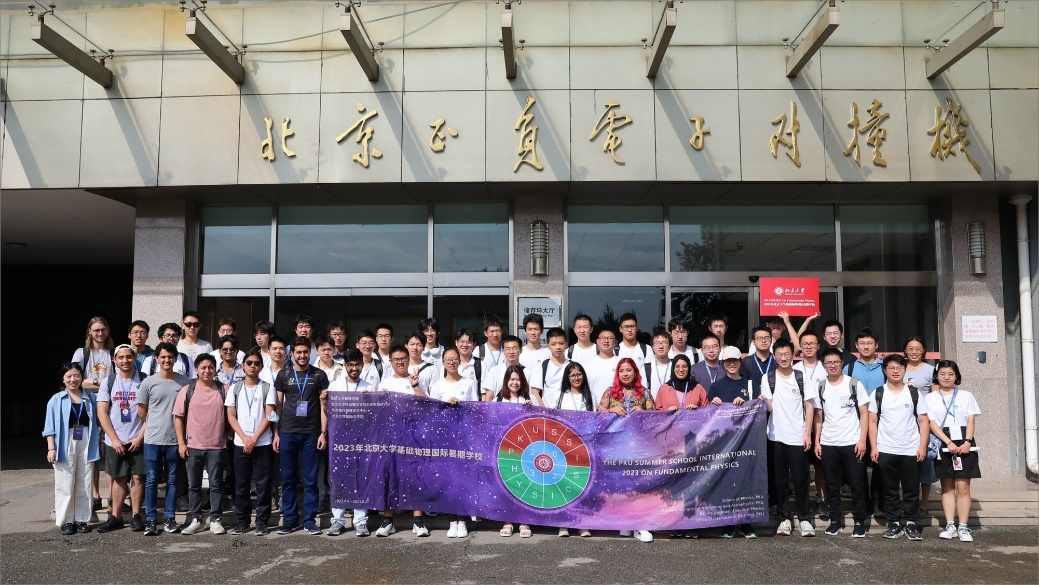 Group photo at BEPC
The students, profoundly touched by their firsthand experience in China, have expressed their newfound understanding of this vibrant and welcoming nation. With their own eyes, they have witnessed the real and amiable facets of China and aspired to harness their youthful vigor in advancing the collective progress of human society through shared scientific efforts.
One participant, Juan E. Z. Lema from the University of San Francisco in Quito, Ecuador, described this journey as truly unforgettable. She said the summer school's curriculum proved to be comprehensive and intellectually stimulating. For instance, Prof. Bauer posed a multitude of questions pertaining to electromagnetism and quantum mechanics, inspiring them to continually engage in critical thinking and pursue personal growth, she recalled.
As deemed by Prof. Gong Qihuang, Peking University – firmly dedicated to the principle of elevating excellence through openness and fostering mutual progress with the global community – maintains close partnerships with renowned international universities and research institutions. PKUSSI is just a vivid case to demonstrate that endeavor.
This article was featured in the special coverage of PKU's Global Engagement Year.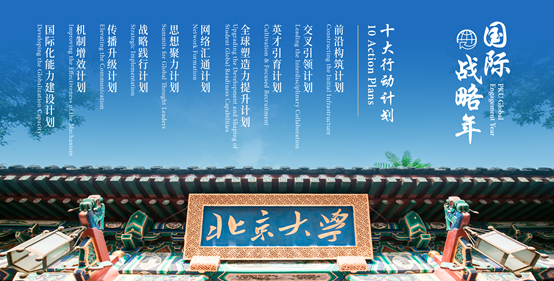 Written by: Fu Jiaqi
Edited by: Dennis Meng
Source: PKU News (Chinese)