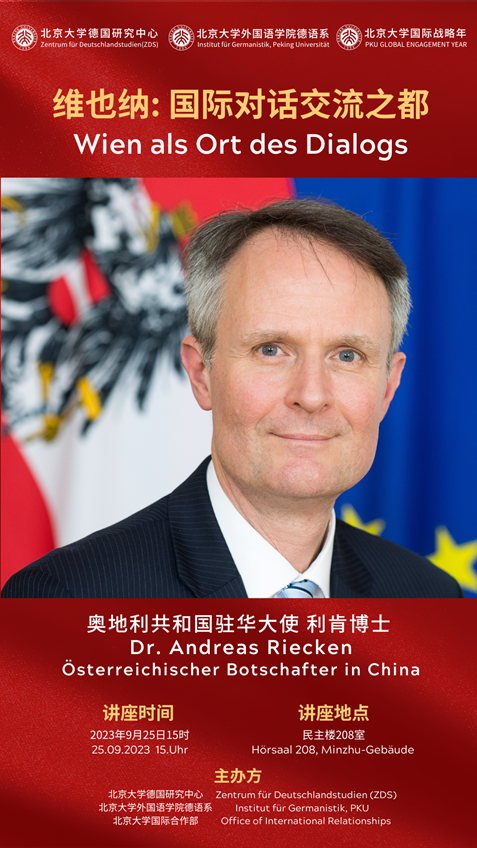 Peking University September 25, 2023: Vienna, often known for its picturesque landscapes and rich cultural heritage, plays a far-reaching role on the global stage as the capital of international diplomacy. In a recent talk at Peking University, the Austrian Ambassador to China, Dr. Andreas Riecken, shed light on Vienna's pivotal position as a hub for international dialogues and exchanges.
Held on Sep 25, 2023, the talk was organized by the German Studies Center of PKU, the School of Foreign Languages, and the Office of International Relations at PKU. Over 70 students from various faculties, including the School of Foreign Languages, the Department of History, and the School of International Studies, attended the talk.
In his talk with the theme "Vienna: The Capital of International Dialogue and Exchanges (Wien als Ort des Dialogs)," Dr. Riecken discussed Vienna's historical and contemporary role as a hub for international diplomacy.
Vienna, as the host city for numerous international organizations (IOs), takes pride in being the capital of diplomatic dialogues and international conferences. Dr. Riecken shared examples of Vienna hosting crucial diplomatic dialogues, such as the Iran nuclear talks and the Afghan refugee crisis. Vienna's IOs cover a wide range of fields, including security, crime, nuclear and sustainable energy, human rights, immigration, and refugee issues, he noted, adding that Vienna is also home to international financial institutions like the World Bank. Thanks to its conducive environment, Vienna serves as the breeding ground for many emerging IOs, he added.
Subsequently, Dr. Riecken delved into the intricate connections between Austria's cosmopolitan landscape and the diversity of IOs. Vienna's status as a hub for international organizations attracts think tanks, NGOs, international schools, and educational institutes to be established in the same city. Consequently, Vienna boasts high living standards, excellent healthcare facilities, top-notch infrastructure, and efficient transportation systems. It is unquestionable that Vienna consistently ranks as a highly livable city in various global rankings, Dr. Riecken highlighted.
To further solidify Vienna's status as a premier destination for diplomatic and international exchanges, Vienna is actively working on incorporating internationalism into its national identity. Efforts have been made to raise awareness among Vienna's residents about the significance of IOs and international conferences, ensuring that the city remains welcoming to IOs, their employees, diplomatic delegations, expatriates, multinational corporations, and their businesses. As it continues to adapt to the evolving needs of the international community, Vienna's significance in the world of diplomacy is poised to endure, ensuring that it remains a beacon of dialogue and cooperation on the global stage.
In the concluding segment of his presentation, Dr. Riecken engaged in a lively question-and-answer session with the students. Topics discussed during this session included Sino-Austrian relations, China-EU relations, and the challenges Vienna may face in maintaining its status as a diplomatic capital in an ever-changing global landscape.
This article was featured in the special coverage of PKU's Global Engagement Year.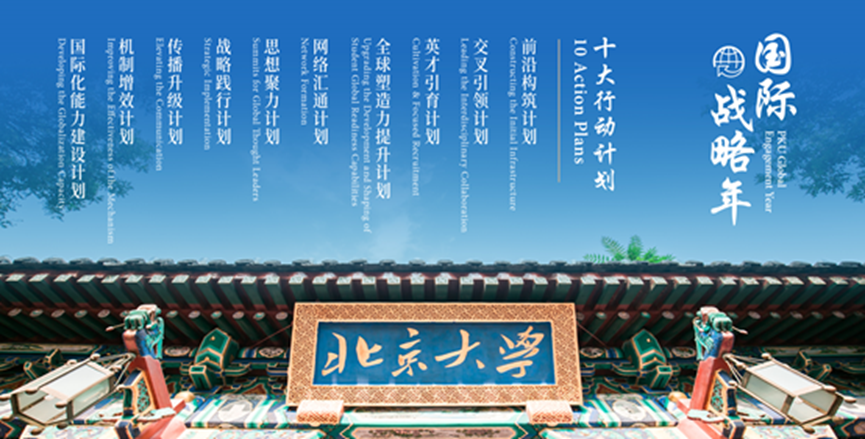 Reported and written by: Shi Xinyao
Edited by: Dennis Meng