Peking University, January 6, 2022: Hong Kong has witnessed the reform and opening-up of Chinese Mainland since 40 years ago. Hong Kong-based businesses have been the leading pioneers who participated in building Chinese Mainland as a major force of economic development in the world. During China's early stages of economic development, many Hong Kong people who have contributed their efforts and wisdom to the economic growth of China, had their work and life closely associated with this country.
Lee Kit Ching Winney (Winney Lee), an EMBA 2003 alumna of the National School of Development, Peking University, was among the countless participants who contributed to the cause. She has been in Chinese Mainland for 30 years and is now working as the director and general manager of Chengdu Union Sun Star River Real Estate Limited.
In the early 1990s, Hong Kong had one of the fastest-growing economies and was among "The Four Asian Tigers", with the per capita GDP 40 times more than that of Chinese Mainland. Prior to the upcoming interview with Winney, we wanted to discover the answers to numerous questions we had in mind - What attracted Winney to participate in the mainland real estate business opportunities as early as 1991? How did she adapt to work and live in the Mainland with different cultural backgrounds? Why did she select an Executive MBA program at the National School of Development, Peking University, in 2003? To what extend did her EMBA study at PKU impact her life and career?
With these questions prepared and ready, we interviewed Winney Lee in November 2021.
Winney Lee has been in Chinese Mainland for 30 years. It's both occasional and inevitable.
Winney Lee, born and raised in Hong Kong, experienced the rapid development of Hong Kong's tourism and hotel industry in the 1980s. In 1991, the KUMAGAI GUMI (HONG KONG) LIMITED and Bank of China planned to set up a company in Haikou to develop Yangpu peninsula in Hainan province. KUMAGAI GUMI then proceeded to send Hong Kong employees to the Haikou International Commercial Center and run their office. At that time, Hainan was established as a newly independent province, which meant that everything had to start from scratch, and opportunity could be found everywhere. It was an ideal location for young people to kick-start their careers. Winney liked challenges and was determined to apply for the job in Haikou.
"My colleagues in Hong Kong at the time asked me if I really decided to go to work in Chinese Mainland, because some people they knew who had moved to Mainland eventually stayed and would not return to Hong Kong. At that time, I didn't understand why they asked me this question, but now, I have already been working in Mainland for more than 30 years." Time really flies.
In the past 30 years, Winney has been working and serving as a senior executive in several Hong Kong real estate companies. She was deeply involved in planning and managing landmark real estate projects, such as COFCO Plaza in 1995, the WF CENTRAL in 2014, and TFC in 2019 (under construction), alongside with many others. Although she has dealt with countless challenges, the opportunities brought by the rapid economic development of Chinese Mainland still fuels her passion towards her career.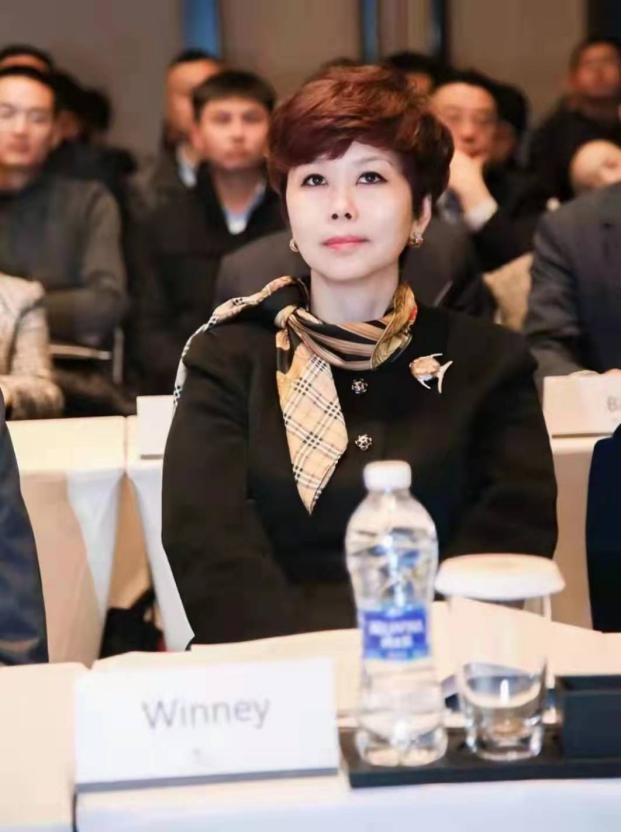 Winney Lee attended the Healthy Environment and Greenbuild Standards Forum
Dr. Justin Yifu Lin, the founder and honorary Dean of the National School of Development, Peking University, once said, "for a developing country like China, which is going through economic transition, choosing the 'right time', or, in a broader sense the macro environment to grow is critical." He emphasized that entrepreneurs and managers involved in the Chinese market need to understand China's macro-economic development trends and changes in the business environment on top of their specific business models. The development of the mainland real estate industry is closely connected with the economic cycle, National Fiscal Policy and Monetary Policy. Thanks to her EMBA study at the China Center for Economic Research of Peking University (CCER, the predecessor of the National School of Development, Peking University), Winney developed the capability to make critical business decisions based on her analysis of the macro-economic environment and policy forecasts in the Chinese market.
Fulfilling life at Peking University, a better understanding of China
In 2002, Winney was on a business trip when she accidentally read about the EMBA program at the BiMBA Business School, CCER on China Daily. Although Winney never stopped learning since the beginning of her career, she was looking forward to a more systematic and immersive learning experience to help her understand the fast-growing Chinese market. The Yan Yuan campus (the campus of Peking University) immediately captured Winney's interest for further education. As the Chinese saying goes, "If the first encounter is amazing, you will not consider leaving".
"At that time, Professor Hu Dayuan introduced the campus and program to me. My trip to Peking University helped my decision to choose PKU as the right place to study. No distractions, only peace."
In 2003, Winney started her EMBA study at BiMBA Business School. At the same time, she accepted a job offer in Shanghai Hutchison Whampoa Real Estate Management Co., Ltd. as the chief property manager. "I practically flew to Beijing every weekend to attend my classes, then return to Shanghai for work during work days; every night, I would finish my assignments. Looking back in time, I am amazed by how I could be able to manage everything. But I did it."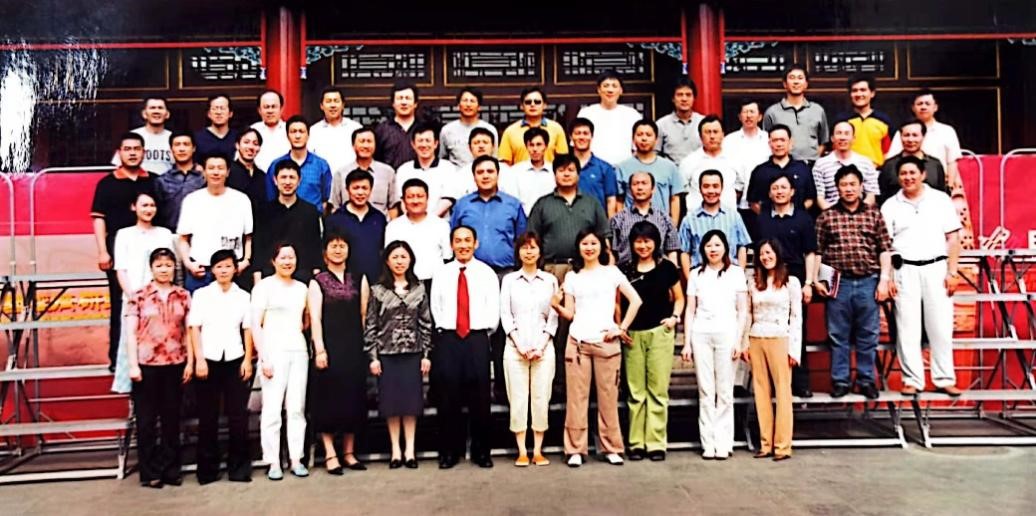 The E03 group photo of Operation Management Class conducted by Professor Gang YU
"A teacher takes a hand, opens a mind, and touches a heart." What made Winney persist was not only her ambition, but also the wisdom exhibited by the professors at the National School of Development. They are all internationally renowned scholars, specializing in economics, management, political science, educational economics and demography. They have global perspectives, but what's more is that they have roots in China, allowing them to have a unique and truthful understanding of the Chinese market. More importantly, they have conducted comprehensive and in-depth research on the relationship between the government and the market; as well as topics on new rural construction, state-owned enterprise reform, telecommunications reform, stock market governance, population policy, and economic restructuring. Their wisdom enabled Minney to understand what's happening in China. "They help me build up new ways of thinking I didn't possess in the past." Eighteen years after her graduation, Winney still remembers Professor John Yang patiently assisting her for her graduation thesis. "I am still in the Cross-Cultural Leadership WeChat group organized by Professor Yang, and I will continue learning from him in the future."
Hong Kong and Chinese Mainland have different business operations and communication styles. In the past, when her colleagues from Mainland and Hong Kong had meetings together, people from Mainland generally chose to communicate after the meeting. This was usually time-consuming as Winney believed that sufficient discussion and communication during the meeting were more effective. At PKU, classmates' candid discussions gave Winney insights into the reasons behind different behaviors. "This process really takes time. If you talk to classmates and friends more often, you will gradually look at the issues from their perspectives and understand how to work and effectively communicate in Chinese Mainland to achieve the best business results."
The EMBA program of the National School of Development has more than 100 students from all walks of life every year. To be a part of a student cohort with complementary experiences, Winney began to feel she was no longer an outsider in the Mainland. Since the start of her journey at EMBA, she started to embrace her life and career in Chinese Mainland that was very much closely tied to the growth of the Chinese economy.
When being asked what advice she could give to future EMBA students, she humbly shared her guiding principles: nurture the spirit of innovation, remain down-to-earth and pragmatic, and never forget to persevere through life's struggles.
Enhance the communication and integration between Hong Kong and the Mainland
In 2014, Winney returned to Beijing after finishing her project in Fuzhou, and served as the Executive Vice President of Wangfu Central Real Estate Development Company Limited. With her friend's recommendation, she joined the Hong Kong Chamber of Commerce in China. "The Chamber of Commerce has several diversified activities in respective industries, and organized numerous policy info sessions with the Beijing Office of the Government of the Hong Kong to help Hong Kong-based enterprises better understand domestic policies."
As Winney became more familiar with the Hong Kong Chamber of Commerce, she began to think about the methods to help Hong Kong-based companies that are new to the Mainland. The ultimate goal was to help these companies with familiarizing the Mainland quickly and efficiently. As the vice president of the Hong Kong Chamber of Commerce, Winney had a goal in mind, "When I first arrived in Beijing, I had received assistance to help me ease into a new environment. Now, I want to do the same and pay it forward, by helping HK companies adapt and integrate into the environment in Beijing faster and easier."
Whenever Winney returns to Hong Kong, she will share the latest economic development in the Mainland and introduce different perspectives with her friends. She hopes to help everyone understand modern China through her own experience.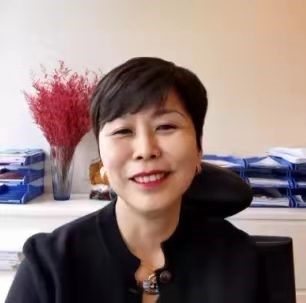 From the beginning of 1991 in Haikou, Winney has been working in Chinese Mainland for around 30 years. In the past 30 years, she has served well-known Hong Kong real estate developers, as well as leading teams in the commercial and residential sectors in the real estate industry. She has managed landmark real estate projects in Haikou, Beijing, Shanghai, Chengdu and Fuzhou, during which she has witnessed the process of urbanization in China. At the same time, she has manifested her role as a bridge that propels the mutual understanding and integration between Hong Kong and Chinese Mainland.
Winney is also a representative of the National School of Development alumni group based in Hong Kong, in which all representatives are professional, hardworking, pragmatic, and hold strong entrepreneurship. They have witnessed Chinese economic development and changes in trade between Hong Kong and Chinese Mainland. They also experienced the dramatic advancements of both personal and industry/corporate transformation, which thrive under the waving forces of macro-economic development, national policy and globalization.
2021 is the first year of the "14th Five-Year Plan". The "14th Five-Year Plan" emphasizes the stronger financial market connection between Chinese Mainland and Hong Kong, and enhances exchanges and collaboration in various fields. In April 2021, Dr. Yu Miaojie, Cheung-Kong Scholar and Boya Chair Professor, deputy dean of National School of Development, was invited to give a keynote speech at the Business Forum hosted by the Beijing Office of the Hong Kong Special Administrative Region of China and the Hong Kong Chamber of Commerce. Professor Yu said in his speech: "Whether it is Hong Kong-based or mainland-based enterprises, they need to seize the opportunity of the "dual circulation" development pattern. The core is that Hong Kong should use its own strengths to integrate into China's dual circulation, which matches with the global economic landscape. China has a huge market, and the domestic market is playing an increasingly more important role in Hong Kong's economic development."
At the end of the interview with Winney, Dr. Chai Yurong, director of the EMBA Center of the National School of Development, closed the talk by saying that: We look forward to more HK-based business pioneers to follow Minney's footsteps and begin their schooling adventures at PKU's National School of Development. NSD hopes that EMBA students can utilize their unique perspectives and wisdom, develop into more impactful business leaders and create a better world for everyone.
Written by: Shi Yao
Edited by: Chai Yurong, Rose Li