Peking University, January 12, 2022:
Olympic champion, all-around curve wrecker, young doctor, campus designer…they are winners of PKU Student of the Year 2021! Ten PKUers have emerged after rounds of strict assessment. Who are they? What are their stories? Let's go have a look!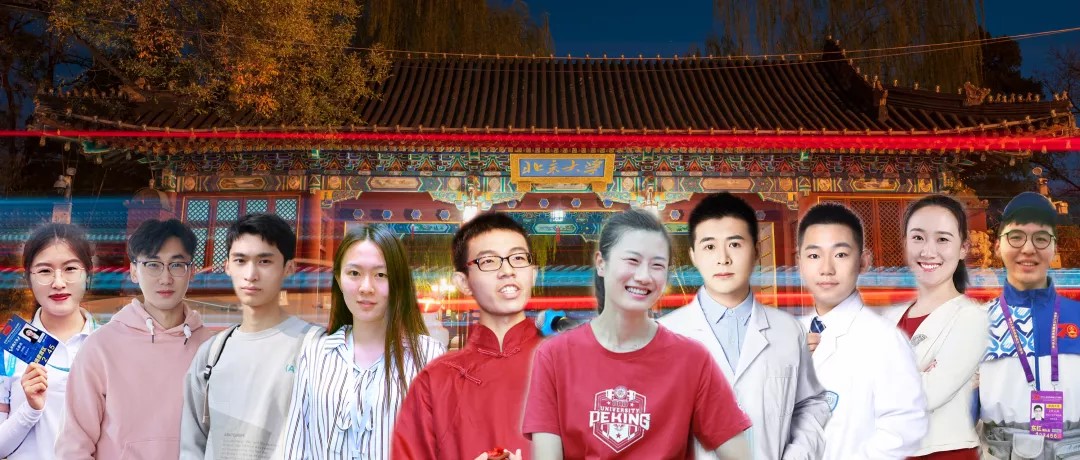 Ding Ning (Department of Physical Education, 2021 Master's degree candidate)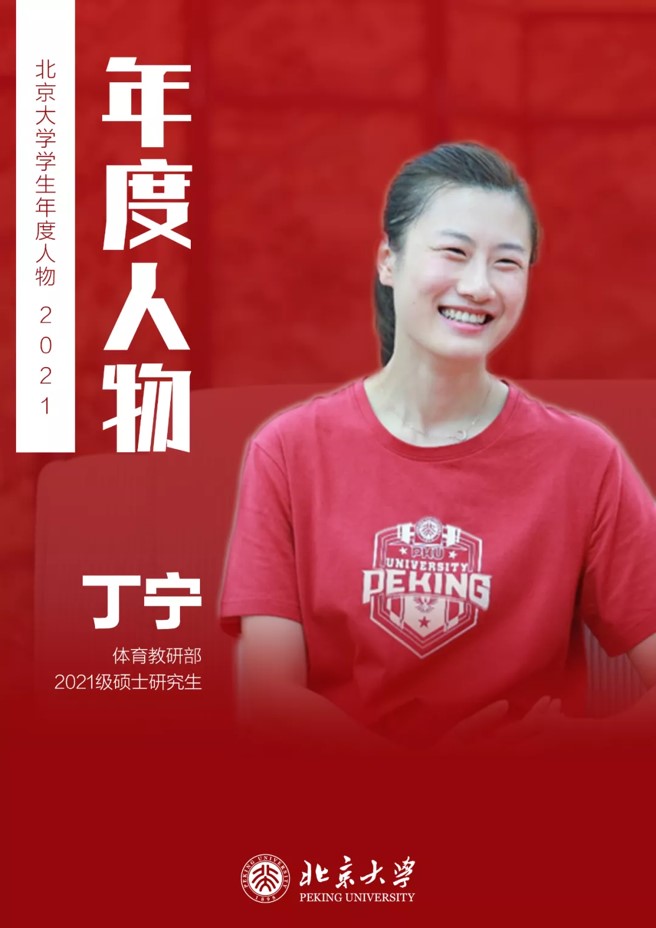 A "Grand Slam" player who swept the table tennis arena, Ding Ning started playing table tennis at the age of 5 and was admitted to the national team at the age of 13. Her first world championship came when she was only 19. The national anthem resounding the arena each time witnessed her triumph in competing for the glory of the country, and celebrated the fruit of her remarkable tenacity.
As the first and the only Olympic flag bearer hitherto in the history of Chinese table tennis, Ding Ning has fought on behalf of the national team for 18 years, during which she won a total of 21 world champions, 7 singles champions in the world's 3 major table tennis contests (World Table Tennis Championships, Table Tennis World Cup and Olympic Table Tennis), and spent 53 months as the world's number one-ranked women's singles player.
In 2017, Ding Ning assumed the role of captain of the national women's team, serving both as role model and mentor. The deferment of 2020 Olympic Games put her under great pressure, but she inspired young players with her perseverance, training with the team until the very end. After the Chinese team's triumphant achievement at the 2021 Olympic Games, Ding Ning announced her retirement and enrolled in Peking University, embarking on her brand-new journey.
Esen Erbolat (School of Marxism, 2021 Master's degree candidate)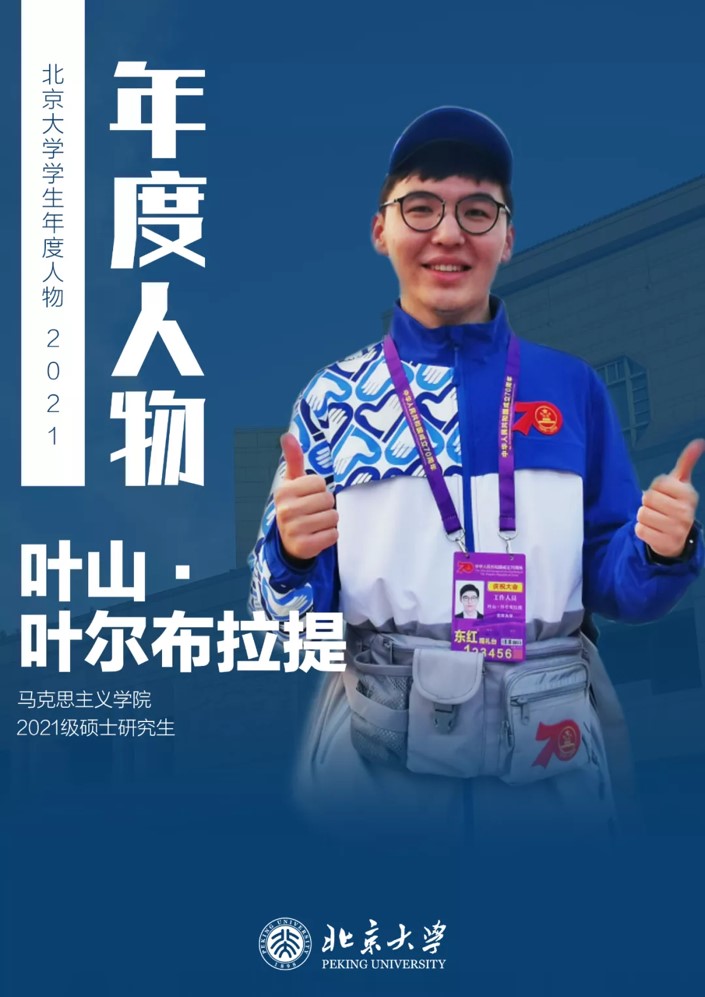 Esen Erbolat applied to join the volunteer working group as soon as the volunteer recruitment notice for the "70th Anniversary of the Founding of the PRC" was issued in 2019. On the anniversary, he had stayed at his post for 20 consecutive hours, successfully completing the volunteer work. He was awarded "Advanced Individual of Beijing", and was met by President Xi with cordial welcome at the summary meeting of the 70th anniversary celebration event.
As a young Kazakh from Xinjiang, Esen Erbolat has been working hard to contribute to ethnic unity and progress. In 2017, he initiated Student Northeast Research and Development Association with the intention of inspiring greater understanding and appreciation for the Northwestern region, and has since organized several teaching and research activities to Xinjiang.
As the leader of the volunteer group, Esen Erbolat participated in the 2nd Belt and Road Forum for International Cooperation and Conference on Dialogue of Asian Civilizations in 2019. Next year, he will be participating in Beijing 2022 Olympic Winter Games as a games volunteer.
Ye Haotian (Yuanpei College, Undergraduate Class of 2022)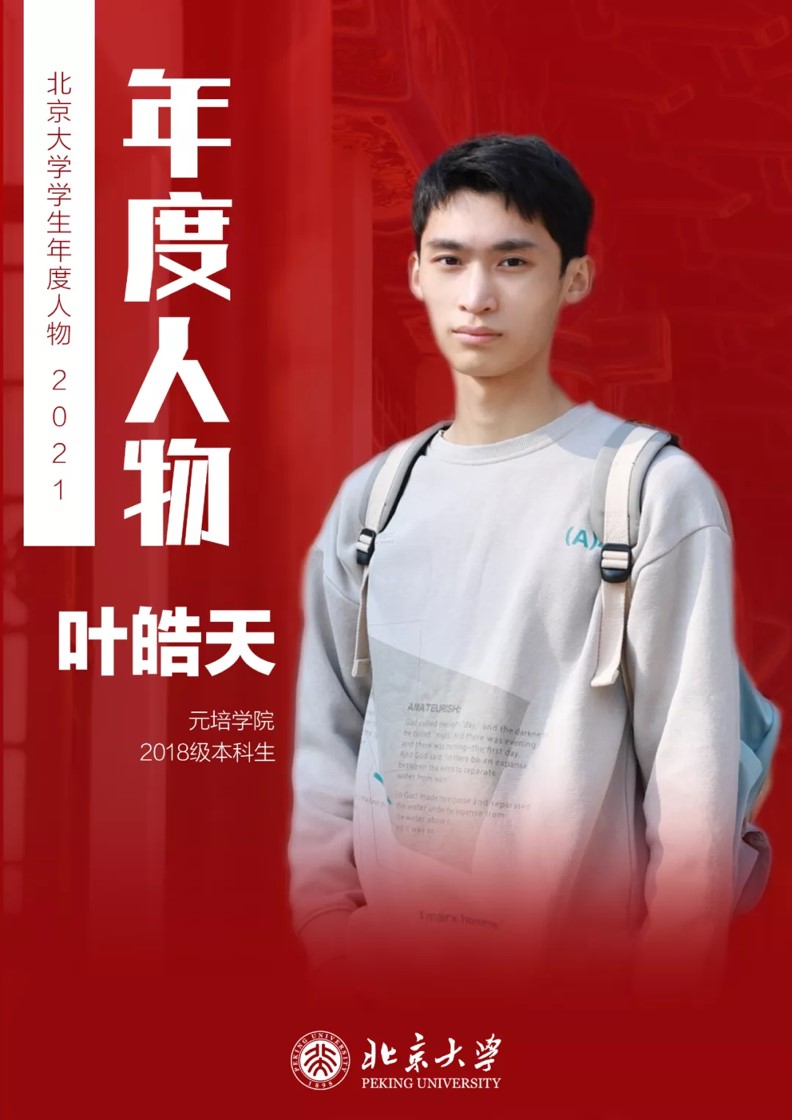 With a GPA and Grade Comprehensive Assessment ranking of first and scoring over 95 for 22 courses, Ye Hantian is an all-rounded curve-wrecker! Ye Haotian has been studying Machine Learning theory under the supervision of Professor Wang Liwei. In June 2021, he published a paper at the 2021 NeurIPS Conference, in which he came up with an innovative theoretical framework for out-of-distribution generalization. In August 2021, he was invited to University of California, Berkeley to work on the authenticity of the output of natural language models, so as to align machine learning with human values.
"How to put learning into practice" is a frequently contemplated question for Ye Haotian. From the development of the automatic reservation system for the Yuanpei basement and the reputation management system, to the establishment of "Smart Campus Student Entrepreneurship Project Team of Yuanpei College", Ye Haotian has effectively resolved real-life problems and brought convenience to teachers and students. For Ye Haotian, "academics and industrial application are not far apart."
Liu Zhao (College of Urban and Environmental Sciences, 2020 Doctoral candidate)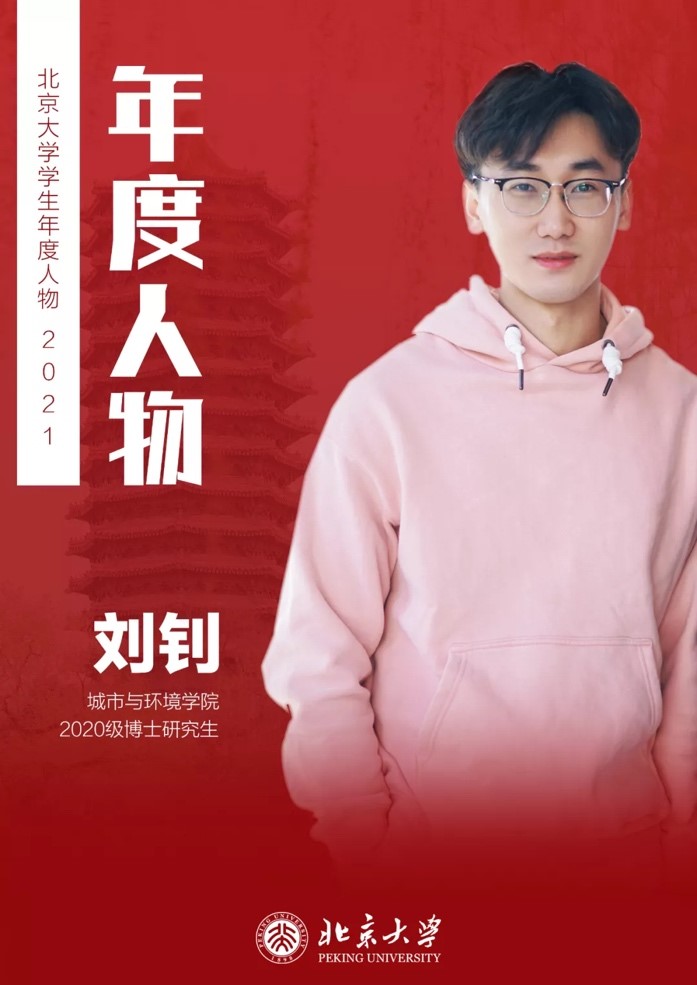 Works designed by Liu Zhao are ubiquitous on campus. They include the informational graphics promoting vaccination on campus, various displays at Jiayuan Canteen, and the PKU Powerpoint template featuring four seasons which has been downloaded 16,879 times and shared more than 200,000 times. He has spent countless days and nights perfecting his works, aiming to depict the beauty of PKU with love and passion.
Liu Zhao ranked first at the GPA and Grade Comprehensive Assessment as a master's degree candidate. During his doctoral candidate period, he has published 9 academic papers, 2 of which were selected as Peking University Scientific Research Highlights. His research results on cultural heritage preservation, which took him 3 years to complete, won first prize in the 2021 Graduate Student Competition on Innovative Research on Smart Habitat and Healthy Cities.
Liu Zhao has been awarded 12 national patents, which have been applied to rural ecological restoration, cultural heritage and industrial development planning in Henan, Gansu, and Shanxi.
An Zhuoyu (Peking University People's Hospital, Undergraduate Class of 2022)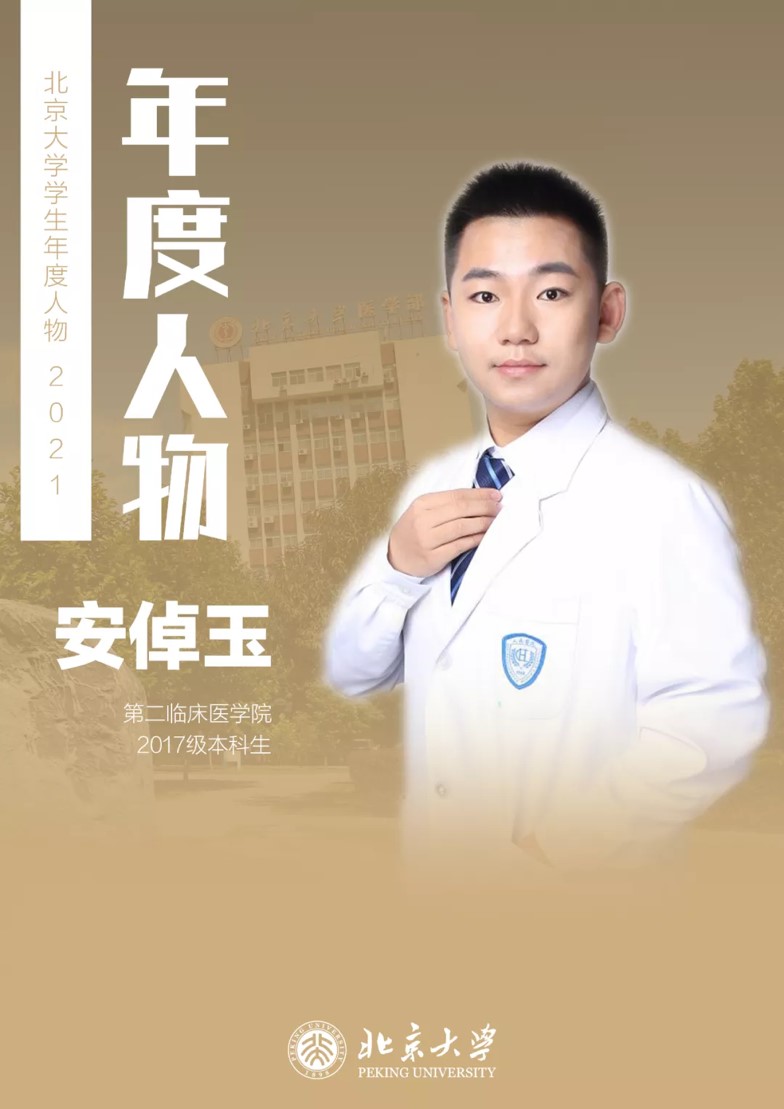 An Zhuoyu is first author/co-first author of 5 SCI papers in 2021. The one which he first-authored won first prize in the PKU Challenge Cup and second prize in the Elsevier National PBL Medical Talk Show Competition. He is also a reviewer for top international cardiovascular journals Eur Heart J and J Clin Transl Hepato.
During the coronavirus pandemic, An Zhuoyu conducted a series of new research. His research results regarding whether RAAS inhibitors may affect the prognosis of coronavirus patients was published on Front Cardiovasc Med, underscoring the effects of evidence-based medicine on the use of RAAS inhibitors during coronavirus.
In 2021, he was invited to give an oral report at the 63rd AHS Annual Meeting and Exposition, and became the only undergraduate to receive the 2021 ASH Outstanding Abstract Achievement Award among the five recipients worldwide.
Liu Haoyu (Guanghua School of Management, Undergraduate Class of 2022)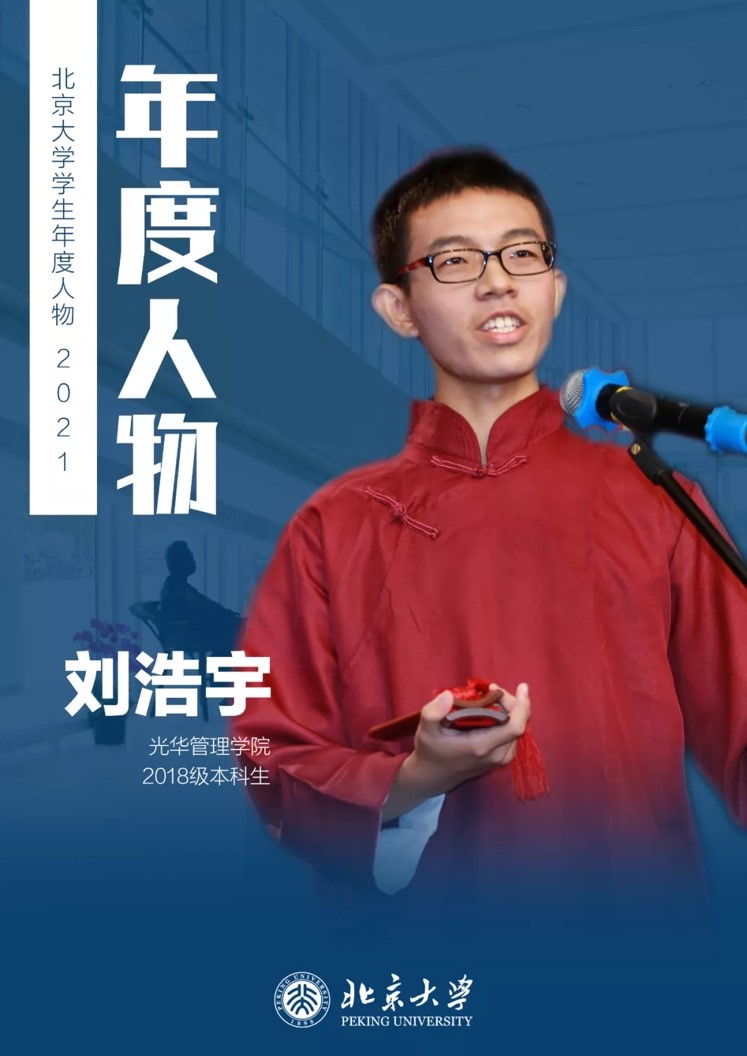 Scientific research, comedy, and platform establishment, all-rounder Liu Haoyu shuttles between various fields. He has participated in the adaptation and creation of numerous works commending the spirit of contemporary college students. Based on traditional art such as Beijing Opera, he contributed to creating numerous comedies. The comedy "Learning Monkey Dancing" which he created and performed won the first prize in the 3rd "Ma Ji Cup" National College Student Comic Show.
Offstage, Liu Haoyu devotes himself to scientific research. His long-term goal is to resolve major problems concerning people's livelihood through economic research. Drawing inspiration from "Newbie Gift Packages" in games, he wrote a paper combining ideas from behavioral economics with models from theoretical economics under the guidance of Professor Weng Xi, winning the 2020 PKU Outstanding Undergraduate Research Project.
In June 2021, he and several students co-founded the "Enter Guanghua" platform to help high school students get to know Guanghua. As a part-time counselor of the Guanghua School of Management's Class of 2024, he focuses on providing value-based guidance to new students and mentoring them in their academic life.
Wu Qingyu (School of Mathematical Sciences, Undergraduate Class of 2022)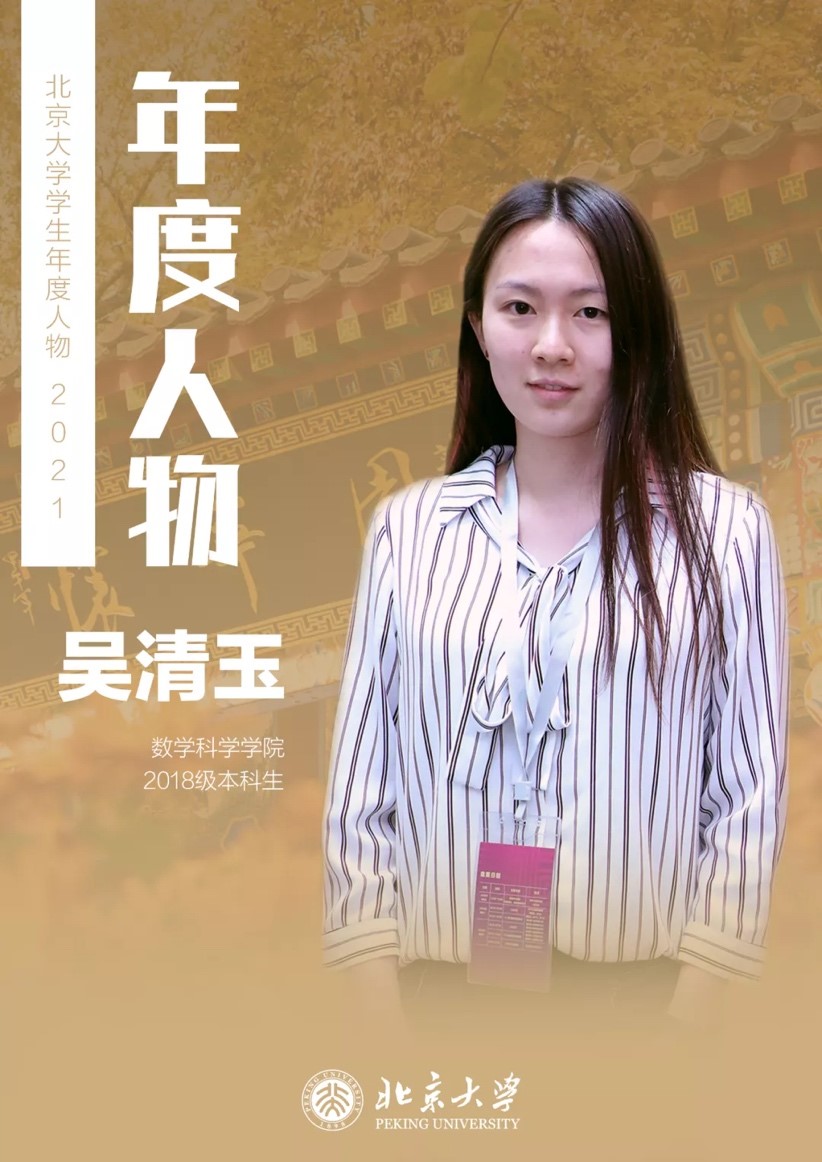 Wu Qingyu may be regarded as a "celebrity" in PKU School of Mathematical Sciences. With all the attention she has been bestowed, Wu Qingyu's greatest wish is to provide more help to students of SMS, and to encourage more girls to break the stereotype and study mathematics.
Since the second semester of her sophomore year, Wu Qingyu has been working on finite element problems under the guidance of Professor Hu Jun. In March of 2021, she completed the construction of a continuous coordinated finite element space of arbitrary order on a simplex lattice in arbitrary dimensional space. The result solved a fifty-year-long conjecture in the field of finite elements.
Wu Qingyu has won first prize in the National College Student Mathematics contest, the second prize in the 2021 S.-T. Yau College Student Mathematics Contest, and ranked first in the preliminary of Alibaba Global Mathematics Competition.
Wu Qingyu has also led the student association of the School of Mathematics to hold a number of original activities on and offline, and participated in the recruitment work of the college. The campus community has benefited from Wu Qingyu's energy and commitment.
Wu Qiyao (School of Archaeology and Museology, 2019 Doctoral candidate)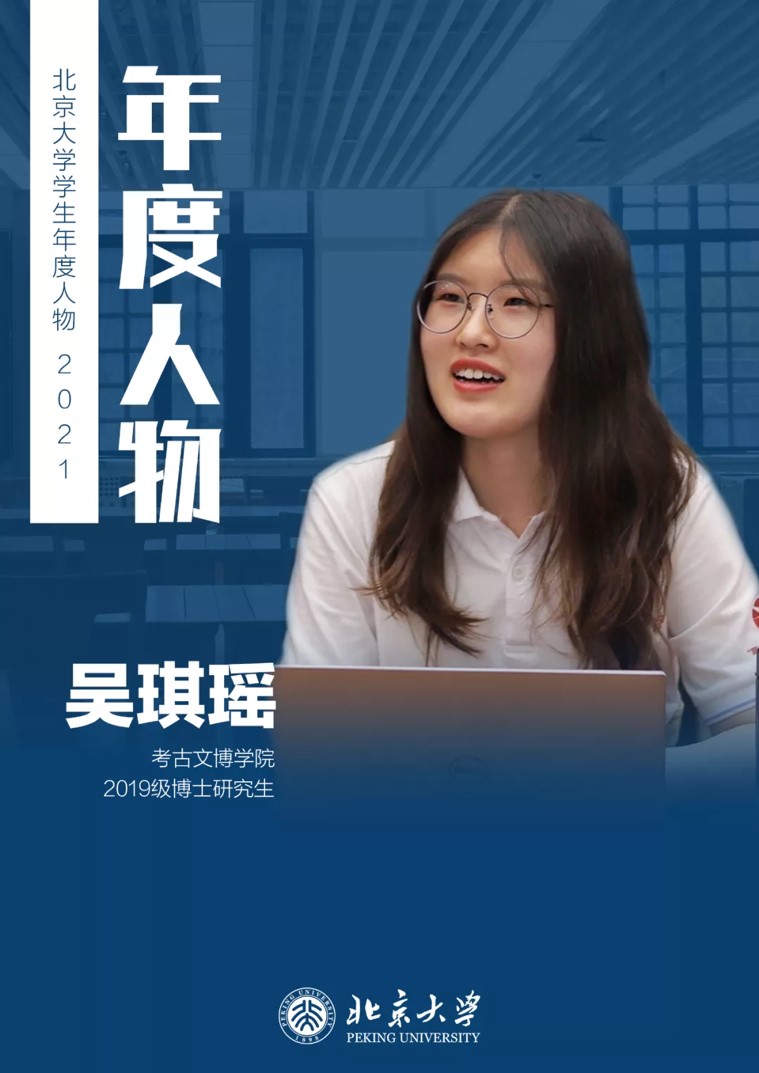 Under the supervision of Professor Sun Qingwei, Wu Qiyao regards academic research as the most important avenue for graduate students to a fulfilling academic journey. Based on the characteristics of archaeology, she has been working in the area of document collection, actively participating in major projects such as one aiming to trace the origins of Chinese Civilization, and exploring the contemporary development of China's cultural relics and archaeology under the call of President Xi.
As secretary of the PKU Party Branch, Wu Qiyao has led members to the archaeological excavation site of the Sanxingdui Relics, worked at the National Cultural Heritage Administration, and participated in the parade event of the 70th Anniversary of the Founding of PRC and the volunteer work of the 100th Anniversary of the Founding of The Communist Party of China.
Wu Qiyao is also known as the warm, caring and reassuring "super sister" on campus. As a student counselor and college mental health supervisor of the undergraduate Class of 2023, Wu Qiyao always does her best to care for the younger students, sharing her study materials, guiding them in their course papers, and talking to them in their dorms every semester.
Huang Hong (Peking University First Hospital, 2019 Doctoral candidate)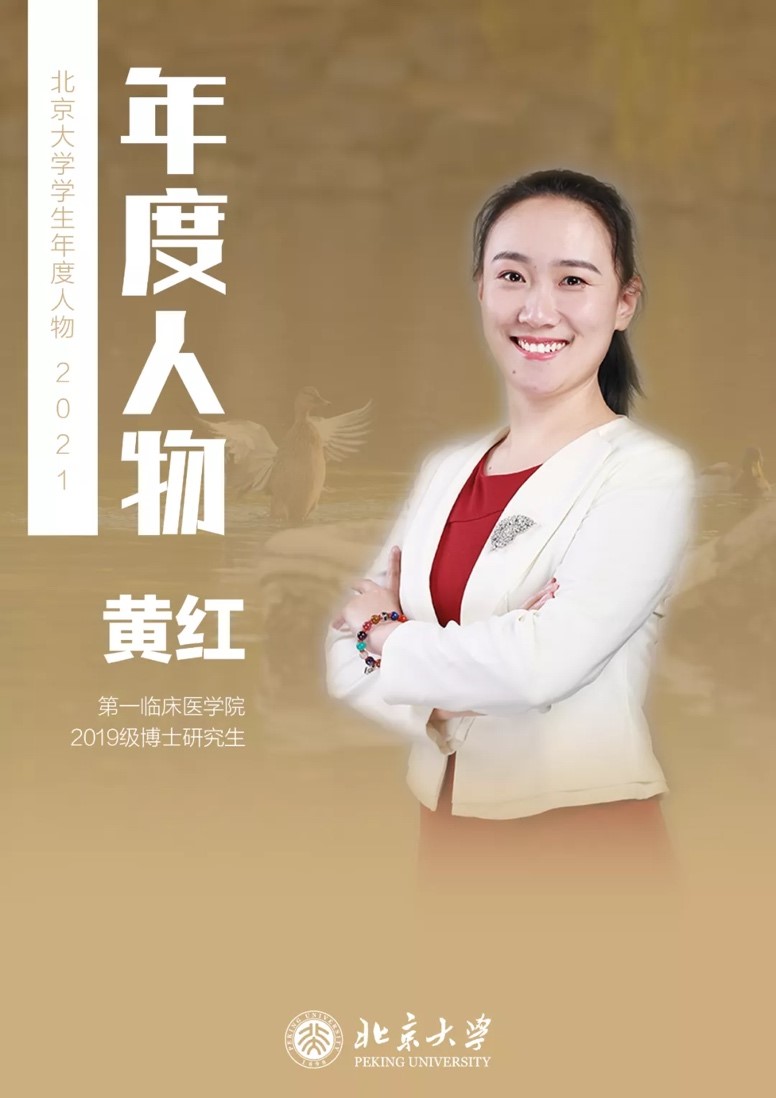 Huang Hong, studying under Professor Zhang Zhuoli in the Department of Rheumatology and Immunology, focuses on the management and pathogenesis of rheumatoid arthritis patients, with the mission of improving the prognosis of rheumatoid arthritis patients in China and reducing the possibility of disease-induced disability and poverty.
On the clinical front, Hong Huang has assisted the department in establishing patient database and follow-up system, which have significantly ameliorated the prognosis of patients. Regarding scientific research, her latest results related to lipid metabolism and disease pathogenesis has new directions for clinical treatment.
As a graduate, Huang Hong could not serve as a frontline medical staff during the coronavirus pandemic. Instead, she volunteered to join the online consultation team of her department, so as to provide instructions for patients who could not go to the hospital due to the pandemic and provide follow-up work.
Up to now, Huang Hong has published or received 19 papers, 6 of which are SCI papers with her being the first author. In her research and service, she is keen to understand the confusion and misconceptions of the public around medicine. From writing educational articles to giving community health lectures, Huang Hong strives to render medicine more accessible to the public.
Que Jianyu (Peking University Sixth Hospital, 2019 Doctoral candidate)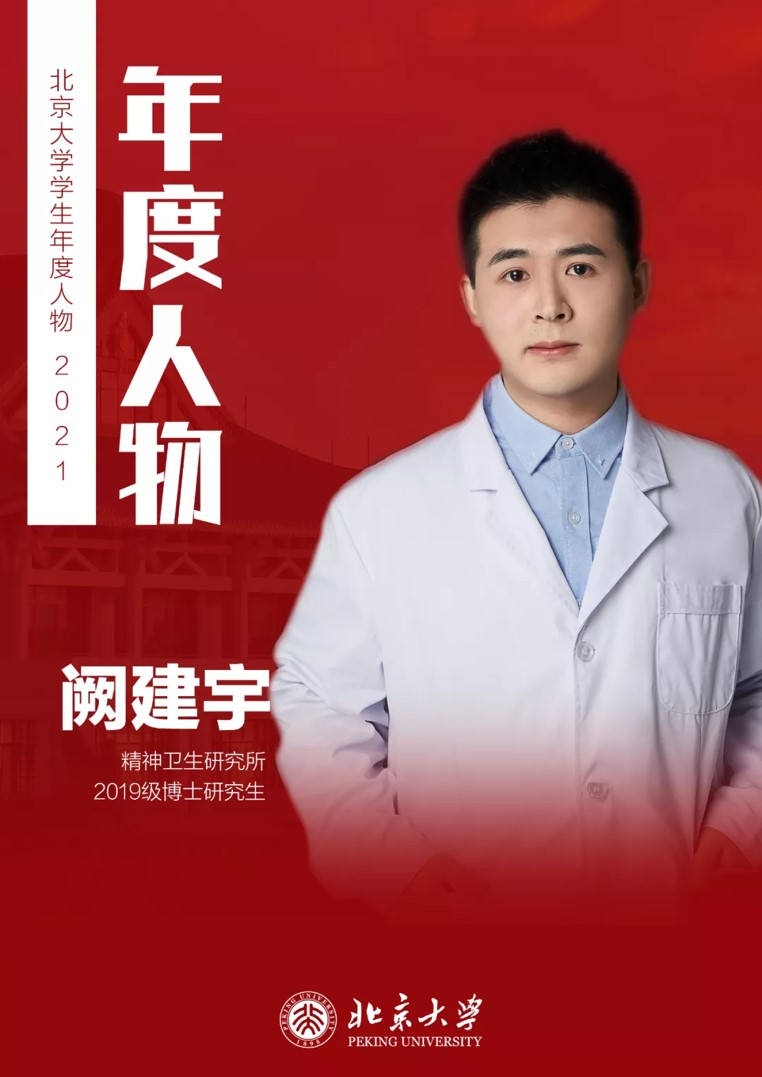 The outbreak of the coronavirus pandemic has put both physical and mental health in jeopardy. Under the guidance of his supervisor, academician Lu Lin, Que Jianyu conducted research concerning the mental state of the general public and medical staff during the pandemic, the results of which had been published on numerous authoritative journals such as Mol Psychiatry and Eur Psychiatry. His work provides strong data and theoretical support for mental health intervention strategies and related policy formulation under the epidemic.As the first author or the co-first author, Que Jianyu has published a total of 8 papers on several influential journals in the field of psychiatry, with the highest single citation of more than 140 times.
Disseminating his professional knowledge and the latest research results to more people in the most accessible way has always been Que Jianyu.'s goal. He participated in writing several popular educational books, and often shared his expertise through Life Times and other authoritative channels. In his spare time, he participated in organizing and reviewing medicine educational videos online, such as "the Truth About Sleep", a hit which has been viewed more than a million times on Bilibili.
As we come into 2022, we would like to congratulate all winners for their outstanding work and tireless enthusiasm in bettering the campus and society!
Written by:
Zhao Yuexu
Edited by:
Li Wanqi
Source:
PKU News (
Chinese
)