Editor's Note:
PKUShine is a series that features Pekingers who venture outside of school to fulfill their mission in bettering society, all whilst coming into their own. These students participate in a diverse spectrum of activities, be it volunteering stints, social work and research, and/or meaningful internships. Their inspirational stories will not only tell of their experiences, but also reveal personal insights on work, life, and their sense of purpose and drive. Today, let's follow the steps of Zhang Dingle to the county he called home, Nanjing, Fujian.
About me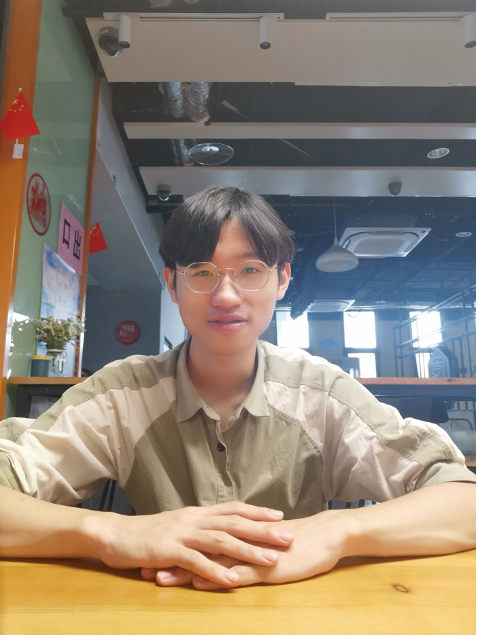 Chinese School of Pharmaceutical Sciences Year 4
Hello, my name is Zhang Dingle. I was born in Nanjing County, Zhangzhou City, Fujian Province. It is also the homeplace of the Fujian Tulou, a UNESCO World Heritage Site!
Having been interested in learning more about the traditional culture of my hometown, I decided to spend my summer vacation doing social work in my hometown.
Rediscovering home
I have always wanted to bring my friends along to Zhangzhou city, and coincidentally my hometown has been encouraging university students to bring their friends to explore and do some social work. You could say that this decision was made on a whim, especially since most Year 4 Pekingers would be more focused on preparing for graduation, but fortunately I had quite a few friends who shared my interests. We formed a team and quickly decided on our theme, partners, and itinerary.
Zhang Dingle and his teammates
The main reason for wanting to return to my hometown is my attachment to it: growing up, I was somewhat of a "rural kid", as I'd go back to our village every weekend. Fond memories of my village include being raised and doted on by my grandparents and frolicking in the fields. In the process, I'd witnessed how the registering of the Fujian Tulou as a UNESCO World Heritage Site had changed the rural landscape of Nanjing county, which fuelled my interest in understanding more about the process and outcomes of rural urbanization.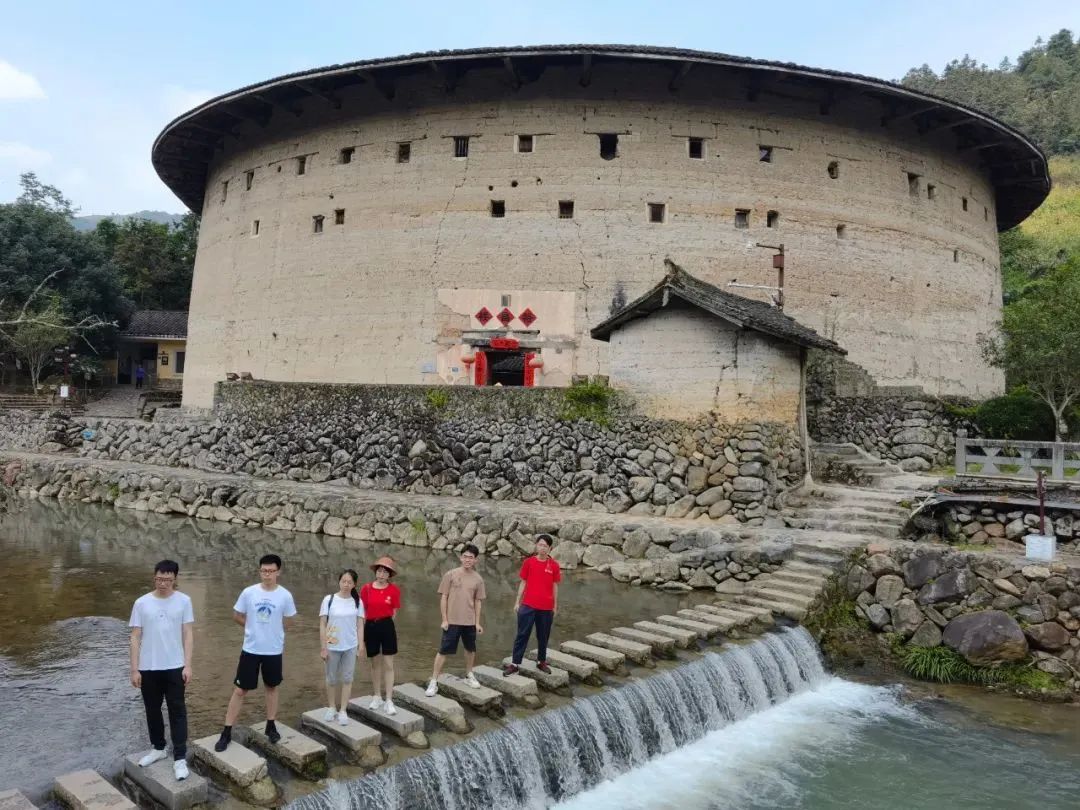 Zhang Dingle and his teammates during their social work
The Fujian Tulou are earthen dwellings constructed between the 13th and 20th centuries in south-west Fujian. The Tulou was first built by the Hakka and Hoklo people who migrated from central China to Fujian as a defence against attackers and trespassers in turbulent times during the Ming (1368-1644) and Qing (1644-1911) dynasties. Its fortress-like clay walls are thus heavily fortified and feature no windows. Each one is two to five storeys high, usually circular or rectangular in shape, and can house up to 800 people each. In all, the Fujian Tulou serves as an extraordinary testament not only to society's sophisticated building traditions and ideas, but also to their harmonious relationship with the environment.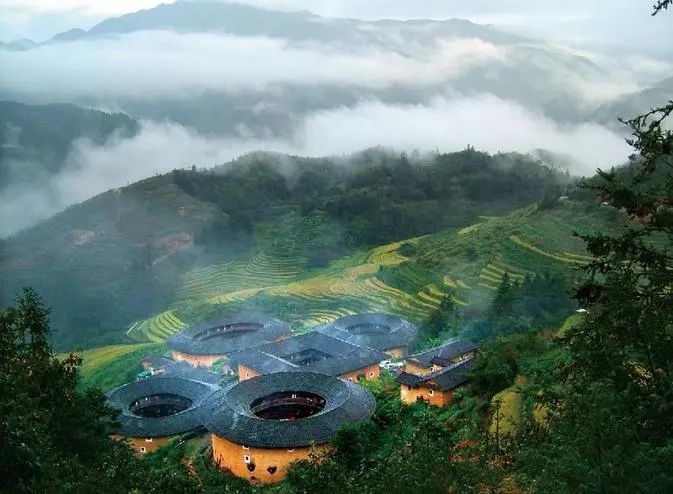 Bird's eye view of Fujian Tulou
As old villages eventually give way to modern infrastructure developments, the memories, stories and heritage these villages hold are also lost. Therefore, I decided to bring my friends with me to contribute to the redevelopment and preservation of my hometown and learn more about it in the process.
Finding meaning in social work
Zhangzhou is one of the main ancestral homes of Taiwan compatriots. As we proceeded to learn more about their livelihoods in Zhangzhou, we contacted an old man who owned an orchid garden in Nanjing county and met with him for a conversation. The garden was a pleasant sight to behold – a patio lay in the centre of the courtyard, and within that patio were a myriad of flora. The garden owner said that he felt an affection for these hometown plants.
Fujian Province is known as home of the Chinese orchids. We learned from the owner that the development of the county's orchid industry has been facilitated by better cross-Strait relations and more frequent exchanges. In addition to the conducive climate and land in Nanjing, in view of better economic prospects and favourable policies, entrepreneurs from Taiwan Region see value in crossing the Straits to start flower businesses. As such, the orchid industry has grown to become a main industry locally and employs one of the highest proportions of youth workers. Besides stability and economic opportunities, for the garden owner, the county also offers an living environment similar to that of his own – similar folk traditions, a common spoken language, and a simple community.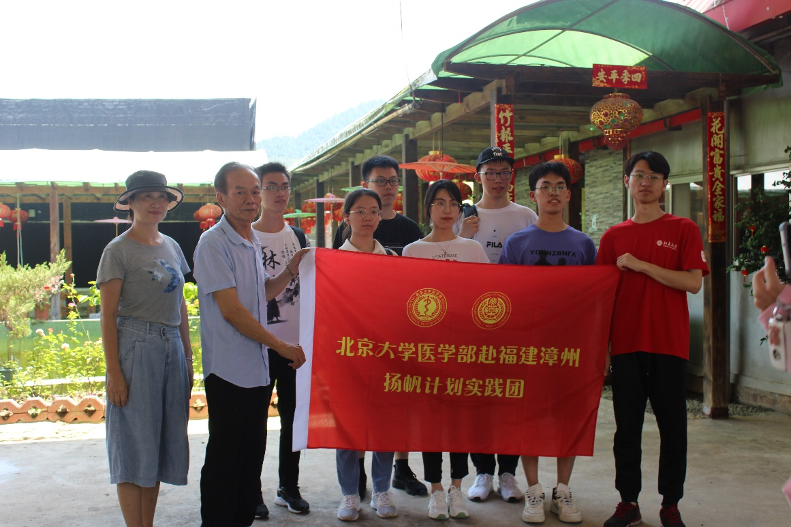 The team at the Orchid Garden
When we shared that our medical profession required studying for close to 20 years, he said that at this age, we should spend more time doing more social work and learning more about our society and that this was not any less important than studying. To most people in my course of study, choosing to do social work related to rural revitalization might seem rather unproductive, given that we can't draw on our professional knowledge much. However, our main purpose was actually to broaden our horizons, and bring real change to these rural areas. To the old man, the significance of our social work in the village is to tie our hearts to the grassroots in our future endeavours.
Learning about real problems in rural development
We originally planned to visit Banchang village in Hexi, a provincial rural revitalisation demonstration village, to learn about the development models for villages. However, the village was so well-developed that it basically showcased an urban development model. As such, we decided to explore something that was more closely related to our course of study for a change: the local morinda herb plantations.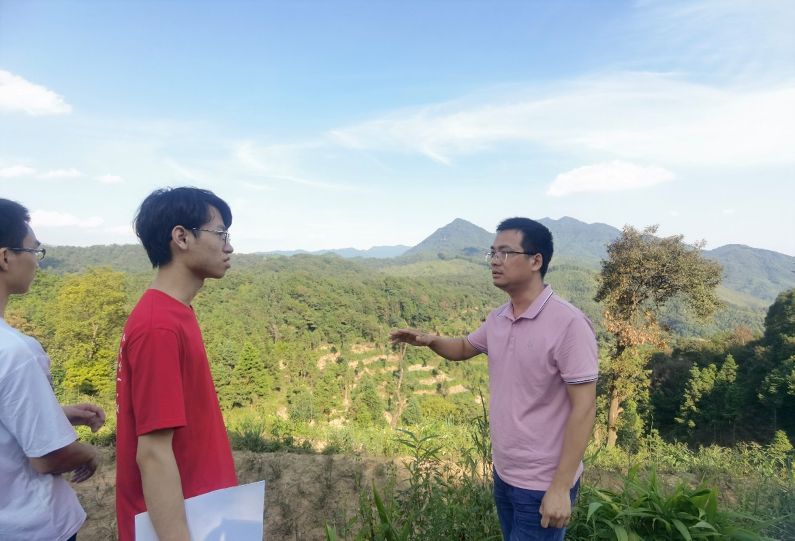 Talking to an industry expert about Morinda herbs
The market for Morinda-related products is small, and the Morinda plantations reside on rugged terrains in hilly areas that provide neither adequate routes for transportation nor the means to sustain other means of livelihood.
The Morinda industry today works as such: the farmers grow the Morinda plants, which are then purchased and resold by companies. For farmers, while the income from Morinda harvesting and maintaining nearby forestry might be enough to make ends meet, a lifestyle of subsistence will only encourage more people to leave the village, thereby hampering prospects for rural development.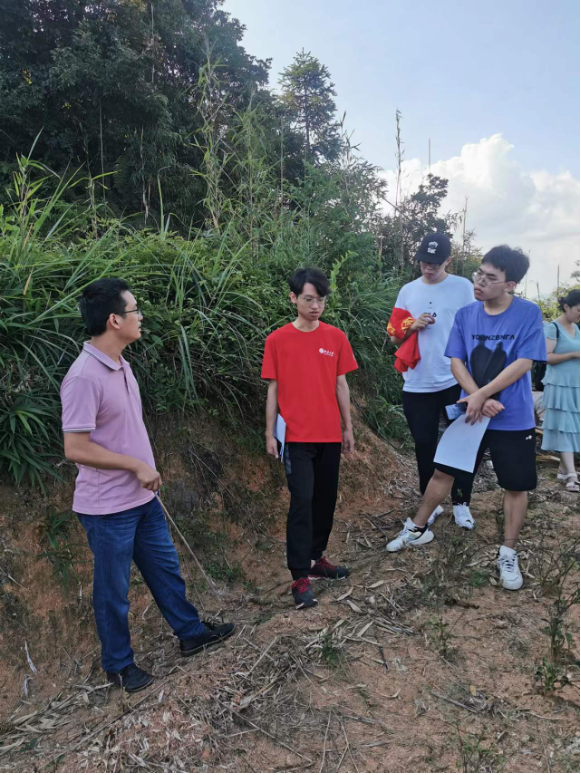 The team at the plantation
Besides, a long harvesting period, a lack of commercial operations, difficulties in developing healthcare products, and the absence of a Chinese medicine-related industrial chain further drives the stagnant growth of the industry. The industry lacks a comprehensive development plan, and the true medicinal value of the herb awaits further studies by universities and research centres. While initially we felt helpless when faced with a strong local demand to improve the existing supply chain of the Morinda industry, as students, we could try our best to come up with an solution or project idea and speak to our professors for help.
Unforgettable Moments
One of the most memorable parts of the trip was when we met some youths who returned to their hometown. On our way to a bed and breakfast (B&B) in Xinluo village,
I had expected the style of the architecture of the local residences to be the same as that of my hometown in the same township. Yet, the exterior of the houses looked nothing like what I had imagined. Only after careful observation did I realize that these were Tucuo, or traditional rammed earth dwellings.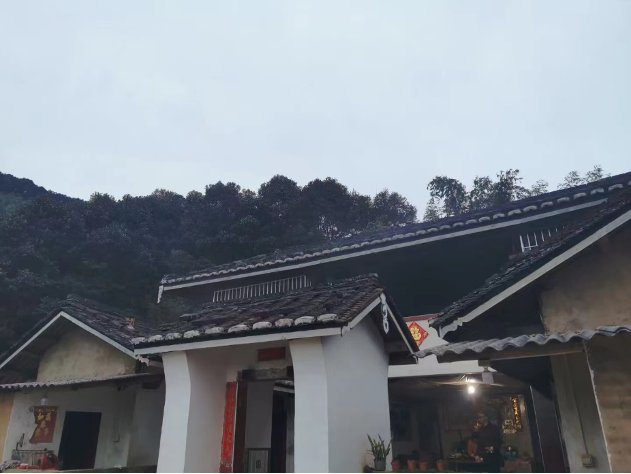 Modernity meets tradition - the revamped Tucuo in Xinluo
We spoke to the owner of the B&B, 28-year-old Zhang Weitao from Quanzhou, who worked with his friends to redesign the building. As Quanzhou is the most economically developed city in the whole of Fujian, we were curious as to why he chose Xinluo. His response: he simply loved the environment here, as this place had not been commercially developed. Having lived in a big city for a long time, he decided that he preferred this peaceful environment and tranquil life.
Many return to their hometown to tear down old buildings and build new ones, but these youths chose to redevelop old buildings while retaining their original structures and their cultural heritage. We were heartened to see that there were still youth out there who feel the need to preserve our cultural heritage in the face of the relentless pace of modernization.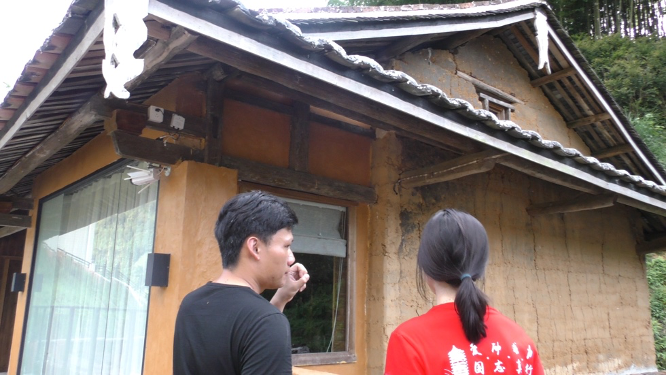 B&B owner Zhang Weitao introduces Tucuo to the team
Not every village shares Xinluo's luck. I have bore witness to the disappearance of the village where my grandparents once lived - abandoned in the process of urbanization, the last few aborigines waited for a tide of rural revitalization that never came. After my grandfather passed away, my grandmother was taken to live outside the village. The parting was as psychological as it was physical – she doesn't remember me anymore. My memories whereas, of picking ferns along the mountain roads, of playing the flute in the woods, of exploring our earthern house…they dim as the village fades in passing time.
I worry that in a few decades, my hometown will be gone, and I lose all sense of familiarity in that same plot of land. I hope that as we push on with rural revitalization projects, we can still preserve a part of our hometowns, a place that we can truly call home and rest our souls.
Our Team
Written by: Su Huangyi
Edited by: Li Wanqi, Lean Zhi Xuan, Hu Shaocong