Peking University, December 5, 2022:
There is a group of students at Peking University, who are captivated by the wonders of astronomy, gather at Peking University Youth Astronomy Society (PKU-YAS). Coming from diversified academic backgrounds including physics, chemistry, mathematics, and even law, they gravitate toward YAS with a shared interest in gazing at the starry sky.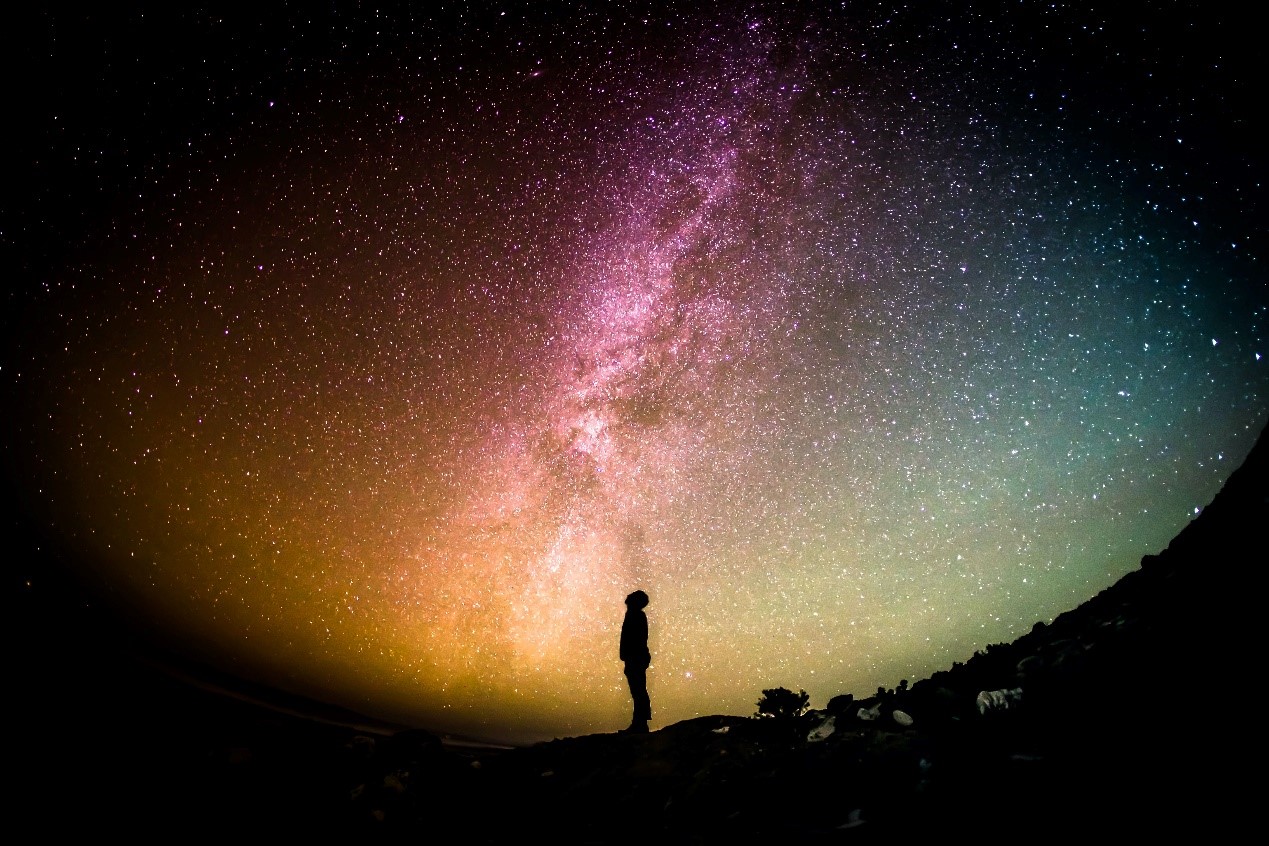 Stargazers' paradise

Founded on April 25, 1990, PKU-YAS has enjoyed over 32 years of development and influence. On May 29, 2022, a new leadership group was elected at the annual general meeting of PKU-YAS. Guo Jingsong, a class of 2025 undergraduate student, was elected as the 45th student president of PKU-YAS. PKU student journalists spoke with Guo on Saturday to learn more about the stellar extracurricular activities at Peking University.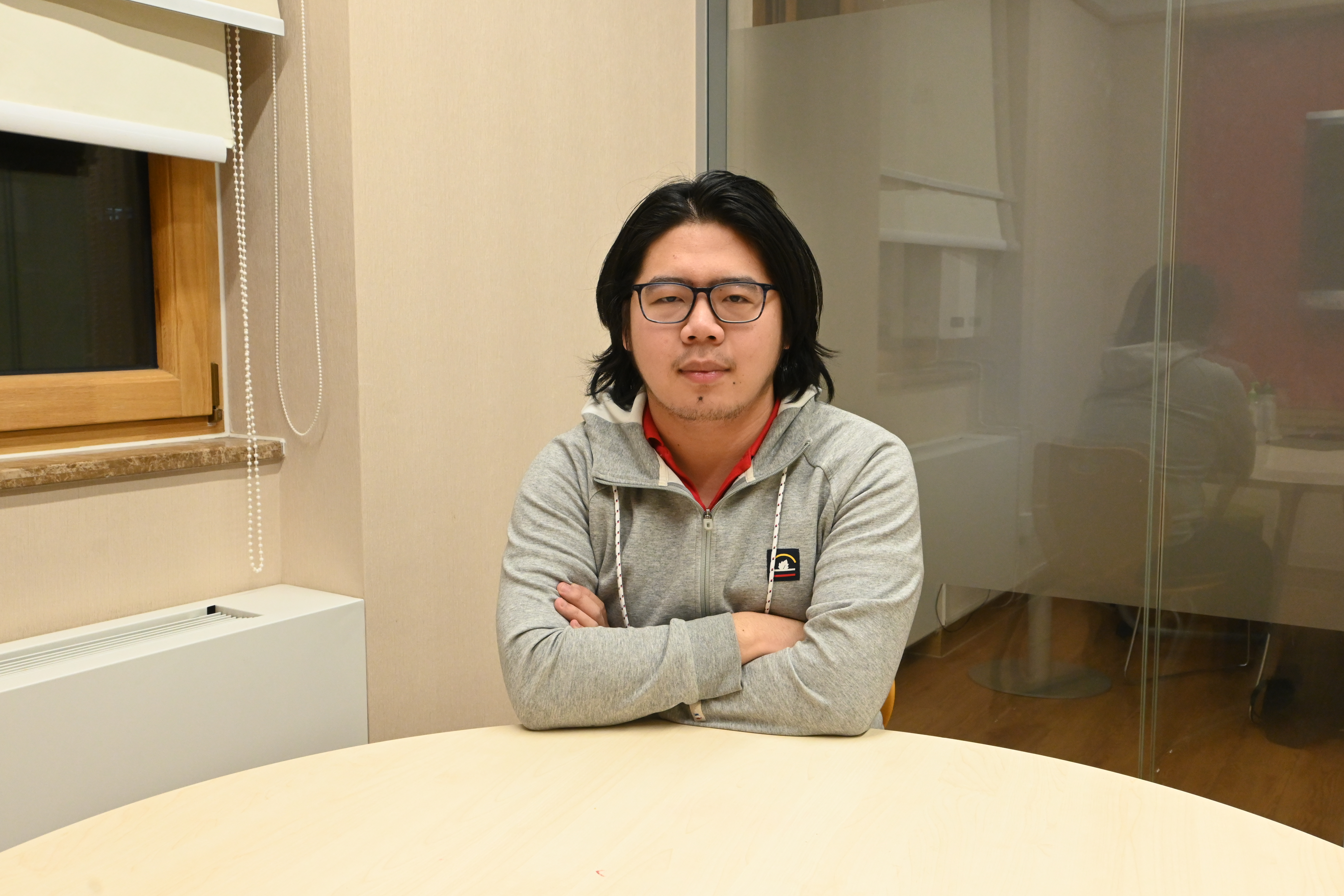 Guo Jingsong
There are two main types of activities at PKU-YAS - lectures and observations - Guo told PKU News during the interview. Experts in relevant fields are invited to give lectures on the latest astronomical discoveries, while experienced members of YAS offer a systematic introduction to astronomy to those who just picked up the hobby.
On the other hand, astronomical observations are conducted directly in the field, usually in Jingyuan Garden on campus, supplemented by fieldwork in rural areas - away from the urban light - such as in the mountains in Huairou District, northern Beijing. PKU-YAS also provides courses on astronomical photography, Guo added.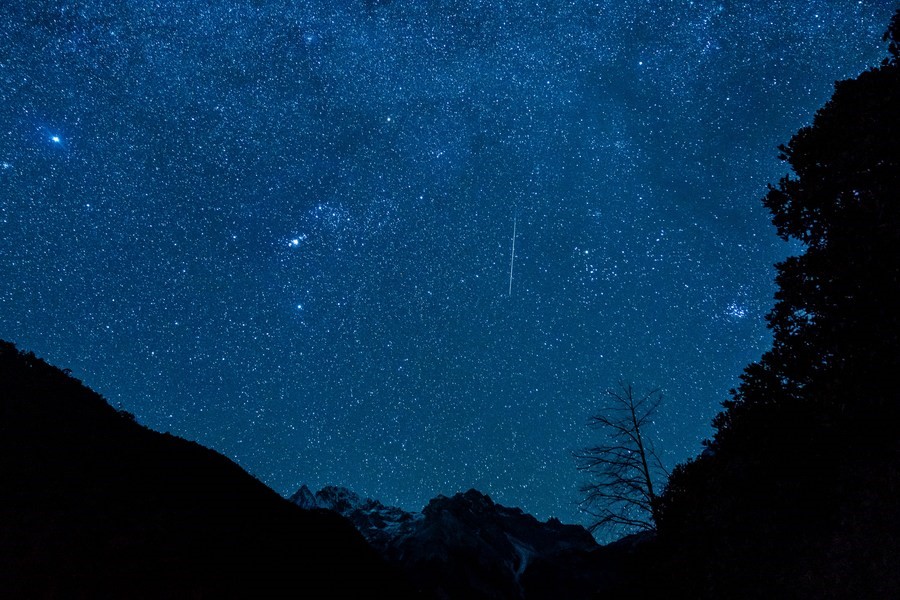 Photo taken on Dec. 14, 2021, shows a meteor during the Geminids meteor shower at the Yulong Snow Mountain in Lijiang, southwest China's Yunnan Province. (Xinhua/Hu Chao)

Recalling the most unforgettable experience at YAS, he said, "It was the Geminids meteor shower last year. When students lie on the lawn of Jingyuan Garden, and the falling meteors could be seen every few minutes. Everyone was in awe and enjoyed the moment together!"
Under the same sky
As one of the leading student astronomical societies in China, PKU-YAS has been committed to the aim of "focusing on the popularization of science and self-improvement" since its establishment, to promote the communication of astronomical knowledge within and beyond campus. At present, PKU-YAS has accounts on popular social media platforms including Bilibili, Zhihu, WeChat to publicize their latest activities, and convey the key developments in astronomy to the public.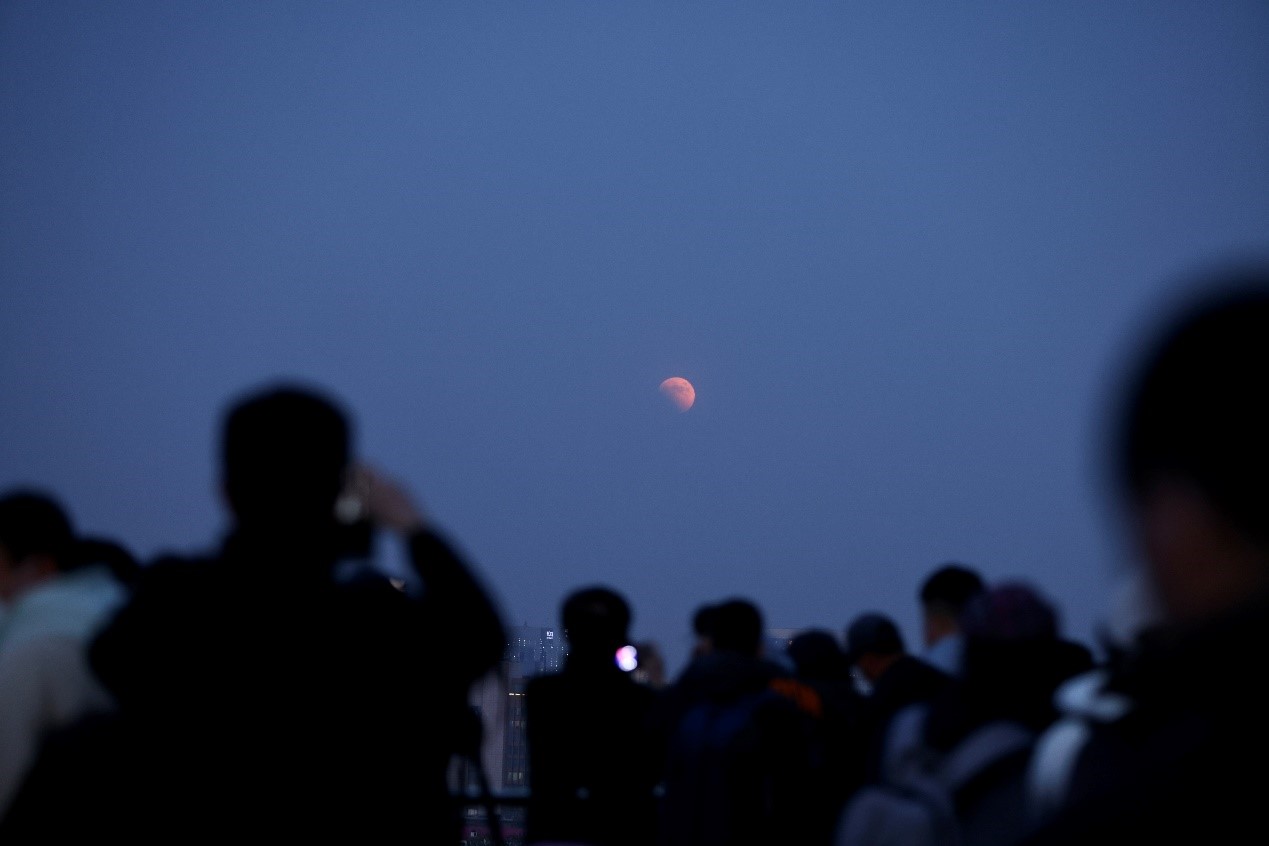 People across China witnessed a "blood moon" with total eclipse on Nov. 8. (Xinhua)
During the total lunar eclipse cum lunar occultation of Uranus in November 2022, PKU-YAS cooperated with eight other universities in China to offer a joint observation livestream. To promote the understanding of science, Guo said, "PKU-YAS has always taken it as its mission to disseminate the knowledge of astronomy across campus, including students who major in science in high school." "I hope the simplest mathematical formulae can present the most intuitive notion of complex astronomy."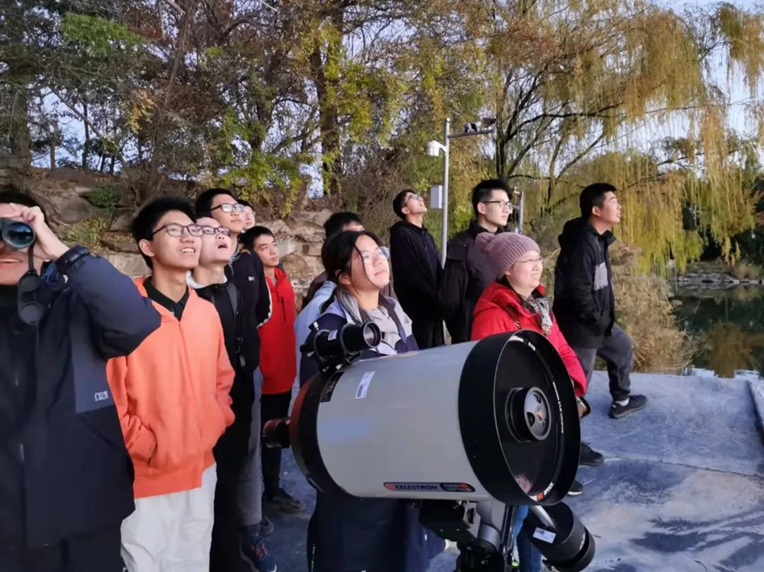 Interest group on astronomy
Run as an interest-oriented group, PKU-YAS has become a unique home for astronomy enthusiasts. During the annual PKU Associations Cultural Festival, which was held from September 29 to 30 this year, the large astronomical telescope owned by PKU-YAS stood out as the most prominent and impressive display, attracting surrounding students in the most striking way.
During the interview, Guo also summarized the student society's secrets to pulling its members closely together: the society has been divided into multiple professional groups of interest (for example, the newly-established subsection in radio astronomy) and also, a variety of activities have been offered to meet the different needs of entry-level and senior lovers of astronomy. PKU-YAS will soon share a book list for the reference of interested students, Guo added.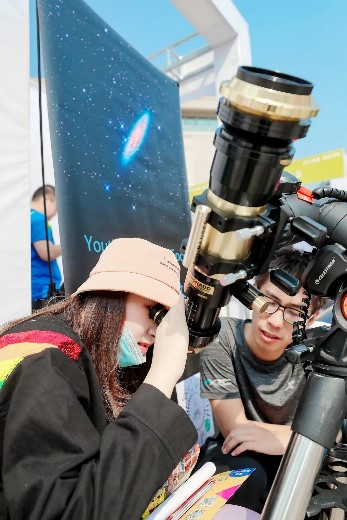 A student trying out a telescope at the PKU-YAS booth during this year's PKU Associations Cultural Festival
PKU-YAS has a tradition of participation in exchanges and cooperation among universities and institutions. Guo himself has also engaged in many international events among youth astronomy enthusiasts. He holds the belief that the education of astronomy in various countries differs in areas of strength. In his opinion, astrophiles in Russia are genius in mathematics and modeling, and friends from Eastern Europe are skilled at sharpening the lens of telescopes. He believes that transnational diversity can complement the mutual understanding of astronomy enthusiasts around the world. And that is also why PKU-YAS has always welcomed international students to join so that they can draw from each other's experiences and perspectives.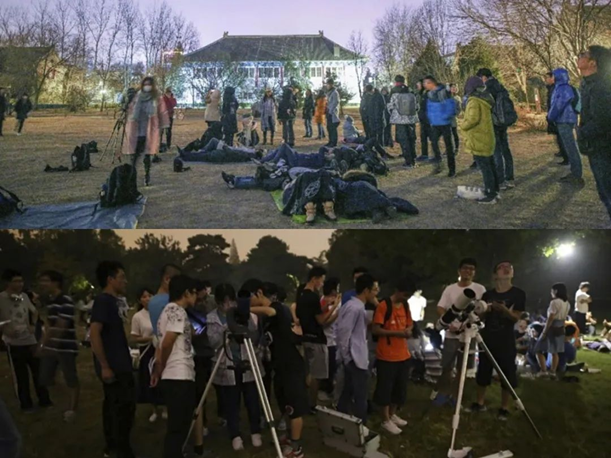 An incalculable delight

Mesmerized by the charm of astronomy, Guo is convinced that astronomy is a kind of art full of freedom as compared to other branches of physics, in which the mechanism-based property of objects can be understood only by carefully planned experiments. However, the immense galaxy can never be replicated in laboratories.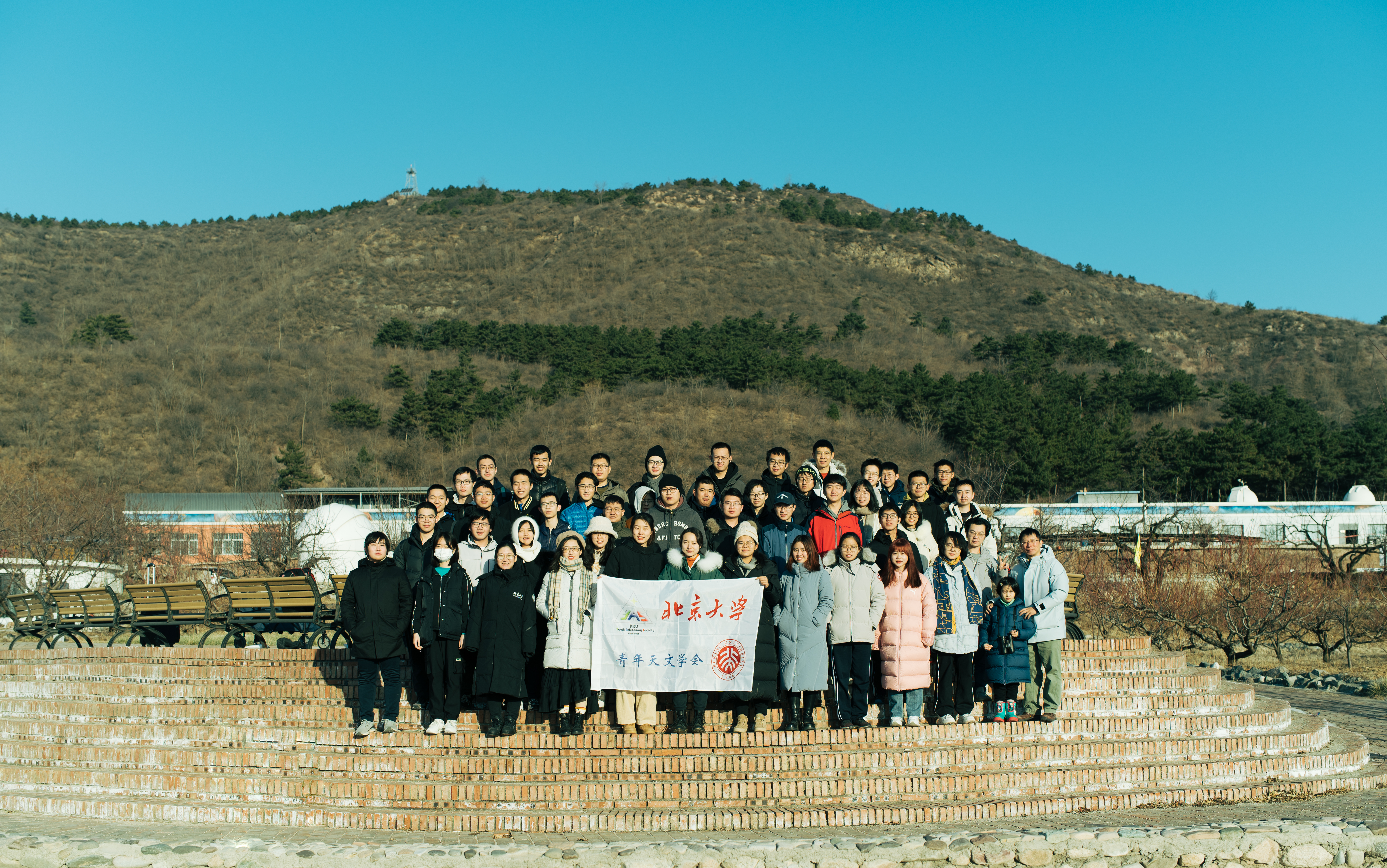 "Celestial bodies can only be observed, which gives astrophiles the greatest freedom," explained Guo. However, such freedom is often confused with astrology or the occult. It is time for PKU-YAS to shoulder the responsibility of promoting the general understanding of science.
Guo hoped that, with his ambition and efforts, he can lead the student society to capture the beauty of astronomy with basic mathematics and physics so that "everyone can appreciate the wonders of the sky, regardless of his or her scientific background."
Written by:
Fu Jiaqi
Edited by:
Wong Mei Yue
Interviewed by:
Wong Mei Yue, Fu Jiaqi
Photos:
Courtesy of the interviewee, Xinhua, Unsplash