Peking University, December 9, 2022:
Chen Wen-cheng, a 33-year-old physical education (PE) teacher at Peking University, bought his first apartment, got a car license plate and became the father of his second child in 2022. The young man from China's Taiwan region couldn't ask for more for his 10th year in the Chinese capital.
When Chen came to Beijing in 2012 to study, he didn't see himself getting so deeply rooted. "I was just myself back then; now it's a family of four," Chen said. "No need for my parents in Taiwan to worry about me anymore."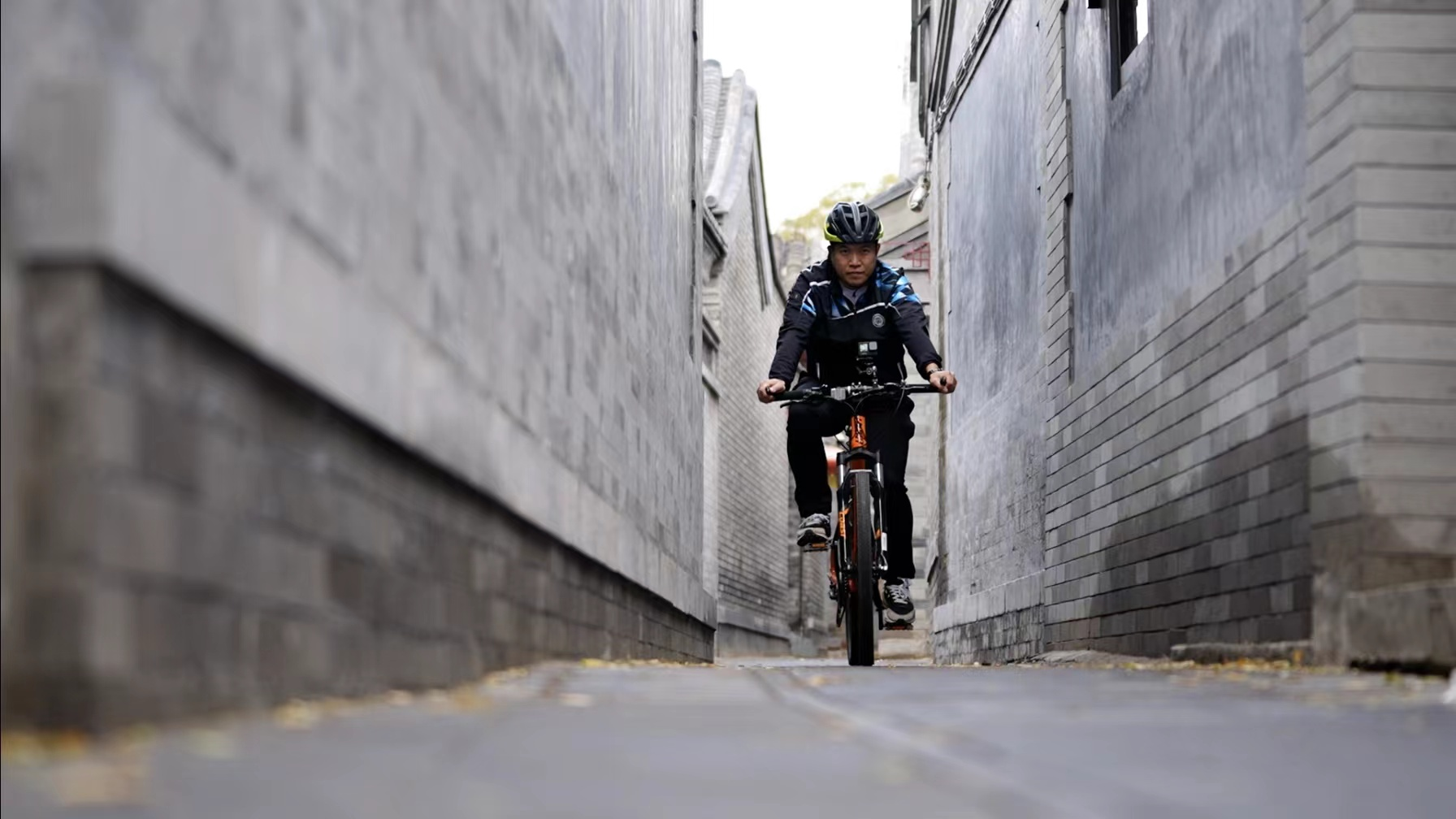 Chen Wencheng bikes in an alley, also known as a hutong, in Beijing, November 9, 2022. /CGTN
United by the love of sports
Born in Taiwan's Changhua County, Chen has always loved sports. He was in the basketball squad in middle school. In high-school, friends would call him "fleet-footed" because he could run 100 meters in 11.3 seconds. Not surprisingly, physical education became his major in college.
Chen would frequently visit the running track, swimming pool, basketball and volleyball courts, and the gymnastics stadium to practice every sport he could. "You name it, even martial arts, I learned everything," Chen said.
In 2010, Chen participated in a cross-Strait event in which students from Peking University joined their peers in Taiwan, biking around the island for nine days. That event ignited Chen's yearning for an adventure in Beijing.
"They shared tons of stories about Beijing, which attracted me right away," Chen said. "I decided to find a chance to go there."
Chen Wencheng teaches a boy how to play skyball at a group tasting class on a playground at Peking University in Beijing, China, November 9, 2022. /CGTN
Connecting with Beijing
In 2012, Chen got admitted in Beijing Sport University for a master's degree. However, his family was worried over his choice of studying so far away. "They wanted me to stay close but I think it was worth taking the risk since I was young," Chen explained.
After obtaining his master's degree, Chen also did his PhD from the same university and then joined Peking University as a postdoctoral researcher.
Meanwhile, Chen also began to explore Beijing and introduce it to others. He arranged tours to local heritage parks for people from both the mainland and Taiwan region. On a nice day, they would go zigzagging on bikes in the city's iconic alleyways called hutongs.
"Sports is truly the best way to connect people," Chen noted.
"We even hosted curling competitions for teenagers from Taiwan and Beijing during the Winter Olympics season. They became great friends after that."
Importance of sports exchanges
Chen believes sports exchanges between the people across the Taiwan Straits can help both sides know more about each other and find their mutual roots.
"When I went to Xiamen to run for a marathon, I heard a familiar dialect and ate local food that was similar to the one in my hometown," Chen said. "I deeply felt we're one family."
Chen is also a promoter of skyballing, a novel sport that originated in Taiwan region. With a claw-like racket and a light-weight plastic ball, players throw the ball out in the movement similar to pitching a baseball for the opponent to catch it.
Chen set up a skyball club at the Beijing Sport University and organized dozens of classes in parks to promote it. Chen and his wife, a fellow postgraduate scholar from Henan Province and now a primary school PE teacher, wrote textbooks about skyballing for local schools.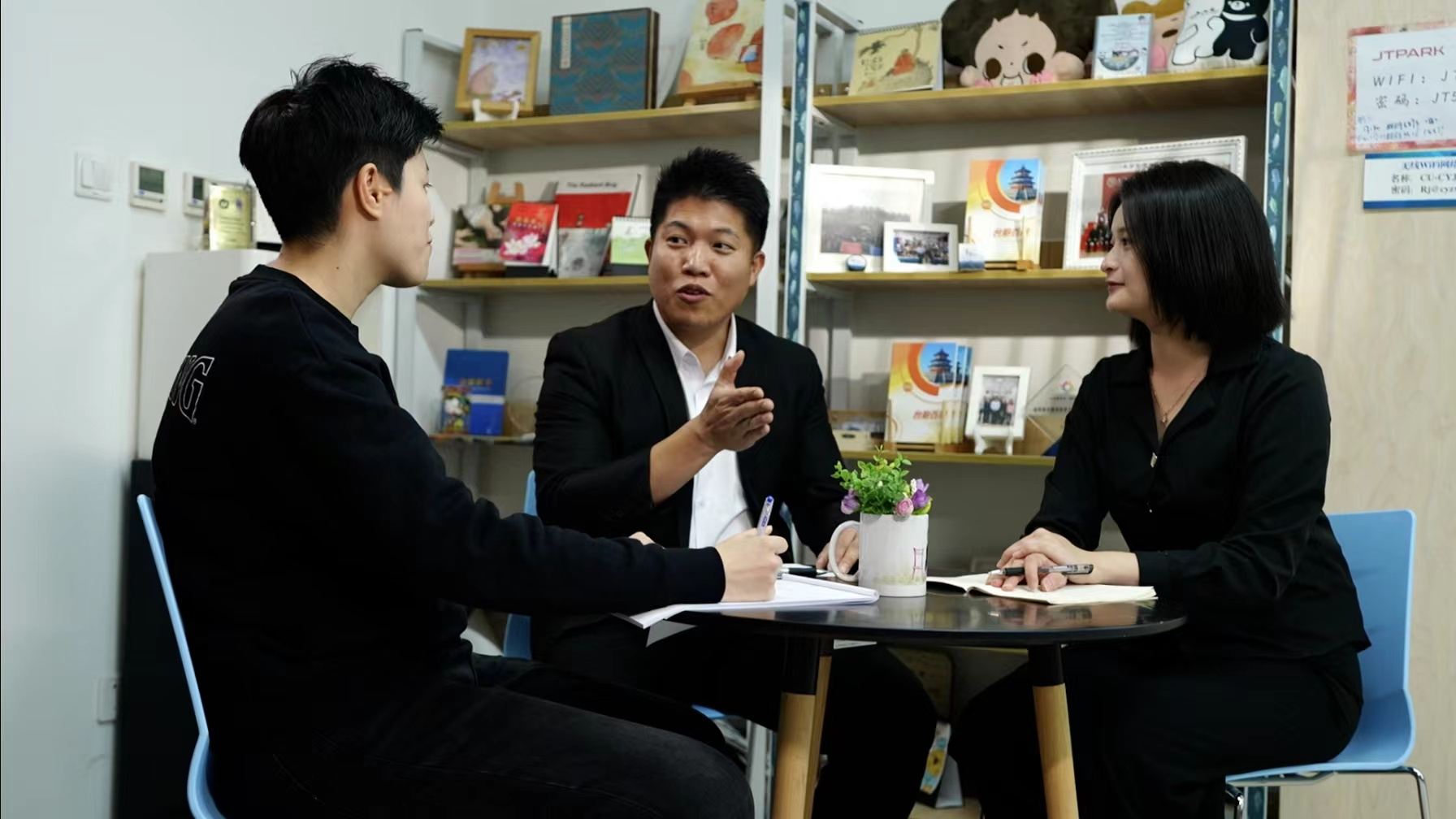 Chen Wencheng talks with other young people from Taiwan in a meeting, November 12, 2022. /CGTN
Cross-Strait communication
Chen's interest in the Chinese mainland isn't confined to Beijing. From Tibet Autonomous Region in the southwest to the northernmost province of Heilongjiang, Chen has visited over 20 provinces, municipalities and regions nationwide in the past decade.
The experience has brought him profound understanding of the mainland. He led groups of Taiwan residents who study on the mainland to visit different cities and communicate with the locals.
"I hope such exchanges can help more young people from Taiwan truly know and understand the mainland through their own experiences," Chen noted.
In 2019, with the help of local government organizations, Chen founded the Wanwan Family, an organization that helps young people from Taiwan region adapt to their life in Beijing. It hosts a variety of events, including job-hunting workshops and community service activities, such as picking trash on mountains and visiting the elderly who stay alone at home.
Chen acknowledged the challenges in cross-Strait communication but explained that things were much simpler when it came to the people. "For ordinary people like us, we want to see more communication across the Taiwan Straits and make a prosperous future together. Nothing changes that shared wish."
In the future, Chen wishes to advance his career in PE and also hopes more people from Taiwan region can see the mainland with their own eyes and explore the opportunities it offers.
"They should pay a visit; there are more choices," said Chen.
This article originally appeared in CGTN with the headline "Taiwan sports lover scores in Beijing."
Source:
CGTN
Written by:
Gao Xingzi, Liu Wei, Yang Zhengyao