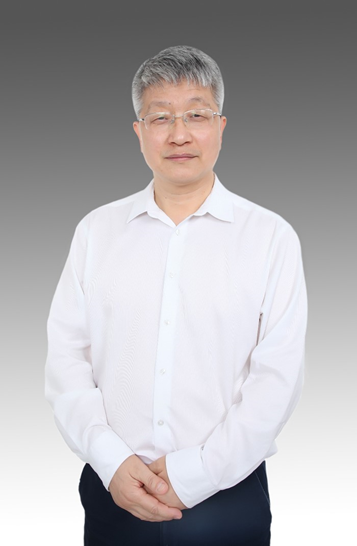 Cheng Heping
Peking University, January 20, 2023: Recently, in the TV program "Scientific New Year's Eve," which was hosted by Beijing Association for Science and Technology and Beijing Radio & Television Station, Professor Cheng Heping from PKU College of Future Technology explained how he came to know about the two-photon texcitation microscopy (2PEF), the principle behind the miniaturized 2PEF, its practical and potential applications, as well as the ways this technology can revolutionize the future of neuroscience research.
Mobilizing the 2PEF
In order to clearly visualize the structure and signals of neurons and synapses inside the living brain, scientists need to use 2PEF to see past the brain and skin tissues to the structure and dynamics inside the cells.
Professor Cheng's relationship with 2PEF budded in 1992 when he was a graduate student at the University of Maryland, researching on the principles of cardiac contraction. It was during that time Cheng and his team went to Cornell University and saw the world's second 2PEF. The initial version of the 2PEF was huge and occupied the entire room.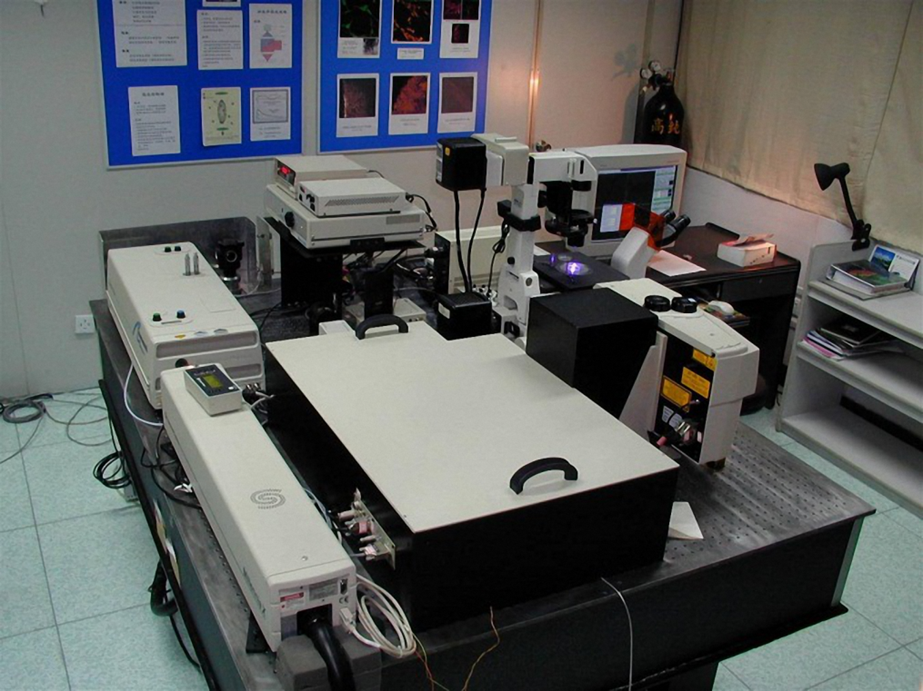 Traditional 2PEF system
Over two decades of development, 2PEF has become an essential tool for neuroscience research. However, contemporary pioneering neuroscience research strives to observe changes in brain neurons during usual brain activity, all the while being applied to free-moving living individuals. As such, the bulky and heavy traditional 2PEFs are unable to meet this demand.
It has since been Cheng's dream to create a miniture-sized, portable imaging technology that is able to observe the dynamic changes of each and every neuron while the subject can be alive and in motion.
Observations in a real-time scenario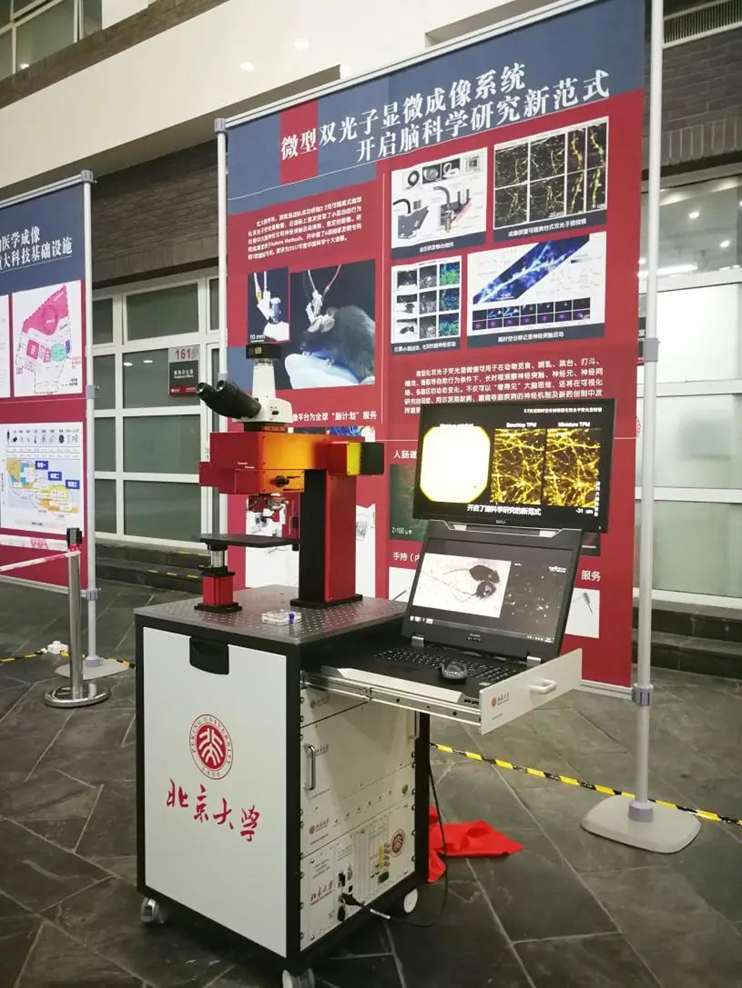 Miniaturised 2PEF's imaging system
In 2013, the miniaturized 2PEF received official support from the National Natural Science Foundation of China to start a project within the development of major research instruments field. Cheng's team began to develop a miniaturized 2PEF, aiming to lighten the probe to 15 g. In 2013, no single country mastered this technology. Cheng's team consulted a Stanford University professor (currently one of the leaders of the U.S. BRAIN Initiative) for advice. What they received as a response was discouraging, claiming that it was nearly impossible to make a 15g microscope probe, unless they expanded their size range to 150g.
Soon after, Professor Cheng invited him over to PKU for an exchange trip. After he witnessed Cheng's team working on laser design, mechanisms, automatic control development, and optical design, the Stanford professor became convinced of Cheng's passion and ability, and encouraged Cheng on his quest. In his opinion, with a well-rounded team like Cheng's, the goal of obtaining the miniaturization of 2PEF was no longer a far stretch from reality.
After three years of relentless effort, Cheng's team successfully developed a high-speed, high-resolution miniaturized 2PEF in 2n017. Its probe is only the size of a thumb and weighs at only 2.2 grams without compromising on imaging quality – a quality comparable to that of a desktop 2PEF.
In neuroscience, it is paramount to observe brain activity in a real-life scenario. Because the miniaturized 2PEF is sufficiently small and lightweight, it can be worn on the head of a small animal. The animal can walk freely and even wear it to sleep. With this, scientists can observe for long periods and obtain dynamic signals of changes on the neuronal and even on the synaptic level. This technology is undoubtedly ground-breaking for neuroscience research, as it not only visualises the process of learning, memory, decision-making and other modes of thinking, but it also helps researchers study the mechanisms of brain diseases, such as autism, Alzheimer's, epilepsy and sleep disorders.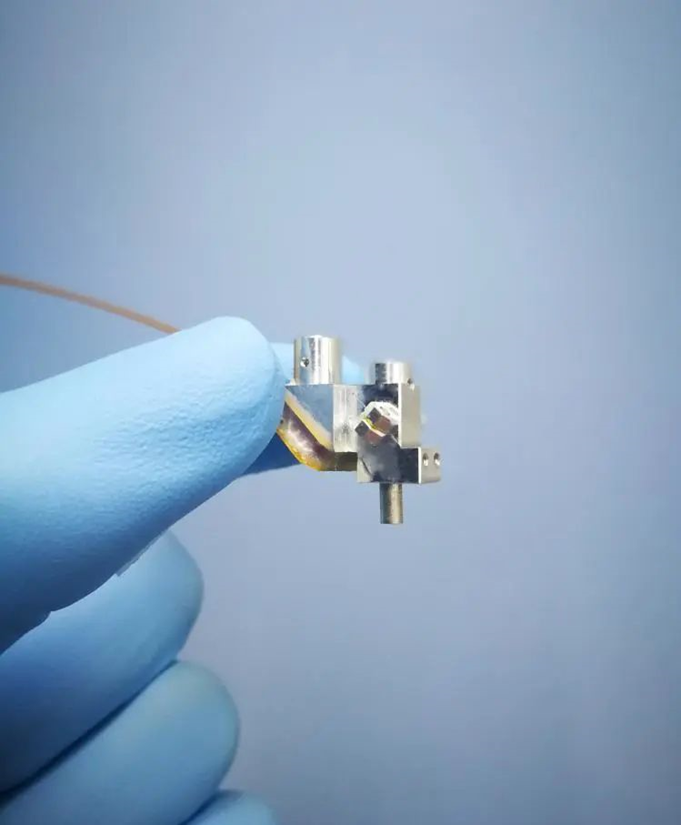 Probe of the first generation miniaturized 2PEF probe in 2017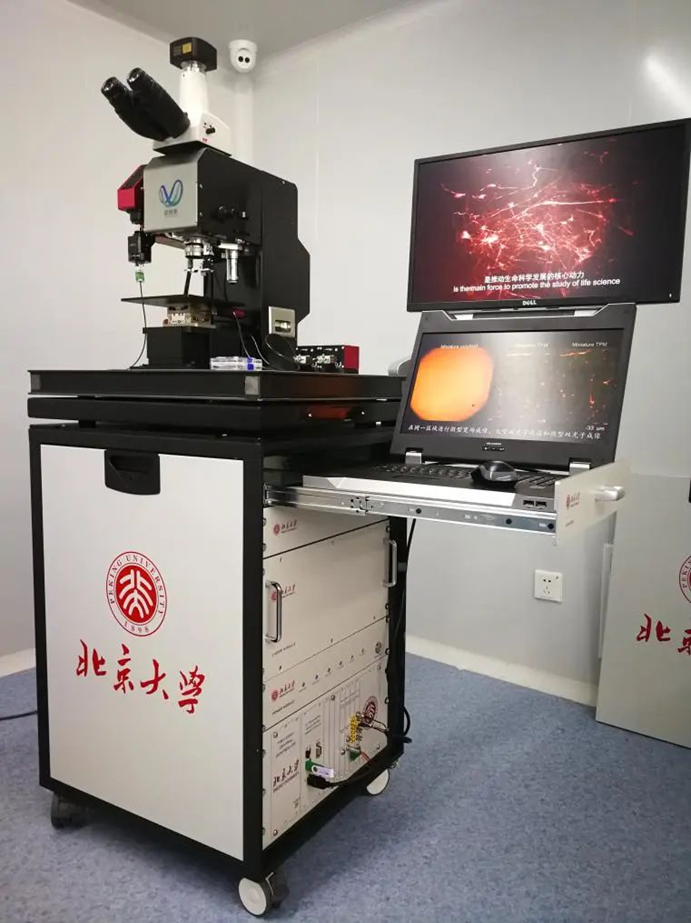 Entire machine of the first generation miniaturized 2PEF probe in 2017
Technological innovations never stop
In 2021, Cheng's team released the second generation of miniaturized 2PEF which has the field of view increased to 7.8 times compared to its predecessor. The third generation, which is currently under development, is a miniaturized three-photon microscope. The advantage of a three-photon microscope is that it can see deep under the cerebral cortex, all the way down to the hippocampal region.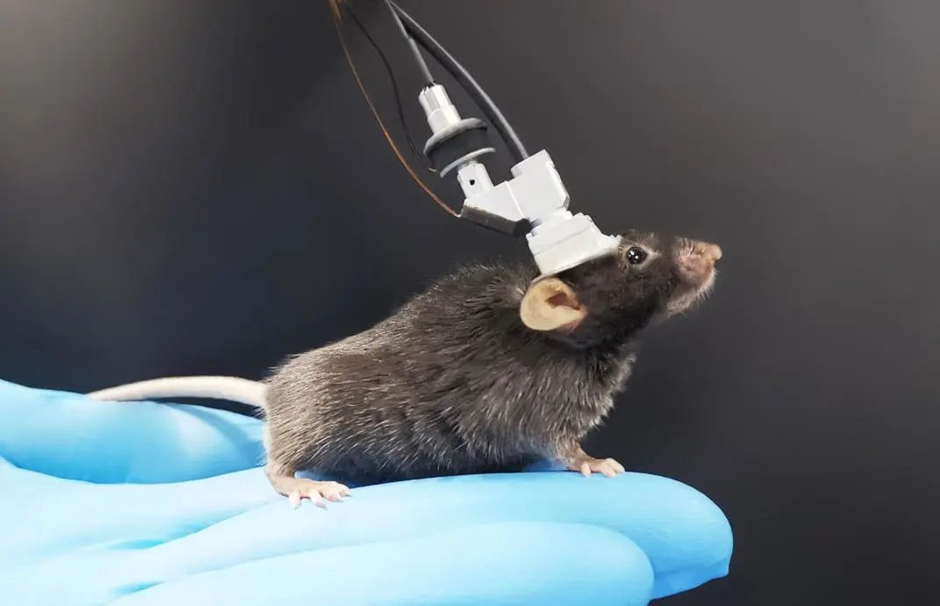 Probe of the second generation miniaturized 2PEF probe in 2021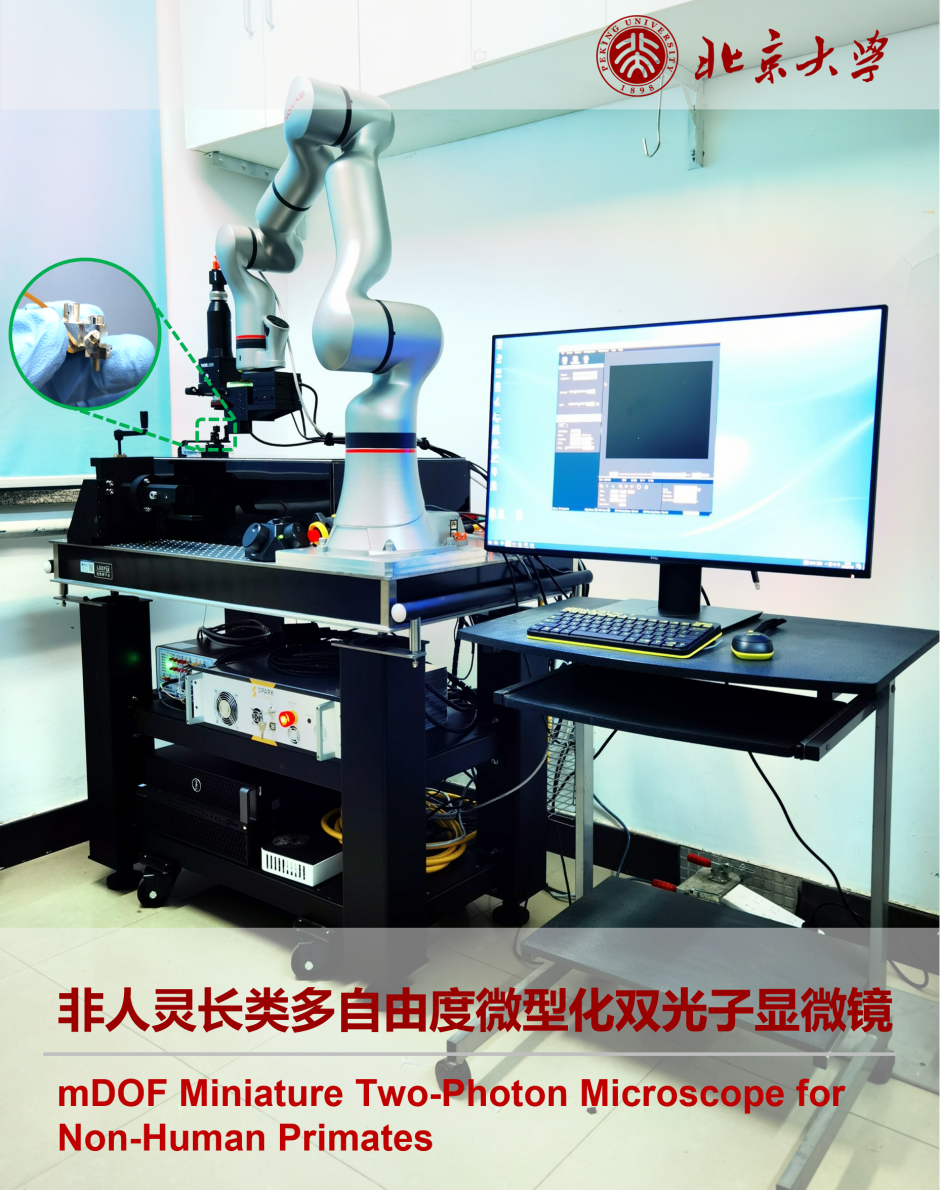 mDOF Miniature Two-Photon Microscope forNon-Human Primates
Cheng's team also expanded the application of miniaturized 2PEF technology to human physiology and clinical research, developing the first portable handheld 2PEF. Not long ago, they used the portable device to collaborate with aerospace medicine experts to study the changes of two-photon signals on the human body surface under simulated weightlessness conditions.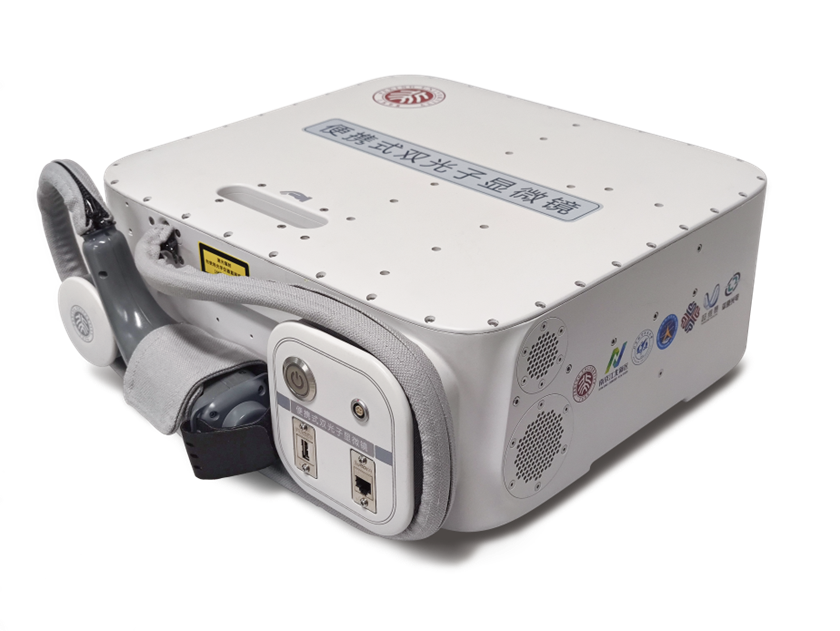 The portable 2PEF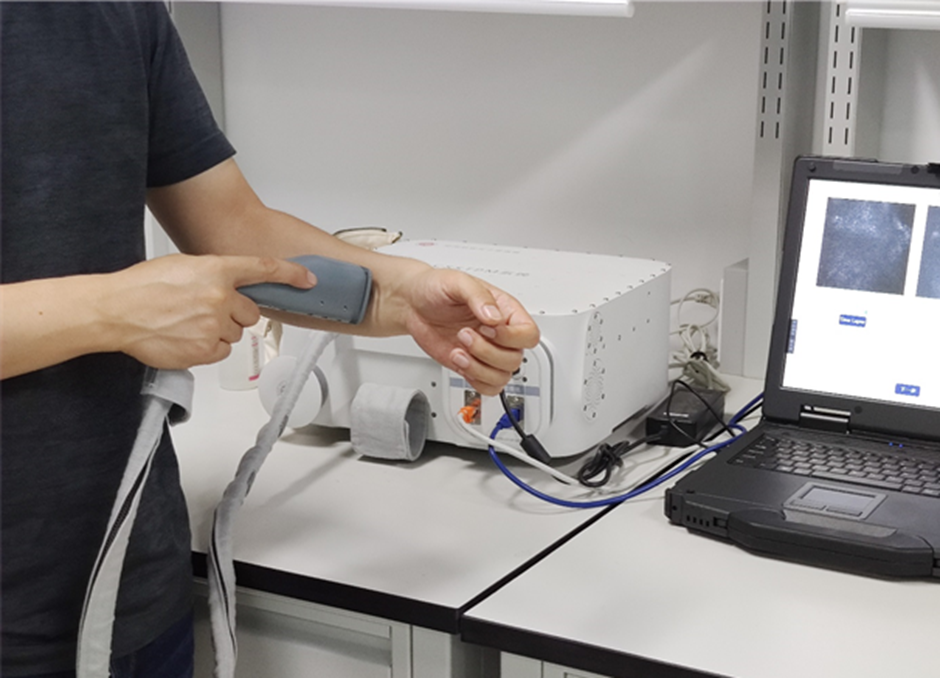 The portable 2PEF observing human skin
Facing the future, Cheng's team is launching the next round of technological innovation. They hope to transform the miniaturized 2PEF - a ground-breaking technology initially tailored for neuroscience - into a clinical two-photon endoscope for early screening and diagnosis of tumors in the digestive and respiratory tract. This would further solidifying Cheng and his team's importance in developing technologies which would directly affect the future of clinical medicine.
Written by: Vissly Chan
Edited by: Rose Li
Source:
PKU College of Future Technology