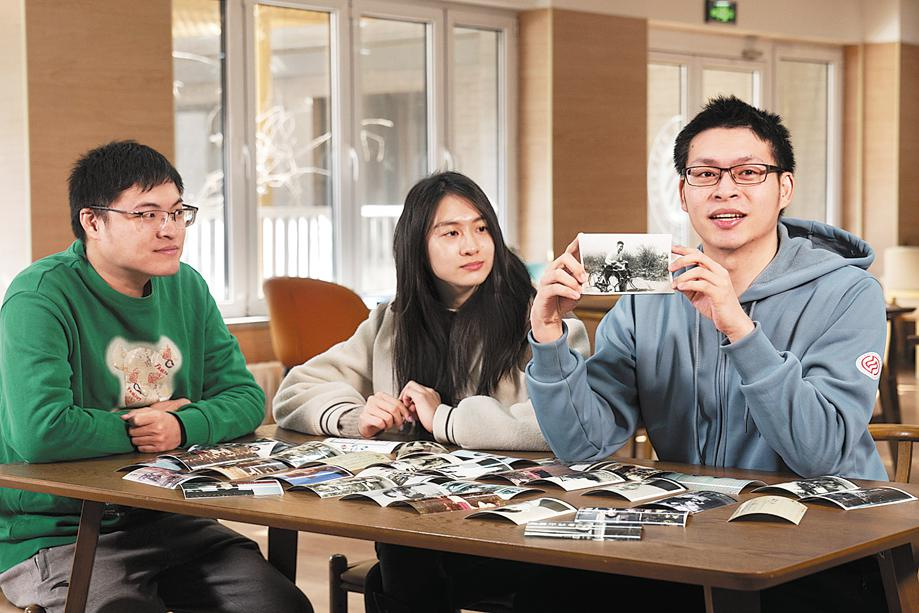 Three siblings from Taiwan, Lin Yen-chen (left), Lin Pei-ying (middle) and Lin Kuan-ting, show a photo of their late grandfather Lin Wen-fang at Peking University in Beijing. [Photo/China Daily]
Straits: 'Same roots' greatly influence the young
Thanks to a copy of their family tree belonging to their late grandfather, Lin Yen-chen, a young man from Taiwan, and his brother and sister were able to track down their mainland relatives.
The three siblings crossed the Taiwan Straits to trace the family's origins, and are now studying at Peking University, a long-held wish of their grandfather's that he didn't live to see come true. "I wanted to follow in my grandfather's footsteps to see the places that had a place in his heart," said 31-year-old Lin, a doctoral student at Peking University's School of International Studies.
His younger brother Lin Kuan-ting, 29, also a doctoral student at the same school, said: "Our grandfather always cared for the motherland. He taught us to study hard and to serve the motherland."
Born and brought up in Taipei in the 1990s, their childhood memories of their grandfather Lin Wen-fang, who passed away in 2005, was of an elderly man with gray hair who was always writing letters to mainland relatives.
Lin Wen-fang was born in the 1920s to a prestigious family in Putian in Fujian, the closest mainland province to Taiwan. The Lin family places great emphasis on education and the family tree contains many scholars. The family motto is to "study hard and serve the motherland".
After graduating from the best high school in Putian, Lin Wen-fang enrolled at Shanghai's Fudan University in 1947, but left for Taiwan during the summer vacation that year to visit his sister.
That trip changed his destiny. For various reasons, including the founding of New China in 1949 and tensions across the Taiwan Straits, Lin Wen-fang was unable to return to the mainland until the late 1980s. He had to settle down in Taiwan and start a new life with only the luggage he had with him.
Lin Wen-fang enrolled at the National Taiwan University and after graduating became a teacher. At college he participated in patriotic movements in Taiwan. Although he married in Taiwan and started his own family, he never forgot his family on the other side of the Straits.
The two sides of the Taiwan Straits share the same roots, and it's estimated that up to 80 percent of Taiwan residents have connections to Fujian as the result of several large-scale historical migrations.
Crucial tradition
Since the end of the 1980s, when people from both sides were once again able to visit each other, millions have traveled from Taiwan to the mainland in search of their origins. Paying respect to one's ancestors and knowing one's origins are a crucial part of traditional Chinese culture. As contact was lost over the years, many people had to rely on family genealogy records to find their mainland relatives.
Lin Yen-chen's grandfather was among those who crossed the Straits to find their families in the late 1980s. He said his favorite picture of his grandfather was taken during the first family reunion in Fujian. "My grandfather looks like the happiest in the group photo because he has finally been reunited with his family," he said.
Their grandfather's attachment to the mainland greatly influenced the three young Lins. While at college in Taiwan, they visited the mainland as exchange students. The elder brother chose Fudan University because of his grandfather's connection to the institution.
"I wanted to visit the university where my grandfather had been enrolled," he said. The experience also helped him understand why Lin Wen-fang had thought constantly about the mainland.
The younger brother, Lin Kuan-ting, said that from the beginning, the family knew very well where its roots were. "As we are Chinese, we also dreamed of studying at Peking University," he said of the learning institute considered by many the best university in China.
The exchange programs encouraged the three Lins to pursue their educations on the mainland and they were all eventually admitted to Peking University.
Their grandfather had also hoped that his grandchildren would return to his hometown of Putian one day. With help from the Fujian Federation of Taiwan Compatriots, they were able to find their relatives, thanks to a copy of the family's genealogy they'd been given.
When their grandfather made a second visit to Putian, his relatives gave him a copy of his page of the family tree to take back to Taiwan. He kept it safe and passed it down to his grandchildren.
Their grandparents' names are listed, along with a family tree displaying the names and professions of the other descendants of the Lin family.
Recalling his first meeting with the three siblings in 2021, their uncle, Lin Shouping, who lives in Putian, said: "I knew they would come back. I was very excited to see my uncle's descendants finally."
The 67-year-old said that he and his wife wore red especially for the occasion, a custom that marks a joyous event.
"I felt no sense of distance between us," said the siblings' cousin, 37-year-old Lin Shaodan. "I was surprised that we looked alike."
Lin Pei-ying, the younger sister, said she was nervous before traveling to Putian, but after meeting her relatives, she felt at home.
"We are all one family. We share a natural emotional connection," said the 24-year-old Peking University graduate student.
Heartwarming meeting
She said their relatives in Putian were curious about their lives, asking about their studies in Beijing and whether they were used to the differences between northern and southern China. "It was heartwarming. Having relatives in Fujian gives us support and people to rely on," Lin Pei-ying added.
The siblings were invited to spend Spring Festival with their relatives if they were unable to return to Taiwan during the pandemic.
The three Lins said they were impressed by the depth of belief in the sea goddess Mazu. The belief is widely shared in both Fujian and Taiwan, and Putian is believed to be the birthplace of the goddess.
It was also interesting to learn that the goddess statues in Putian and Taiwan face each other across the Straits, they said. "Knowing that the two statues look at each other across the sea, I became emotional. The connection is moving," Lin Pei-ying said.
The younger brother, Lin Kuan-ting, said that after he graduates, "I want to become a civil servant on the mainland and dedicate myself to grassroots work".
Lin Pei-ying said she hopes to participate in more cross-Straits exchanges, and help people from Taiwan to integrate with the mainland and learn about it.
The oldest brother, Lin Yen-chen, said he hoped to put his expertise to good use and "participate in cross-Straits affairs, and help my compatriots in need".
This story originally appeared in China Daily with the headline "Taiwan siblings who traced their roots find bright futures, embrace heritage."
Source:
China Daily
Written by:
Zhang Yi