Peking University, July 25, 2023: Graduation, a momentous college-wide event, unites the Class of 2023 in celebration of their academic achievements. For many, graduation holds immense significance as it marks the culmination of years of hard work, dedication and personal growth. Not only does this mark the end of their chapter at PKU, but it also commences a new journey in life. To the Class of 2023, a hearty congratulations is extended! Let us now hear the heartfelt words of our fellow Pekingers as they bid farewell to the place they affectionately call Yanyuan.
SuYu 苏宇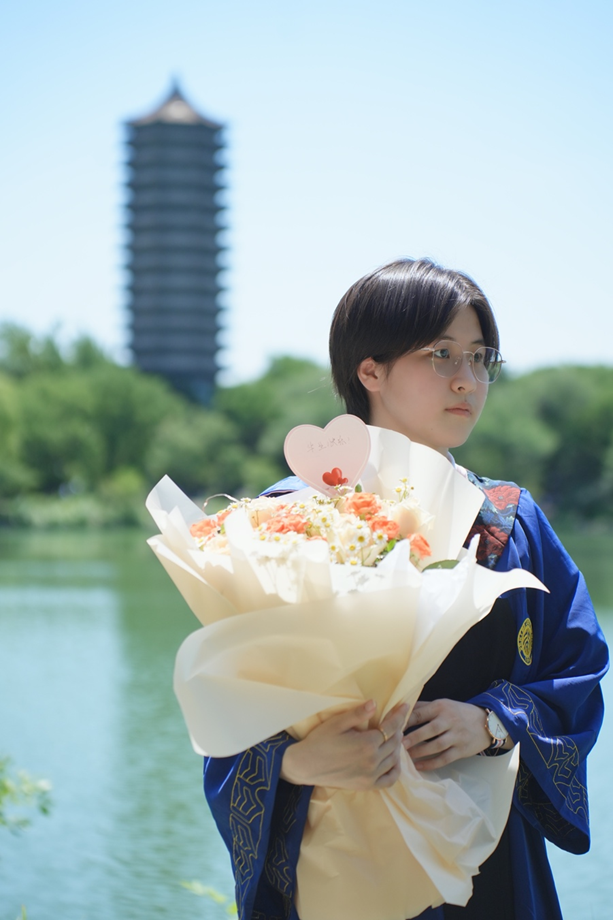 China
Master, Law School
1. What's your biggest takeaway?
During the seven years of study at Peking University, the gains have extended far beyond mere theoretical knowledge. Each passing year has witnessed the steady refinement of independent study and research abilities, honed through the completion of numerous challenging projects. Especially in the graduate phase, I learn how to better identify, analyze, discuss and solve problems. These skills acquired at PKU transcend the confines of academia, becoming invaluable tools for a lifetime.
Moreover, the journey at PKU has not been solitary but one filled with the camaraderie of like-minded friends from diverse backgrounds. The continuous interactions with such companions have served to expand horizons and facilitate mutual progress. Together, we have ventured beyond the confines of our individual perspectives, embracing new ideas, cultures, and knowledge.
2. What do you like best about PKU?
The hallmark of Peking University lies in its open-minded and all-embracing academic spirit characterized by the principles of "思想自由" (freedom of thought) and "兼容并包" (inclusive tolerance). In every lesson offered at the University, one can witness the vibrant exchange of diverse academic views and voices. This environment fosters an enriching atmosphere where students can cultivate a comprehensive understanding and heightened awareness of various issues through the collision of contrasting opinions. In addition, the University's syllabus reinforces this commitment to fostering well-rounded individuals, and every student is encouraged to venture beyond their major to take several courses from different disciplines.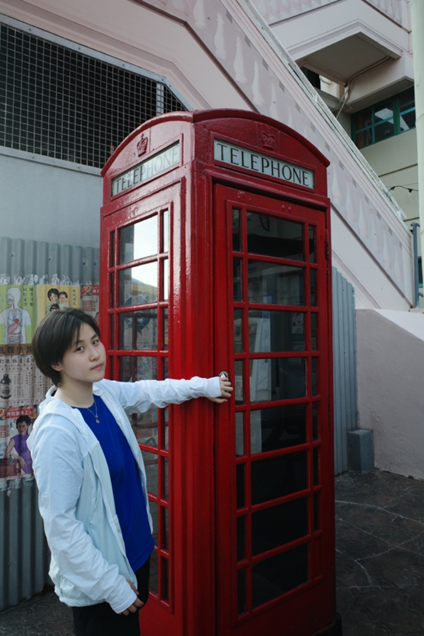 3. Any goals to achieve in life?
With a deep reverence for the legal profession, and armed with the knowledge I learnt at PKU Law School, I aspire to become a qualified legal professional who adeptly balances justice and efficiency. I envision a future where I embody both authority and warmth, effectively serving the needs of others with empathy and compassion. As I embark on my career path, my commitment to serving the nation and society remains unwavering, regardless of the specific position I may eventually hold.
4. Any words for PKU?
As I stand on the threshold of graduation, I am filled with gratitude towards PKU and, especially, PKU Law School for the invaluable training and education I have received. I extend my heartfelt thanks to this esteemed institution for shaping me into the person I am today.
5. Any words for your juniors?
Academically, I encourage you to nurture and cultivate your own independent opinion, drawing from a diverse array of academic views and perspectives. While it is essential to have a critical mindset, remember not to rush into opposition or criticism. Beyond academia,
I urge you to explore extracurricular activities and take advantage of the platforms provided by the college to connect with others. Cherish every connection you make, as these friendships have the potential to enrich your life and offer valuable support throughout your journey.
Thor Ching Chyi 涂均琪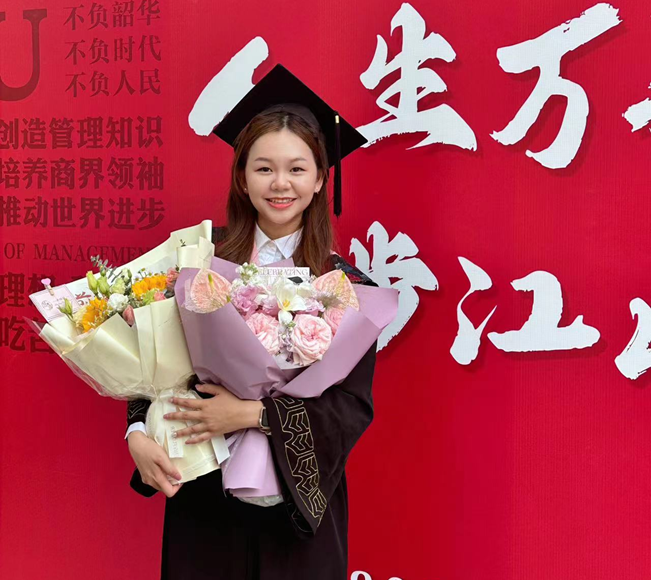 Malaysia
Undergraduate, Guanghua School of Management
1. What's your biggest takeaway?
My journey at PKU has been a profound and transformative experience, gifting me with invaluable takeaways that I hold dear. Foremost among these are the friendships I formed during my time at PKU. The sense of community at PKU is truly remarkable, bringing together a diverse and vibrant group of individuals from various backgrounds and disciplines, who have become my home away from home.
Secondly, PKU has ignited within me a thirst for knowledge that continues to drive my intellectual pursuits. The rigorous academic environment, combined with the guidance of my faculty and abundant resources, has broadened my intellectual horizons. Lastly, PKU has taught me the transformative power of bravery and stepping out of my comfort zone. At PKU, I pushed the boundaries of my capabilities by taking risks and embracing new experiences. It has emboldened me to pursue my dreams fearlessly, shaping me into a more resilient and determined individual.
2. What do you like best about PKU?
Choices. From course selection and extracurricular activities, to the wide variety of food in canteen, the abundance of choices bestowed upon us truly enriches our college experience. One of the most remarkable aspects of PKU is the freedom to choose from a wide range of courses across disciplines. This enables students to explore their interests and passions, tailoring their educational journey to align with their aspirations.
Additionally, PKU's extensive selection of clubs and societies creates an inclusive environment where every student can find a community that resonates with their interests and values. The abundance of choices at PKU empowers us to shape our university experience according to our own interests. This sense of autonomy allows us to take ownership of our journey, fostering a deep sense of fulfilment and purpose. As we explore different academic and extracurricular paths, we discover more about ourselves, honing our talents, and developing skills that will serve us well beyond our college years.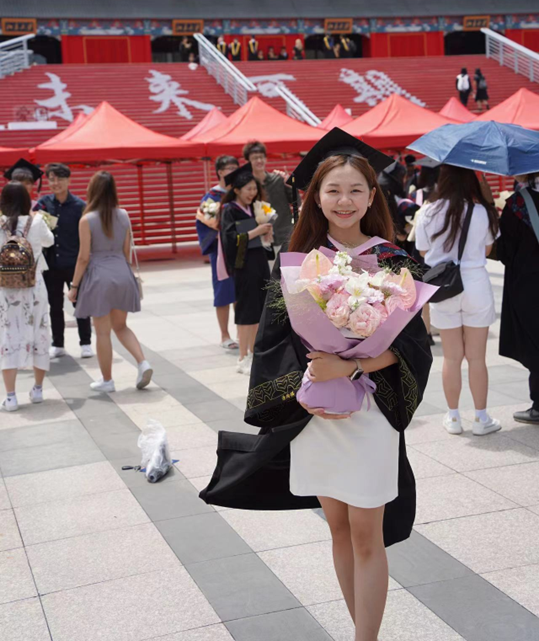 3. Any goals to achieve in life?
My life goal is to champion financial transparency and dedicate myself to addressing the systemic issues that impede economic progress, particularly in disadvantaged regions. I envision a world where financial resources are harnessed and channelled with utmost integrity and accountability, ensuring that they flow efficiently to uplift communities and foster sustainable development.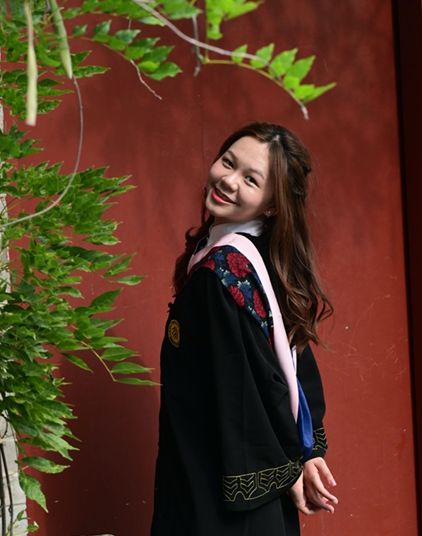 4. Any words for PKU?
As I reflect upon my journey as a PKU-er, my heart brims with gratitude and profound admiration for this exceptional institution. Throughout my time at PKU, the values of knowledge, integrity, and perseverance have been deeply ingrained within me, becoming guiding principles that will shape my life's path. PKU's commitment to fostering a spirit of intellectual curiosity has been instrumental in my personal growth. The university's emphasis on critical thinking, questioning assumptions, and challenging the status quo has nurtured a mindset that constantly seeks to explore, learn, and adapt. This enduring curiosity fuels a hunger for knowledge that extends far beyond the classroom, shaping me into a lifelong learner.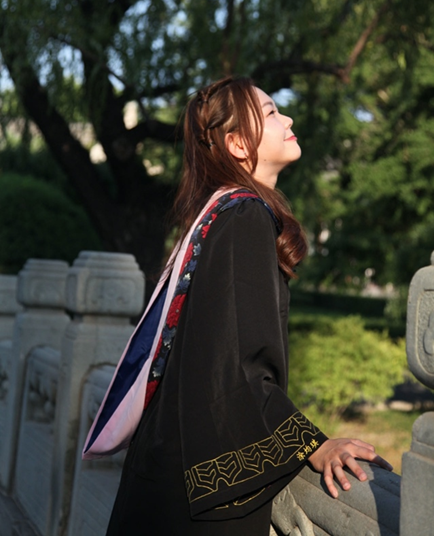 5. Any words for your juniors?
"万物生长,各自高贵"—— Every living being has its unique journey and inherent nobility. Similarly, there is no definite way to success. Our society often imposes rigid expectations and predefined paths to achievement, but true success transcends these confines. As a PKU-er, I encourage you to embrace your individuality and dare to chart your own course. Success is not a linear trajectory but a dynamic journey filled with trials, failures, and growth. Embrace the uncertainty that comes with forging your own path, for it is in navigating the unknown that we discover our true potential.
Kate 孙艺甜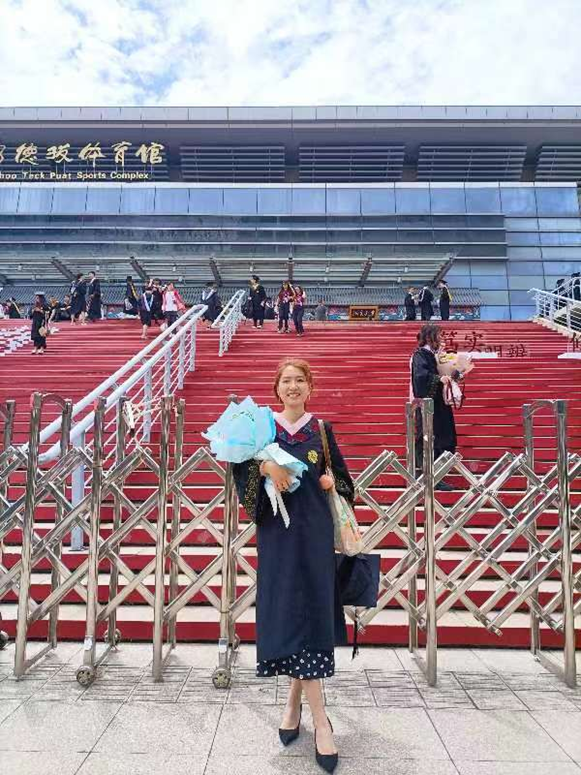 Ecuador
Undergraduate, Department of Sociology
1. What's your biggest takeaway?
My greatest takeaway is the incredible diversity of people I have had the privilege to meet at PKU. Teachers and students at Peking hail from different faculties and departments, each possessing unique personalities and distinct ways of thinking. Despite these differences, what unites them all is a shared broad vision, an open and inclusive mindset, and unwavering perseverance. Learning from this diverse community has been an invaluable experience.
2. What do you like best about PKU?
One of the things I cherish most about PKU is its enchanting ecological environment on campus. Everywhere you look, you can find a delightful array of critters, ranging from ducks, cats, hedgehogs and squirrels. The campus's dedication to greening efforts is truly commendable. This harmonious coexistence of humans and animals is truly heart-warming and has been a source of healing for me during times of stress.
3. Any goals to achieve in life?
The desire to work consistently with a sense of purpose, happiness and self-compassion.
4. Any words for PKU?
I would like to thank PKU for nurturing me to become a better version of myself. There are so many precious memories I've forged in Yanyuan and I will definitely return to the school often!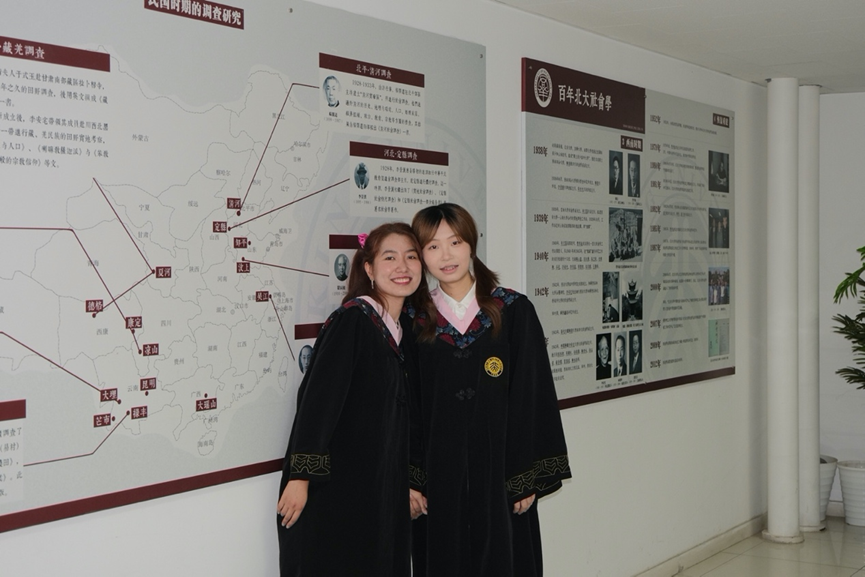 5. Any words for your juniors?
There is more than one definition of success and excellence, so don't waste your time denying yourself. Be open to accept help from others, and constantly recondition yourself to take up new challenges coming your way.

Manatsanun Kuruphanpakdee 李倩文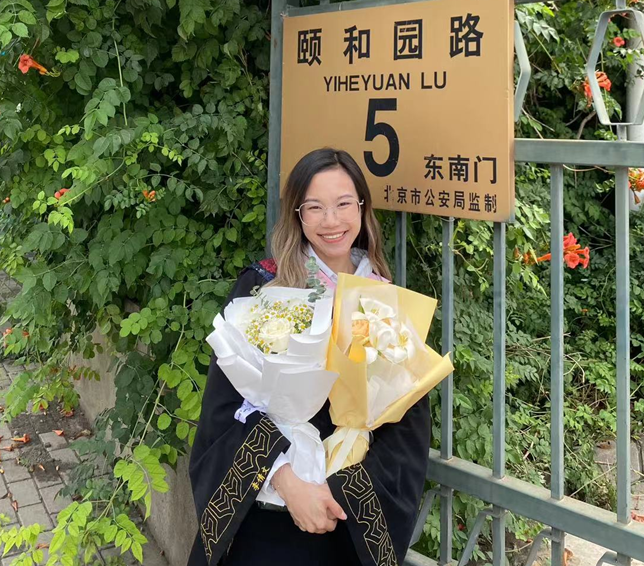 Thailand
Undergraduate, Department of Chinese Language and Literature
1. What's your biggest takeaway?
Of course, it is friendships. PKU brings students from all walks of life together. Interacting with friends from diverse backgrounds has broadened my horizon, enhanced my understanding of different cultured, and cultivated a more inclusive mindset.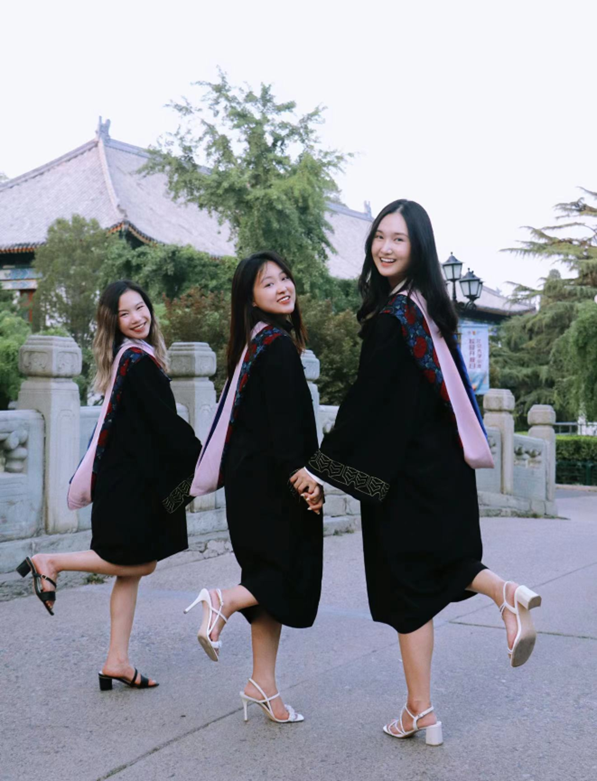 2. What do you like best about PKU?
Definitely the canteens, especially the chicken cutlet rice(鸡排饭) and Mala Hotpot (麻辣香锅)in Jiayuan.
3. Any goals to achieve in life?
My life goals revolve around developing personal skills and pursuing my interests. I believe that actively engaging in skill-building activities and dedicating time and effort to my passions are key to achieving personal growth, fulfilment, and a sense of purpose in life. I am devoted to exploring and embracing my passions, as they serve as a wellspring of creativity, joy, and motivation that enrich my life.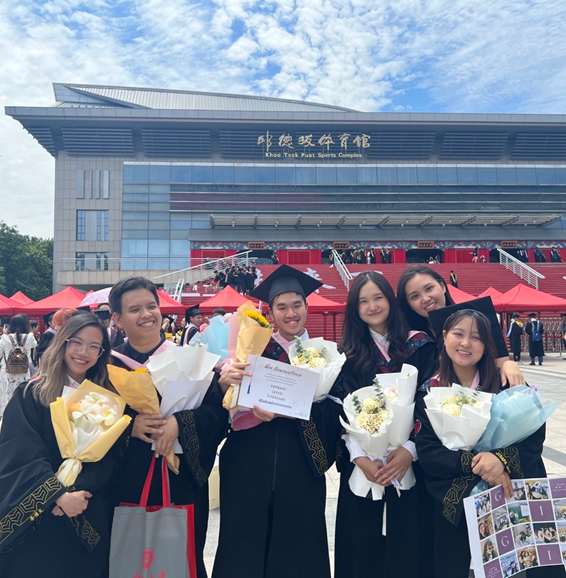 4. Any words for PKU?
I extend my heartfelt thanks to this esteemed institution, to all the professors, and to the dedicated staff who have taken such good care of us throughout our academic pursuits. The campus, with its serene Weiming Lake and the iconic Boya Tower, has been more than just physical spaces; they have become symbols of comfort and solace, especially during the challenging exam periods. Moreover, the sense of belonging and support from fellow students and friends has made our time at Peking University all the more special. I'm glad to be a part of this warm family.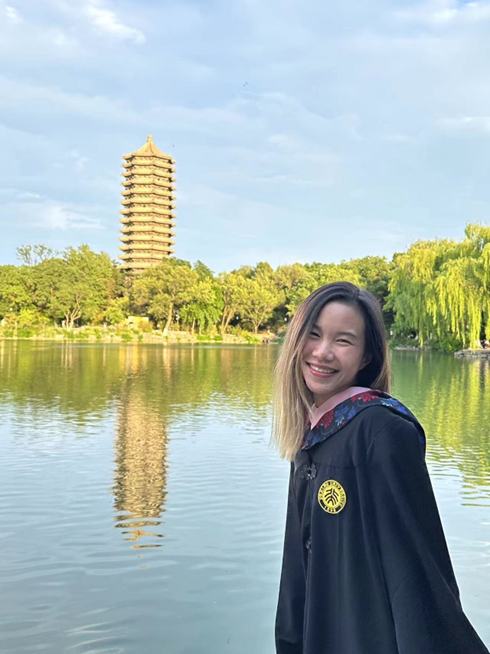 5. Any words for your juniors?
Make your university life truly worthwhile by embracing all that it has to offer. While studying is undoubtedly important, don't let it be the sole focus of your college experience. Engage in a diverse array of activities, explore your passions, and make the most of every opportunity that comes your way. Work hard, play hard and live your lives without regrets. Time flies quickly during these four years, so seize every moment and cherish all the memories you create.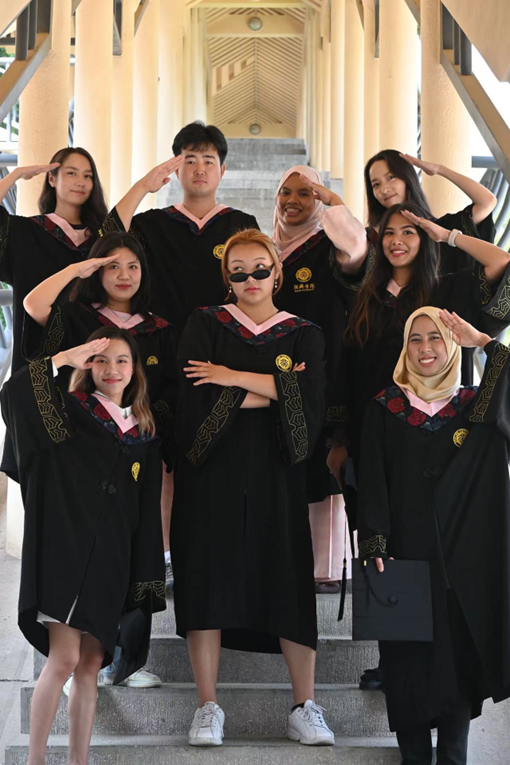 With that, I extend my heartfelt congratulations to the extraordinary Class of 2023 for reaching this monumental milestone of graduation! Your journey at Peking University has been nothing short of remarkable, and your hard work and dedication have brought you to this significant achievement. May your futures be filled with success, fulfillment, and a profound sense of purpose. As you embark on new adventures, know that you will forever be a part of the Yanyuan family, and your alma mater will always be here to support and celebrate your achievements. Here's to a bright and promising future, filled with endless possibilities and boundless potential!
Written and interviewed by: Vissly Chan
Edited by: Shi Xinyao
Photos by: SuYu, Thor Ching Chyi, Kate, Manatsanun Kuruphanpakdee