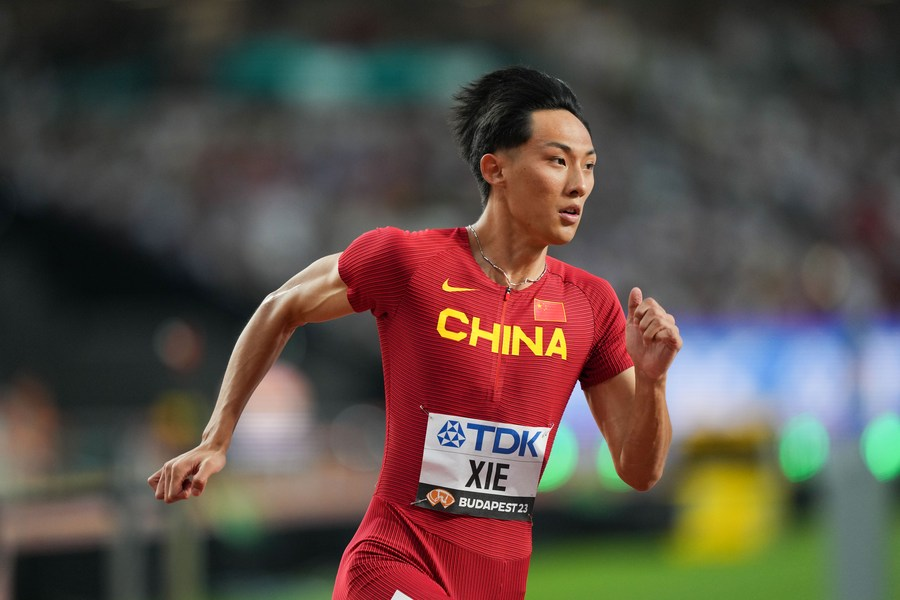 Xie Zhiyu of China competes during the men's 400m hurdles semifinal of the 2023 World Athletics Championships in Budapest, Hungary on Aug. 21, 2023. (Xinhua/Zheng Huansong)
Peking University graduate Xie Zhiyu embraced a summer of athletic challenges, making his international debut, with Olympic aspirations driving his transformative journey.
Xie Zhiyu arrived at the main stadium in Budapest alone to prepare for his inaugural World Athletics Championships. Without his coach by his side, he had to enlist the help of a reporter to film a trial run, subsequently reviewing the footage to time himself.
At 23 years old, he bore more resemblance to a backpacking student exploring foreign lands. And indeed, he was a student.
Following his July graduation from Peking University's School of Journalism and Communication, Xie will continue with a pursuit of a master's degree within the university's Department of Physical Education.
Over his summer break, Xie transformed into an athlete, participating in his premiere Asian Athletics Championships, his inaugural Universiade, and his debut at the World Championships. Additionally, the forthcoming Asian Games is set to mark another milestone for him.
Reflecting on his hectic summer, he shared, "It's been an unforgettable summer of highs and lows."
Unfortunately, on Monday, Xie fell short of qualifying for the men's 400m hurdles final. However, this marked the first time in eight years that a Chinese runner advanced this far in the event.
Though expressing disappointment, Xie emphasized that his first Championships were about more than the results. "I'm absorbing, learning, and enjoying the competition. It's been an amazing experience."
China's team doctor commended the young national champion's mindset. "In his inaugural major competition, he didn't make any demands before the race, which speaks volumes. Some athletes would request water or a massage before check-in, revealing their unease. Not him. Everything went incredibly smoothly." Grinning, Xie shared, "I sleep soundly at night."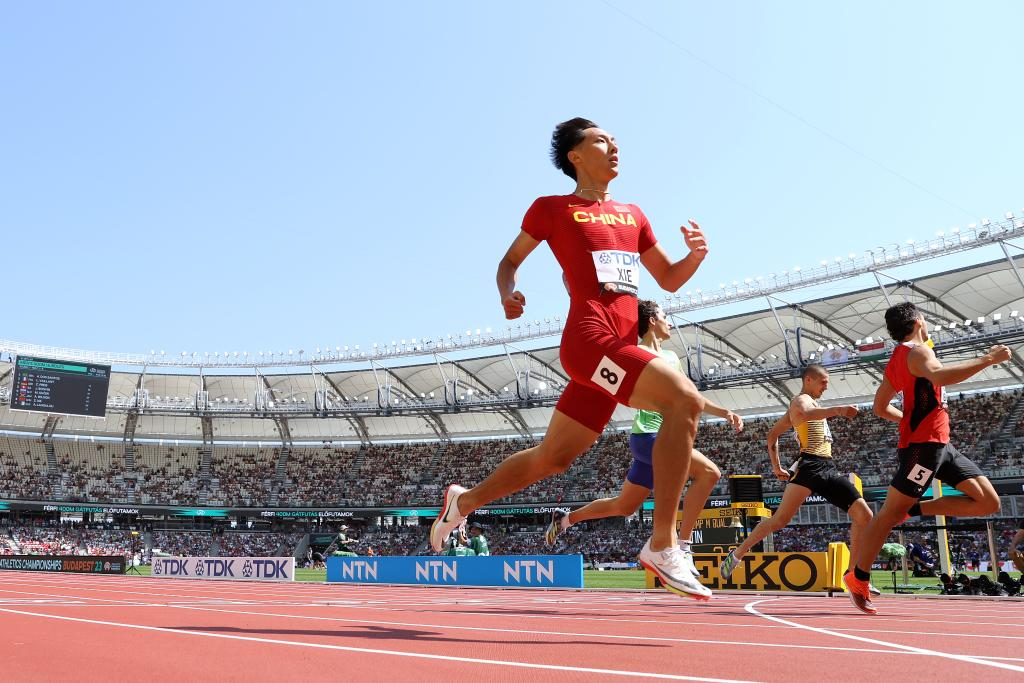 Xie Zhiyu (front) crosses the finish line during the heats on Aug. 20, 2023. (Xinhua/Li Ming)
Dai Minghui, Xie's coach at Peking University's athletics team, held confidence in Xie's discipline. Their paths crossed at the 13th National Student Sports Games in 2017, where Xie secured gold in both the 400m and 400m hurdles as a high school sophomore, only a year after transitioning to the 400m event.
Following this, professional teams sought to recruit him. However, he ultimately chose Peking University, where Guo Zhongze, the men's 400m national record holder, had once trained.
"I've always wanted to attend university, as it offers greater possibilities," Xie explained.
Balancing training and coursework proved challenging. Training time remained limited, similar to his high school days, ranging from just over an hour to a maximum of three hours on weekdays. Furthermore, he had to earn the same credits as his peers.
"Universities provide access to a wider range of people and experiences compared to professional teams," Xie remarked, noting that photojournalism had been a favorite subject during his undergraduate years.
Having spent five years at Peking University, Xie was resolute in his goal to become a university teacher.
At the Chengdu Universiade, he secured his first medal in global competitions, earning a bronze in the 400m hurdles with a personal best time of 48.78 seconds, a mere 0.08 seconds away from qualifying for the Paris Olympics.
Throughout the eventful summer break, Xie made significant strides in his athletic career, setting the stage for a potential journey to Paris next year.
"I will work harder back home. Hopefully I can qualify for the Olympics," he said.
Source:
Xinhua News Agency
Written by:
Wang Qin'ou, Zeng Kexin