Living the dream in a land of heroes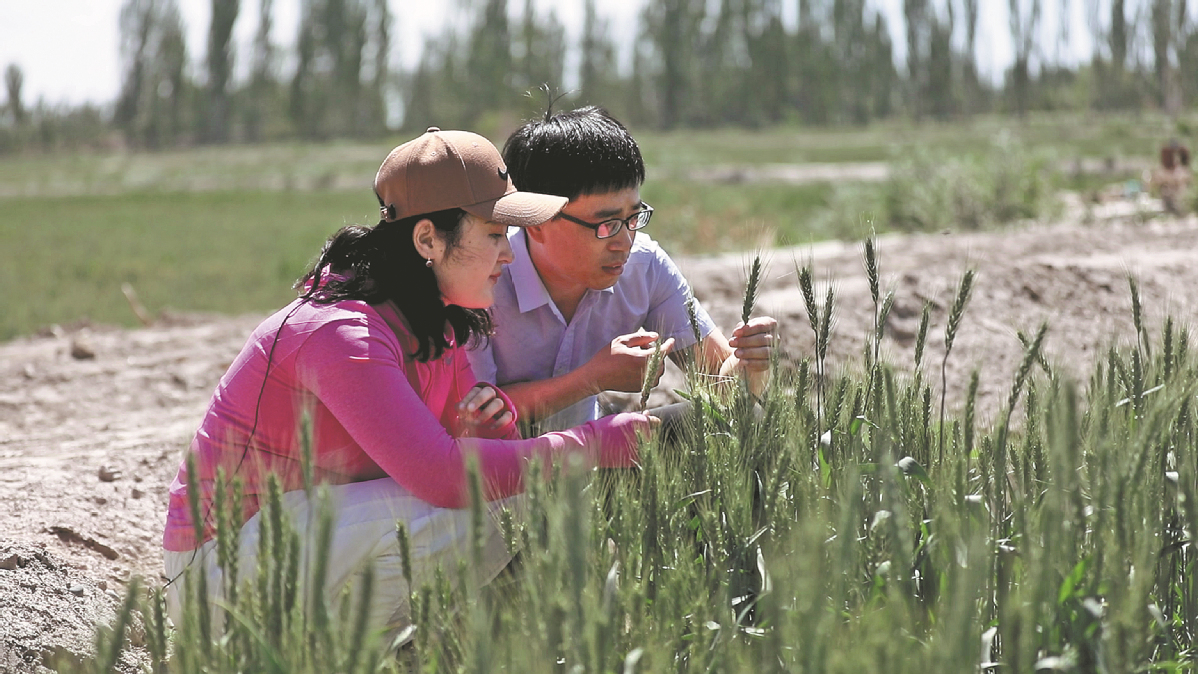 Yu Yu (right) and a local official check wheat crops under cultivation in Kezilesu Kirgiz autonomous prefecture, Xinjiang Uygur autonomous region. [Photo provided to China Daily]
Since childhood, Yu Yu has dreamed of going to China's vast western regions, home of the boundless Gobi Desert and the places where generations of heroes shed blood in the fight against invaders.
"In a boundless desert, lonely smoke rises straight. Over the endless river, the sun sinks round."
The poem from which these lines come depicts scenes from the far west during a war. It was written by Wang Wei during the Tang Dynasty (618-907), and is one of Yu's favorite pieces of verse.
The 35-year-old wants to become like the heroes who feature in poems and classic literature, having made a name for themselves in the country's western regions.
That's why he turned down offers to work as a university teacher, a government official and for big companies when he graduated from Peking University with a doctorate in international security. Instead, he decided to work in a small village in the south of the Xinjiang Uygur autonomous region.
When he was about to graduate in 2019, he learned that representatives of the Xinjiang government were coming to PKU to hire talented individuals, so he eagerly attended the recruitment event.
"After I heard the officials describe Xinjiang's rich history, vast landscape, immense deserts and folk culture, something clicked in my head and I knew that it was the place I wanted to go," Yu said.
"If I were to work as a university teacher, I would focus on writing papers on international relations, but by coming to Xinjiang - an important geopolitical point on the Belt and Road Initiative- I can put what I have learned to good use."
So, he turned down all the other job offers and decided to go to Xin­-jiang to become an official in a village in Artux, Kezilesu Kirgiz autonomous prefecture.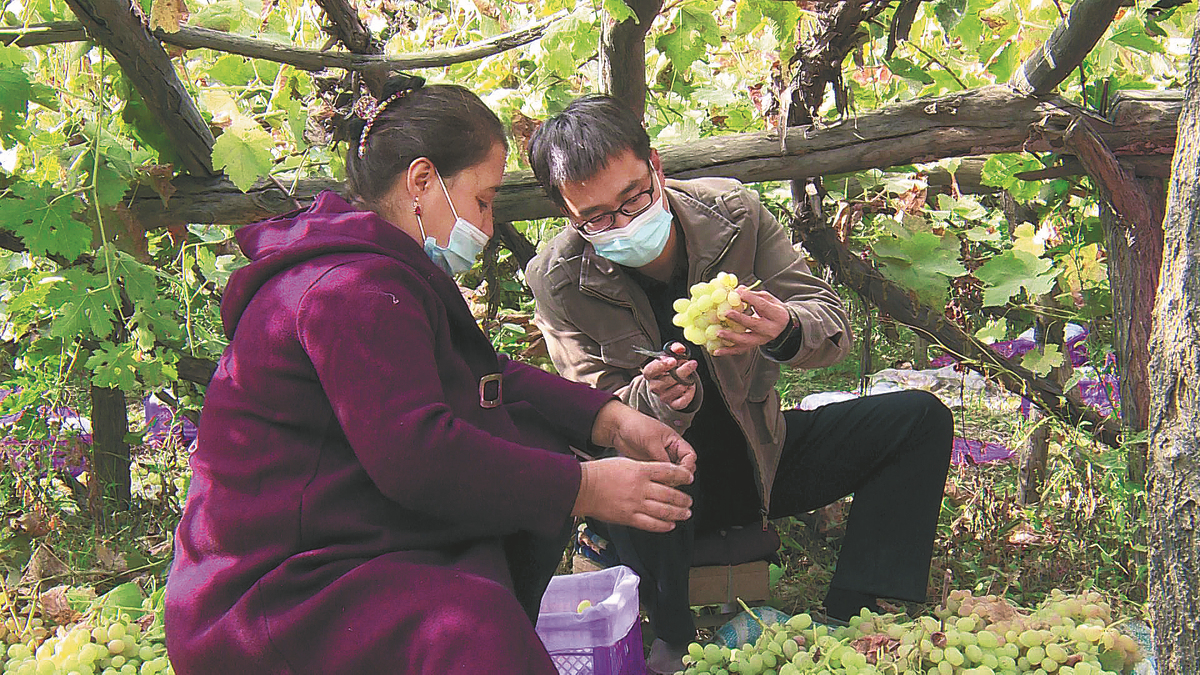 Yu (right) picks grapes with a local farmer. [Photo provided to China Daily]
As a native of the southwestern province of Sichuan, he had never been to Xinjiang, so he had little idea what to expect.
"I searched online to find out what southern Xinjiang was like. I learned that it is very dry, unlike my hometown in Sichuan, so I was prepared for the harsh environment," he said.
The conditions are tougher than he had imagined. There are frequent sandstorms and he has frequent nosebleeds as a result of the dry environment. His dormitory has no heating, but it has lots of mice. He has also had to become accustomed to the local food, which is basically fried rice and noodles.
An important part of Yu's work involves helping local people with farmwork, even though he has never done any manual labor before.
His village has more than 4,000 residents, who mainly rely on the cultivation of grapes and figs. As a result, Yu's first taste of farmwork was helping the local people harvest grapes. Over the years, he has learned a huge amount about grape cultivation. He also helps to harvest wheat and vaccinate cows.
His life has been punctuated by mishaps: one time, a bull gored and trampled him; later, he was hit by a car; and he injured his knee in a separate accident.
To help the local people eradicate poverty, Yu and his colleagues established a grape-related production line, with annual sales reaching more than 200 million yuan ($27.5 million).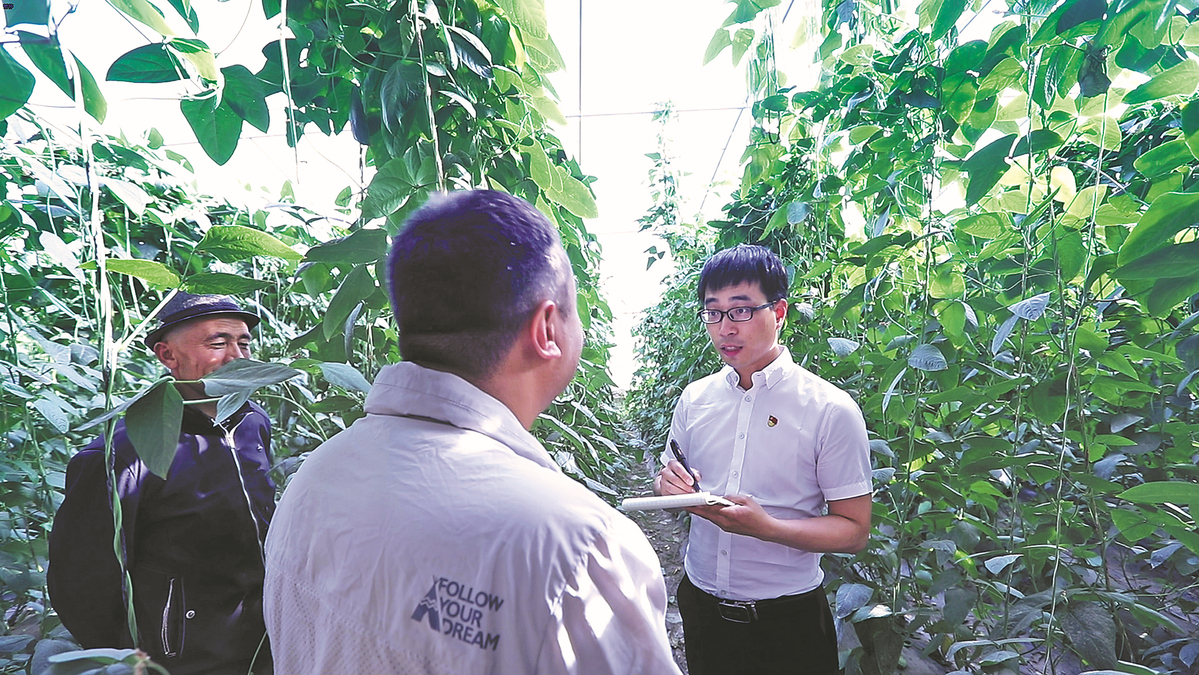 Yu (right) chats with vegetable growers in a greenhouse in Xinjiang. [Photo provided to China Daily]
"In the past four years, I have witnessed the rapid development of southern Xinjiang with my own eyes. The local people have eradicated absolute poverty and they now live happy and prosperous lives," he said.
"I also live happily here in Xin­-jiang with my wife, who was my girlfriend in college. Although life is not always filled with sunshine and there are challenges ahead, I have grown tremendously in the past four years after getting hit by a car, run over by a bull and carried away by a flood. They are experiences I would not have had if I had become a university teacher."
Yu said he is not afraid of anything now, and he feels he is capable of dealing with any future challenges.
During his college days, he had the opportunity to visit many places in China. He knows that the country has developed rapidly in recent years, but said there are still many underdeveloped areas.
After being subjected to some racist comments when he visited the United States, he knows that his generation has the responsibility of building China into a stronger and more prosperous country, he said.
Today, Xinjiang is embracing great development opportunities and becoming a hub linking China with central, southern and western Asia and Europe, and is at the forefront of the BRI, he said.
Though many people questioned his decision to reject more lucrative jobs in big cities and move to Xin­-jiang, Yu said he has achieved his childhood dream of living in the land made famous by his heroes.
Source:
China Daily
Written by:
Zou Shuo