Editor's note:
November 17 is the International Students' Day, which celebrates diversity, multiculturalism, and exchanges among youth. In the following story appeared in
China Daily
, let's hear from Maurice Chong, an American student who is currently studying at Peking University.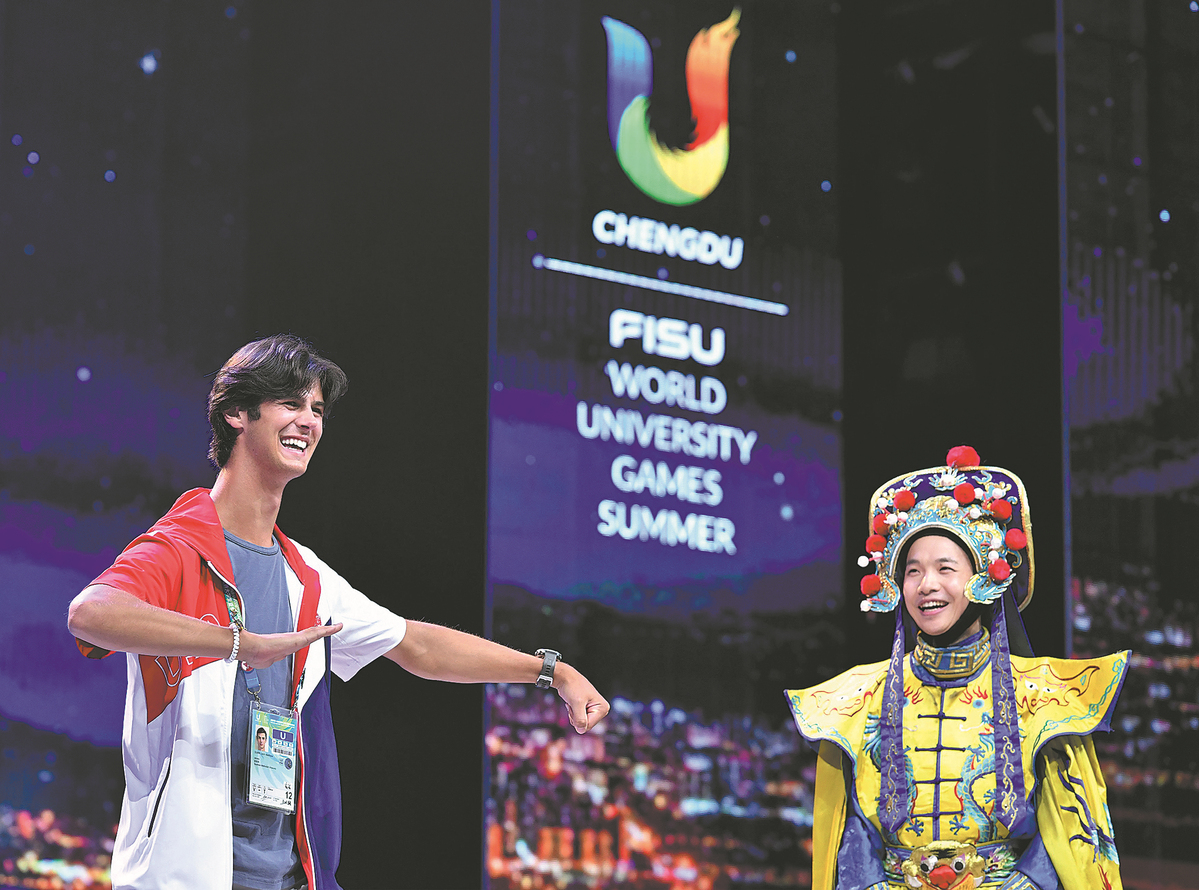 US athlete Jack Matthew Dunn matches steps with a Sichuan Opera performer during the athletes' gala at the 31st Chengdu FISU World University Games in July in Sichuan province. ZHANG DUAN/XINHUA
Maurice Chong, a 20-year-old student from the United States, who is now studying at Peking University, is one of those who believes that more exchanges and collaboration between the two peoples of China and the US in various sectors will yield great tangible benefits.
At the 19th Asian Games in Hangzhou last month, Chong and his team, using AI technologies, made a splash at the venues, offering convenience to audiences at the site and viewers in front of screens.
For a large-scale sporting event that had multiple matches of a particular sport being played at the same time, it was a daunting task to ensure that sports commentating services were available simultaneously for all matches.
Guided by Peking University faculty members including Professor Huang Tiejun, Chong's team helped address this issue by introducing an AI-driven, multilingual sports commentary system using high-speed cameras and large multimodal models.
"The system captures key moments in competitions, sorts out highlights efficiently, analyzes the data and provides real-time, customized comments based on the analysis, making simultaneous sportscasting for multiples matches possible," he said.
Chong's team also built an intelligent robotic software service system that provided voice-commanded navigation and assistance to the visually impaired during the Asian Games.
He said that young people from both China and the US are smart and diligent enough to make miracles happen and their joint efforts have paid off.
"I hope to apply what I have learned in practice and contribute to building a bridge of mutual learning and appreciation between the US and China, and be a young messenger to promote mutual trust between the two nations," Chong said.
Observers said there is great potential to be tapped through youth exchanges and subnational friendships, and both sides should look more at their common ground rather than the differences.
"Cultural and people-to-people exchanges have always been a vital component of China-US relations and a source of driving force for the growth of the relations," Foreign Ministry spokeswoman Mao Ning said on Monday at a news conference.
Nell Chennault Calloway, CEO of the Chennault Aviation and Military Museum, told China Daily that she was once asked what the difference is between the American dream and the Chinese dream.
"There is no difference in our dreams. There is no difference if you ask anybody in the world what their dream is — most of the time the answer would be to live in peace, and to raise their family, and to give their future generations a better life," she said.
"If we would work toward those common goals of making a better world for our future generations, then we would find that we have much, much more that makes us alive than the differences that sometimes we look at," she added.
She stressed that the relationship between China and the US "is the most important relationship in our world today. If that does not work out good, the whole world loses."
"Everybody looks to us," she added. "We are that example now. So that's why it's so important that we get the story right."
Source:
China Daily
Written by:
Zhang Yunbi