[70 years on] Xu Guangxian: Father of Chinese rare-earth metal
Dec 31, 2019
Editor's Note:
This story is part of a series of articles celebrating the 70th anniversary of the founding of the People's Republic of China. Each article shines the spotlight on one PKUer who has made remarkable contributions to China's recent development, highlighting not only the importance of their individual accomplishments, but also the significant impact Peking University has had on China's development over the past 70 years.
Peking University, Dec. 27, 2019:
Ever since the founding of People's Republic of China, the country spared no efforts to become a sovereignty of independence, either politically, economically or technologically. Among all those advancements that helped China reaching this goal, there's one chemistry achievement in the field of rare-earth resources which reshuffled the world rare-earth market and helped China win a bigger say in the international community. Xu Guangxian is the person to thank for this advancement.

Xu Guangxian, chemist, professor of Peking University, member of Chinese Academy of Sciences, laureate of China State Science and Technology Awards (2008), HLHL (Ho Leung Ho Lee) Advancement Prize (1995) and HLHL Achievement Prize (2005). He was called "father of Chinese rare-earth metal".


Xu Guangxian
Go player who often asks why


Born in a wealthy and respectable family in Shaoxing, Zhejiang in 1920, Xu was raised to be curious and smart by his knowledgeable father Xu Yikuang. Xu Yikuang was a well-educated lawyer who worked from home, for which reason he was able to spend a lot of time with his sons and daughter. Being an excellent Go player himself, Xu Yikuang taught little Guangxian how to play Go and often challenge him with interesting questions from classic Chinese mathematics books

The Nine Chapters on the Mathematical Art

(Chinese:

九章算术) and Sunzi Suanjing (Chinese: 孙子算经

). These interesting brainteasers to a large extent trained little Guangxian's logical thinking and kindled his curiosity for the marvelous world around him. "The boy who asks weird questions like why stars shine and how many hairs do we have", grownups in town described little Guangxian like this.

Not only did young Guangxian adore Go and mathematics, he also found himself amazed by the fascinating way of hundreds of Chinese herbs arranged in numerous small labeled drawers at local traditional Chinese herb shop. "Those drawers seemed so interesting to me that I thought I should have some drawers inside my head to arrange things I learn from teachers as well."

The guidance given by his father and inspiration from his own observation during Xu's early upbringing equipped him with passion for sciences, important academic qualities, critical thinking skills, and valuable personalities such as perseverance for his later life.
"Life is full of opportunities, but you need to be prepared to grasp them."

At Hangzhou Advanced Affiliated Vocational School of Zhejiang University, Xu studied civil engineering with many textbooks written in English, laying a good foundation for his future study.

Upon graduation, just as Xu was ready to head for a job awaiting him in southeast China where he needed to travel from Shanghai to head to, he lost his travel money to a fraud. Xu had no choice but to stay in Shanghai where he could turn to his elder brother for help. He got a part-time job at night and managed to get enrolled in Shanghai Jiao Tong University (SJTU) during the day. At SJTU, he majored in chemistry and got a scholarship for his outstanding grades, successfully transforming his job-losing as a misfortune to a favorable turn of his life. There, he also met his love of life Gao Xiaoxia.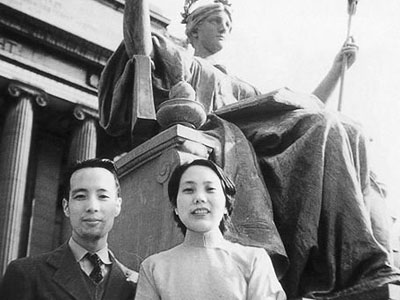 Xu Guangxian and Gao Xiaoxia at
Columbia
University in 1949
Later in 1947, Xu passed the Nationalist government's national examination for study abroad and earned the official status as self-sponsored student to further his study in the U.S. At Columbia University, Xu studied quantum chemistry under the supervision of C.D.Beckmann. Not only did he earn the University Assistantship at Columbia University because of his outstanding performance but also, he was elected a member of Phi Lamda Upsilon, the National Honorary Chemical Society (PLU) in 1949 prior to his completion of master's degree. In the same year, the newly married couple, Xu and Gao, managed to borrow enough money to get the wife to U.S for her master's study. In 1951, Xu was elected a member of Sigma Xi honorary societies and earned his PhD with dissertation Theory of optical rotatory power within a short two year. Interestingly, Xu was told in the beginning not to choose the thesis topic because it was a hot potato unfinished by precious PhD candidate. Perseverant as he were, Xu accepted the challenge and again turned it into a favorable proof of his academic ability. "The fact that others couldn't solve this doesn't have to mean I can't. I believe I can do it."

"Far too often, in the middle of difficulty lies opportunity. Had my travel expense not been stolen, I wouldn't have had the opportunity to study in SJTU and further my study afterwards but become an ordinary railway engineer instead." Misfortune might be blessings in disguise, "but you need to work hard and got prepared to grasp them." Xu held this belief and were happy to embrace challenges throughout his life. Were it not for this attitude as well as his solid academic background, Xu might also not able to change his field of studies several times for the interest of the country and eventually discover the important theory that reshuffle the whole rare-earth market decades later.
The mother land calls

In the same year Xu earned his PhD, Gao Xiaoxia got her master's degree as well. Xu's academic advisor C.D.Beckmann offered him a lecturer position at Columbia University asking him to stay. Meanwhile, Gao started her PhD research. Just as a promising future in U.S. started to unfold in front of the couple, they decided to return to China before U.S. government pass an act forbidding Chinese students to leave. "Science knows no borders, but scholars have their own country. Under no circumstances can we stay in a country who fights against our own motherland." That what the couple's reason of giving up a much easier life in the U.S.

In 1951, taking the same ship
General W. H. Gordon which
took
him
to U.S, Xu went back to China. If any different, this time he was accompanied by his beloved wife and warmly welcomed by delegation waving red flags of the newly founded People's Republic of China on the shore in Guangzhou.


After his return, Xu was motivated to devote himself to wherever the country needed him to go, contributing to China's development as a science force. At first, he accepted the then Dean of Department of Chemistry Zeng Zhaolun's invitation to join PKU. He started with teaching his main field of study-quantum chemistry at the Department of Chemistry of PKU as associate professor. But China at that time lacked financial resources and conditions to support theoretical studies like quantum chemistry. Meanwhile, Xu also faced the pressure of instructing undergraduate students, most of whom were not capable to do theoretical chemistry researches, to design and complete their thesis. Thus, Xu made the decision to shift his study focus from his profession to experimental studies coordination chemistry which met China's conditions at that time. Just as he started to enjoy and prepared to delve into the field of coordination chemistry, having noticed Xu's achievements in his field and his strong chemistry and mathematics background, the then Director of China Institute of Atomic Energy Qian Sanqiang, on behalf of the country, appointed Xu to study the chemistry of nuclear fuels for China'

s new nuclear industry. Xu accepted the task and decided to focus on nuclear fuels extraction which has some relation to his previous studies and could also contribute to nuclear industry. Xu proposed a new classification of extraction systems. Based on correct classification, he studied a series of different extraction systems in depth, clarified the extraction mechanism of many typical systems, and achieved several general rules about extraction processes. He also studied a series of synergistic extraction processes, and found a few regularities, which could be applied to predict and elucidate synergistic extraction phenomena. His classification is now extensively used in solvent extraction chemistry.

"Of course, I would rather keep doing what I'm best at instead of moving into a new field which will of course be challenging at the beginning. But if that's what my country needs me to, I'll definitely follow the direction." Xu said.

Willing to embrace challenges and keep pushing his own academic boundaries, Xu made outstanding achievements in every field he entered with his diligence and perseverance.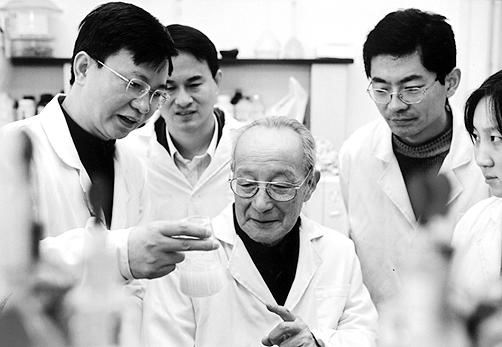 Xu Guangxian at PKU's Laboratory of Rare Earth
"His words were as clear as water"

Not only did he devoted to academic studies, Xu also think highly of teaching. "It is a teacher's duty to both do researches and deliver good lectures." Xu believed. From aforementioned courses quantum chemistry, structure of matter etc., Professor Xu devoted himself to guiding young students on the road of chemistry study.

In terms of teaching, Professor Xu attached great importance to high-quality textbooks. For the two courses Xu lectured, Structure of Matter and Introduction to Nuclear Physics, which was totally new in China at that time, he drafted textbook for himself from scratch. During his writing, Xu always push himself to think like his readers. His Structure of Matter won the grand prize of Outstanding National Higher Education Textbook category by the Chinese Government in 1988 and remains the only chemistry textbook that has won the award even today.

Xu's teaching was welcomed by students for decades not only because of his detailed and patient lecturing style, but also because he integrated teaching with researches all the time. And when his research team found they lack some rare-earth metal knowledge during their research, Xu collected their doubts and complied them into handouts for the team to study for the sake of research. Teaching and researches compensating each other all the time is definitely a reason for his outstanding teaching career.

One feature of Professor Xu's style of supervising students was that he encouraged students to freely explore and find their own interest and potential. Quantum chemist Li Lemin was an example. He originally studied extraction chemistry but was encouraged to shift to theoretical studies when Professor Xu noticed his interest in it. Years later, Li made achievements in the electronic structure of rare earth compounds and proposed a method of defining atoms and atomic orbitals in molecules and an inductive self-consistent method of directly obtaining vibration constants using spectral data.

Another feature of Professor Xu's training style is that he was very willing to promote students even sometimes it means giving opportunities to students and himself stepping aside. For many times, Professor Xu gave his opportunities to attend international conference to his students for them to exchange with international researchers.

Over that past years, Professor Xu has instructed almost a hundred master and PhD students. Among them, there are four members of CAS-quantum chemist Li Lemin, photoelectronic materials expert Huang Chunhui, inorganic chemist Gao Song, heavy rare earth extraction chemist Yan Chunhua, as well as founder of microemulsion extraction method Professor Wu Jinguang. "China would remain stagnant if students can't surpass their professors." Xu was happy to see his students' achievements.

Reshuffle rare-earth market

In 1972, Xu received an important mission from the government - separating praseodymium (Pr) and neodymium (Nd), two of the most inseparable elements.

At that time, China was a low-end resource exporter who didn't master any technology that can process and produce high purity rare-earth metals. Chinese government and companies had to import fine-processed rare-earth metals with much higher price - usually dozens or hundreds of times the price they export raw material to foreign companies. By studying the separation of praseodymium (Pr) and neodymium (Nd), China could break the dominance and meet its need for high quality rare-earth resources by ourselves. Xu changed his focus of study again without a second thought.

Separating Pr and Nd was not easy. Most producers at that time were still using the traditional ion exchange method, which was time-consuming and costly. Xu followed the traditional and most-adopted way as well. But in the meantime, he decided to find a new method that can enable systematic extraction. During the day, he shook separatory funnels and record data with fellow researchers and students. At night, he read papers and worked hard to understand the rules behind the data they got. Finally, a theory called "push and pull system" which "proved to be a failure" by U.S scientists gained Xu's attention. He tried to figure out the reasons why the theory didn't work out and managed to build "countercurrent extraction theory" based on their failure.

Xu's theory increased the purity of rare earth metals to 99.99% and separation factor between Pr and Nd from less than 2 to 4. But Xu didn't stop there. Xu and his team continued their study. They came out with a model to simulate the tedious "funnel shaking" process. The method can calculate optimized parameters through computer programing – reducing time cost of the process from at least 100 days to within one week. This "One-step Enlargement Expert System" helped realize large-scale production of high purity rare-earth metals in factories.

With this model being widely adopted in Chinese factories, China quickly occupied 90% share of the total world production of high purity rare-earth metals by 1995.


Chinese President Xi Jinping (left) and Xu Guangxian (right)
The Darby and Joan in China's chemistry field

For decades, Xu had made achievements in every field he entered-either in basic or applied researches. "I couldn't make the shift so smoothly from theoretical chemistry to experimental studies without the support of my wife Gao Xiaoxia." Xu said humbly.

Gao Xiaoxia, Xu's classmate at SJTU and love of his life, was also a renowned chemist and member of CAS. Gao's research emphasis was analytical chemistry. Her contributions to the field, particularly the development of microanalytical techniques in polarography, were instrumental in supporting the research and production of rare earths.

The couple shared similar study experience, same passion for sciences and love for the country while they compensate each other's studies with their own works. Back in the time when Xu's strived to make breakthroughs in coordination chemistry, one possible path Xu found was to increase sensitivity of analytical measurement. Gao happened to be an expert in the field. They exchanged ideas and made a new polarograph for Xu's study. The new polarograph was 500 times more sensitive than they used to have in the lab, which largely contributed to Xu's finding of the coordination equilibrium constants of alkali metals and alkaline earth metals and some anions.

In 1980, the couple were both nominated as member of CAS and gained a reputation of "Darby and Joan in China's science field".

Xu Guangxian and Gao Xiaoxia at Peking University

"Diligence + talent + opportunities =success"

Looking back Xu's fruitful life, his academic achievements gained him National Science Congress Award (1978), National Natural Science Awards (1987, 1987), National Science and Technology Progress Awards (1991, 1999), Ho-Leung-Ho-Lee (HLHL) Foundation Science Progress Award (1994) and the HLHL Science Achievement Award (2005) which is the most well-known non-governmental award in China for its high standards, wide range of academic field covered, strict evaluation process, emphasis on post-award effects, and continuous reforms. In 2008, he was awarded the State Top Scientific and Technological Awards (2008). "I think success is made up of 50% diligence, 20% talent and 30% opportunities." Xu said. "I would say I'm only a person with average talent, but I'll give myself 9 out of 10. If youngsters can work as hard as or even harder than me, I'm sure they'll success."

With his devotion to chemistry and rare earths studies, Xu's contributed to the huge transformation of China from a newly born country to a technologically power. With his dedication to Chemistry education in China, he also offers to enlarge his contribution to the nation through hundreds of students in different circles of life. Xu Guangxian is without doubt a well-deserved hero on china's course of modernization.

Written by: Huang Yadan
Edited by:
Zhang Jiang