Peking University, May 15, 2020:
Rwanda, also known as "the land of a thousand hills", is a landlocked country in East Africa. The nickname is derived from its mountain dominated topography. Since the global outbreak of COVID-19, the African nation, which has a population of 12 million, has been inundated with a slew of new pressure. As of May 13, the Rwandan Ministry of Health has confirmed 287 cases of COVID-19 in Rwanda.

Zhu Ruizhi, a Ph.D. candidate in Theoretical Economics (National Development) from the National School of Development at Peking University, made the decision to head to Rwanda and engage in refugee protection in April of 2019 as a UN Junior Professional Officer (JPO), which was a memorable opportunity offered by the United Nations High Commissioner for Refugees (UNHCR). With experience in refugee protection and a background in interdisciplinary research, Zhu managed to bring her observation of China's response to COVID-19 to Africa.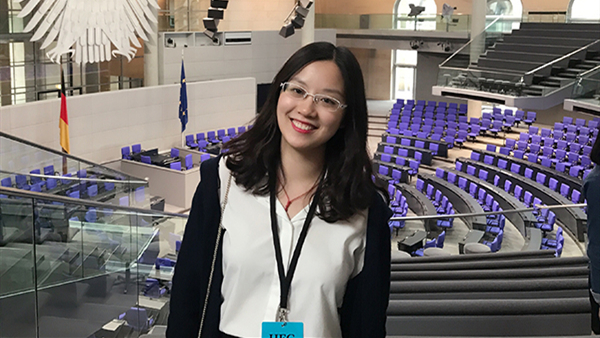 At undergraduate level, Zhu majored in PPE (Philosophy, Politics, and Economics) at Yuanpei College of Peking University. She has shown how a multi-disciplined background can empower her to think empathetically and pragmatically about social issues. Zhu's research in pedagogy and economics during her masters and now in her doctorate have provided her with the tools needed to investigate the accumulation of human capital and the development of nations from a perspective of educational equity.

Despite the potential risks of the pandemic, Zhu, who was on holidays in China earlier this year, decided to return to Rwanda and lend her hands in refugee support work and the fight against COVID-19. Her decision was made after thorough consideration and driven by responsibilities in humanitarian work.

In addition to her routines like maintaining refugee protection services, Zhu was also engaged in the prevention and control of COVID-19 as soon as she returned to work. "Refugee communities are like huge families, and their demands, no matter how big or small, have to be given our attention," Zhu said.

Zhu and her team worked day and night to provide the best support possible to the refugees residing in the community. Their duties spanned from the provision of food, nutritional supplements, and utilities such as electricity connection and water, to helping with newborn baby registrations, the elderly's access to medical treatment, to name but a few. Amid the pandemic, maintaining a steady supply of clean water, distributing necessities while avoiding large gatherings, and ensuring the safety of residents and volunteers in the face of supply shortages all presented great hurdles for Zhu and her team.

After going through the COVID-19 outbreak in China, Zhu realized the importance of washing hands frequently. To begin with, Zhu and her team were eager to figure out why many members of the refugee community failed to form the habit of hand washing, and they even formulated some hypotheses. Was it due to a lack of access to running water? Broken taps? Residents didn't believe the water to be clean enough?

Effective improvements couldn't be made without first carrying out a proper field survey and research. Zhu and her team went door to door to learn more about water usage among the refugee community and to promote the importance of hand washing. The preventive measures paid off. Before the first local case of COVID-19 was reported, they had managed to share recommendations on public washrooms, bathrooms, and the community's water supply system to partner concerned to rehabilitate.

Keeping public washrooms clean posed a challenge to the team, especially amid the pandemic. While carrying out their duties, Zhu and her team surprisingly found that one of the communities always managed to keep their public washrooms clean. Afterwards, they found out that the community had assigned only three households per cubicle who had full responsibility for their assigned toilets, rather than having 10 households all share the entire toilet block. In this regard, it is fair to say that drawing upon valuable experience from community practices is essential.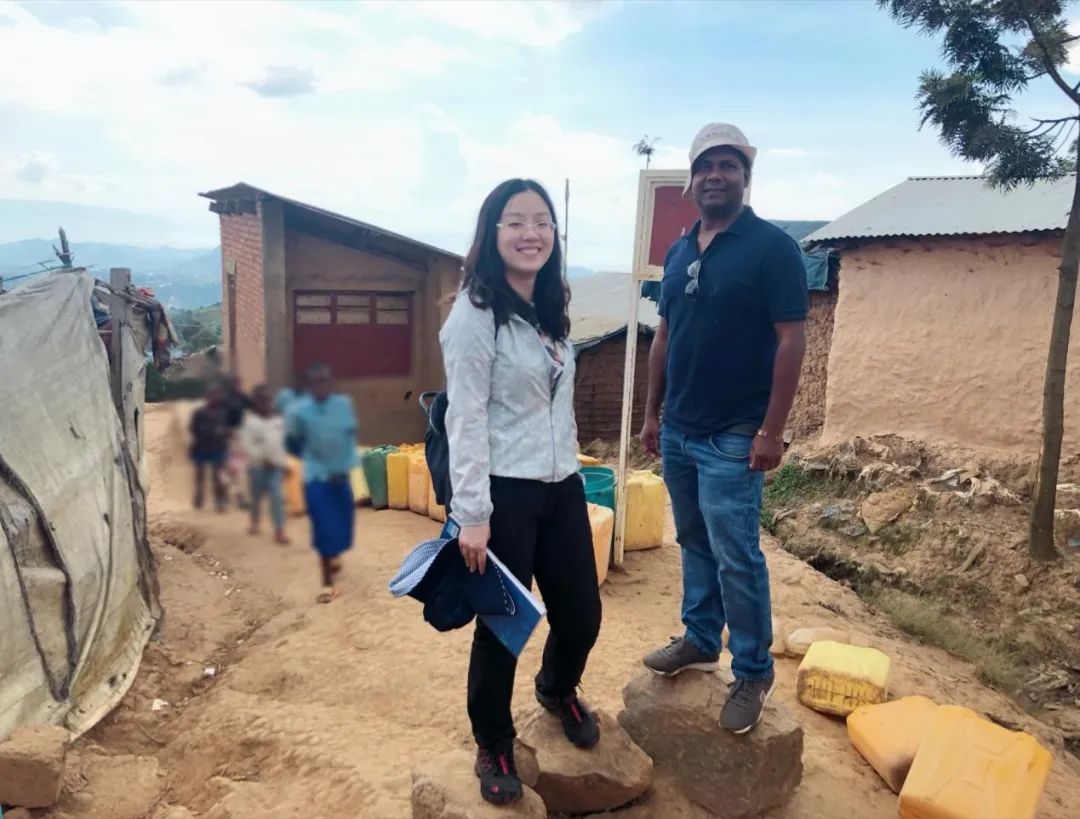 Zhu Ruizhi in a Rwandan refugee community
When Zhu returned to Rwanda from China and started her 14-day quarantine, many colleagues sent her emails and text messages with positive responses to China's handling of the outbreak. Among these messages were also regards and wishes addressed to Zhu and her family in China and also to all Chinese citizens. She was deeply moved by the messages. "Despite a variety of opinions, China's efforts in controlling the disease did not go unseen in the international community," Zhu said. Her colleagues in Rwanda made efforts to debunk any groundless rumors about China. They also worked hard to understand China's current situation and the preventive measures China had taken in its attempt to control COVID-19. Zhu expressed her gratification towards the international joint actions in adopting scientific and pragmatic approaches in its response to the viral outbreak.

As soon as Rwanda saw its first case of COVID-19, the government imposed a series of measures to control its spread. Due to restrictions on transportation, going out to purchase supplies and entering the refugee community became even more difficult. In order to ensure residents' access to resources, the team had to carefully plan out their purchases and ration their supplies. The team also had to develop an effective communication system so as to ensure the refugees' access to the latest information regarding the status of the potential outbreak. With China's experience in implementing such measures, Zhu and the team established an online communication platform with 127 community workers, volunteers, and leaders, on which they could constantly distribute updated information to the community including the latest news from the government, especially from the Ministry of Health. The members were also instructed to promote hygiene and cleanliness among the refugee communities. Although the face-to-face communication had been affected, they maintained frequent online communication, keeping all members of the team involved and unified.

During her time in Rwanda, Zhu hardly felt burnt out. The smiling faces of the residents never failed to keep her going; the encouragement she received from her colleagues, and the support from her home country thousands of miles away, coupled with warm Rwandan nights, kept motivating her to dedicate herself in Rwanda. As the only Chinese team member, Zhu realized that there were many opportunities for young Chinese people to get involved in international organizations, especially on the frontlines of developing countries.


Facing this global pandemic, no man or country is an island. Zhu believes that every country has their own ways to combat the pandemic and she sincerely hopes that the world is able to stand united and continue to selflessly share new scientific knowledge in the fight against COVID-19. Zhu is also gratified to know that many students from Peking University are now serving in their own communities. "This sense of social responsibility will always course through the veins of every PKUer. We will always uphold these values no matter where we end up," Zhu said.

The virus knows no borders. The world is in a community with a shared future. The students of PKU have embodied this unity as they reach out across the globe. Through helping a refugee community in Rwanda amid the pandemic, Zhu, who was recently bestowed with "Peking University May Fourth Medal", the highest honor for PKU students, has shown us first hand that China is willing and ready to contribute to the global battle against COVID-19 in the face of adversity.

Edited by:
Zhang Jiang, Jacob Tomkins, Huang Weijian