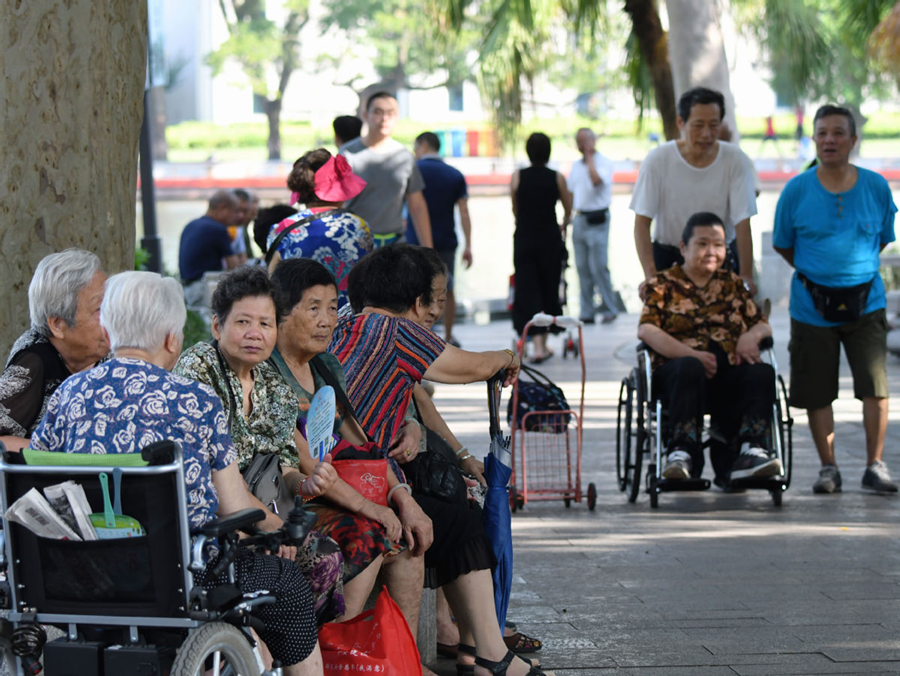 Senior visitors gather at a park in Fuzhou, Fujian province, in this file photo. [Photo/Xinhua]
Editor's note:
China's population has been ageing at an unprecedented rate as baby boomers have stepped into their retirement. China, which is home to a fifth of the world's older population, is now the country with the greatest ageing population in the world. Healthy ageing is hence imperative for China to alleviate possible economic and social challenges that could arise due to the rapidly increasing ageing population. The path to healthy ageing poses the key to transforming an increasing population of elders into an asset for the society.
Peking University, December 7, 2022:
Recently, a launch event was held in Chengze Garden, Peking University, for "
The Path to Healthy Ageing in China: A Peking University-Lancet Commission
." The commission was sponsored by Peking University and
The Lancet
and was undertaken by PKU National School of Development and the project team of China Health and Retirement Longitudinal Study (CHARLS). In the Peking University-Lancet Commission, an academic team made up of 30 scholars who specialize in various sectors from economics to public health, explored China's plan in healthy ageing and underscored challenges within government initiatives as they reflected upon past experiences.
Zhao Yaohui, chair of the Commission and a Professor of Economics in the China Centre for Economic Research at Peking University's National School of Development, spoke with
The Lancet
about the Commission, providing readers' with an in-depth review on the path to healthy ageing in China. The interview was edited for
length
and
clarity
.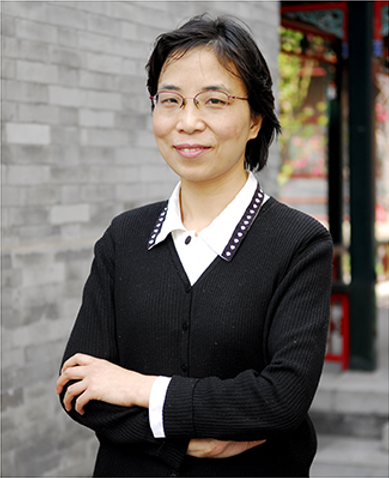 Prof. Zhao Yaohui
Q&A with Prof. Zhao Yaohui
Q:
Could you briefly share about the background context of this major report, as well as details regarding the team's formation?
Zhao:
As the lifespan of people continuously lengthens while fertility rate declines, the world's population is rapidly ageing. This exacerbates the potential problems stemming from China's ageing population. The disparity between the sizes of different age groups has become tremendous and it is now becoming an increasingly pressing issue as the older population aged 60 and above expands, especially since the population of elderly aged 80 and older are expected to climb exponentially to approximately 16 times in 2050 as compared to 1990.
The Chinese government has placed great emphasis on this issue, actively devising national strategic plans to counter it. However, ageing population is a complex and interdisciplinary problem that requires extensive research to be first carried out in order to construct policies. Hence, we have created a committee of highly-skilled experts, ranging from specialists in public health sectors to distinguished economists and clinicians. The formulation of the report was not an easy feat and we had to overcome countless difficulties across the span of four years. Thankfully, we have bore the fruits of our labour and finally published this journal.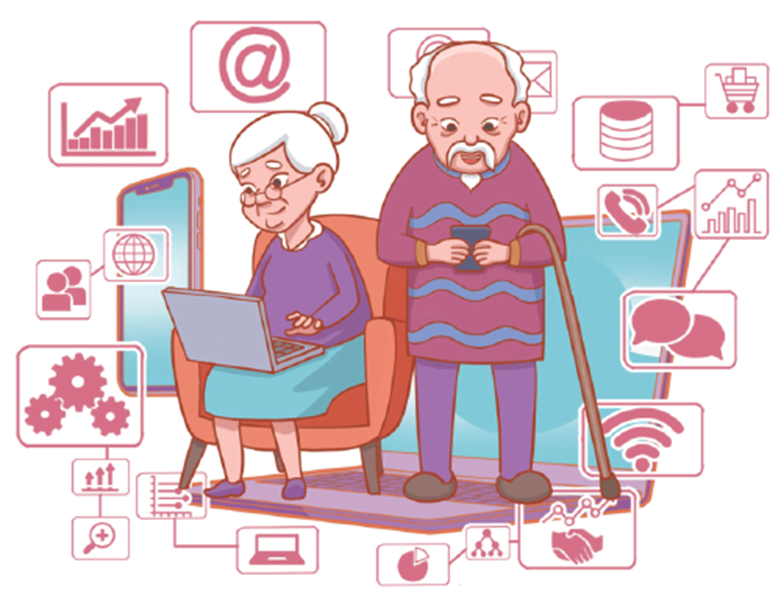 JIN DING/CHINA DAILY
Q:
What are the transformations and challenges posed by the ageing population for China and the world? Are there any specific content and suggestions in the report which readers should pay greater attention to?
Zhao:
An ageing population means that the proportion of older people are rising. If the retirement age remains constant, the ratio of retiree populations to worker populations is bound to rise, causing a greater number of people to be benefiting from the long-term care insurance system as compared to a smaller group of working-age population contributing to the system. This imbalance in proportion results in fiscal pressures in social pension programs, with incurred deficits possibly affecting the government's fiscal systems and engendering economic crises. There is an underlying relation between an ageing population and the debts of a nation - currently many countries are simultaneously coping with grim challenges in both areas. Additionally, the increase of the old-age dependency ratio also adds massive instrumental care burden to families and societies, heightening the living pressure faced by everyone.
In our report, we posit that the aforementioned concerns due to an ageing population can be evaded with a given plan. As long as we approach the situation optimistically, ageing populations can become opportunities instead of burdens. Through healthy ageing, there is an abundance of possibilities in transforming the role of elderly from consumers to producers of the economy, allowing them to become contributors instead of "burdens" to society. We did a comprehensive evaluation of the health status of the older Chinese people, examining the determinants of their health status and the effects of these harmful factors. After reviewing and analyzing the Chinese government's policy initiatives in promoting health and care for older people, we have devised a series of policy recommendations.
Our recommendations include: addressing the importance of socio-economic and behavioural factors on health, diminishing the chasms in health status between different genders and across rural-urban regions; moving from disease-centered to person-centered care within healthcare services; expanding health care for older patients through initiating change in the regulation of the healthcare sector; independently and nationally administering long-term care insurance system; improving regulatory framework for institution-based care services; implementing renovations in making home and community environments more age-friendly; raising the retirement age of women to be equal to that of men.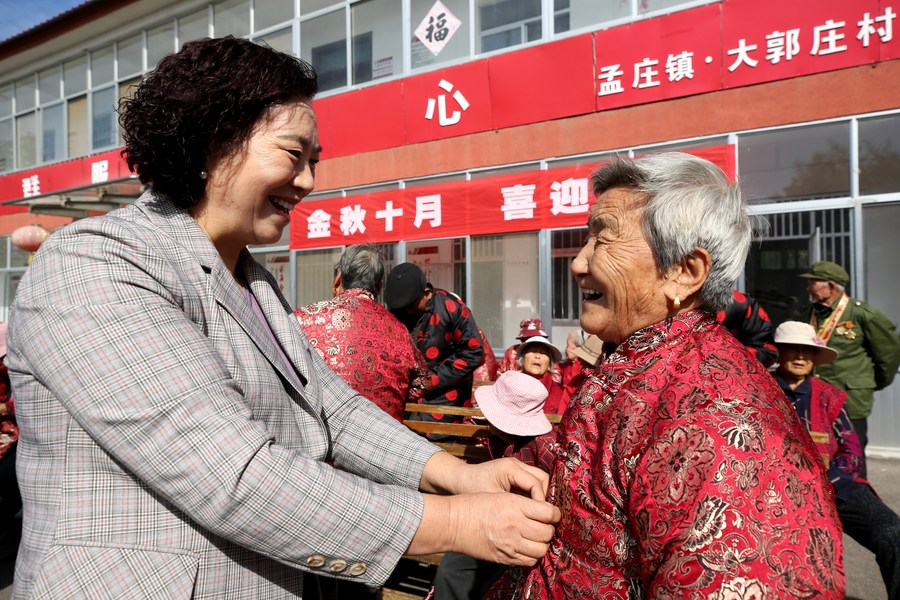 An elderly woman (R) tries on new clothes in Daguozhuang Village of Zaozhuang, east China's Shandong Province, Oct. 12, 2021. (Photo by Sun Zhongzhe/Xinhua)
Q:
To quote the report "Healthy ageing will not only enable older people to enjoy their later life to the fullest, but also has the potential to unleash the intellectual and vocational capacities of society as a whole", could you share more about this viewpoint with the readers?
Zhao:
Ever since the old days, age has always been a symbolization of wisdom. Through a lifetime of accumulation of knowledge and skills, older people have higher IQ and EQ. Coupled with stronger socializing skills and leadership abilities, they can be more capable of helping others. Science has proven that people's health can be changed by improving factors such as environment, nutrition, behaviour etc. We have always believed that as long as the elderly maintained a healthy physical, psychological and cognitive state, they would be able to sustain a physical state similar to the middle-aged and hence can contribute to their families and society without becoming a burden. However, in reality, there exists many elderly who are physically-able and willing to work, but are unable to do so due to the restrictions of retirement policies. Many studies has proven the need to dispel the view that if the elderly do not retire, the employment rate of the younger population will be affected. The older and younger generation have a complementary relationship and not one that is mutually-exclusive.
Written by:
Zhang Ying
Edited by:
Rose Li
Source:
The Lancet
, PKU News (Chinese)