Peking University, January 6, 2022:
On December 19, 2021, the 7th Asia-Pacific Conference of Interventional Oncology (APCIO 2021) and the 8th Tumor Minimally Invasive Interventional Therapy and Targeted Therapy International Forum, was successfully concluded in Beijing. The three-day online conference was hosted by the department of interventional treatment of Peking University Cancer Hospital (PKUCH).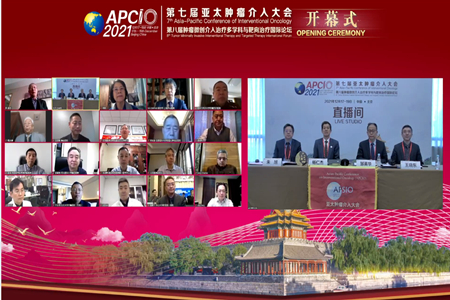 The theme of the conference was Minimally IO & MDT. More than 30 overseas experts and nearly 200 domestic specialists in oncology, surgery, imaging, and radiology shared their experience and held discussions online. The conference included ten keynote speeches in English and 35 keynote speeches and luncheons in Chinese. There were over 1000 viewers from home and abroad, with 20,000 hits and a total viewing time of more than 1700 hours during the conference sessions. The conference promoted international exchanges, expanded the vision of diagnosis and treatment, and enhanced knowledge and skills. Besides, it also devoted to training disciplinary talents. An English speech contest was especially held for young interventional oncologists to demonstrate their demeanor.
PKUCH Professor Yang Renjie, chairman of the Asia-Pacific Association of Interventional Oncology, reviewed the history of the association, expressed gratitude to the previous chairmen, and presented them with association contribution awards.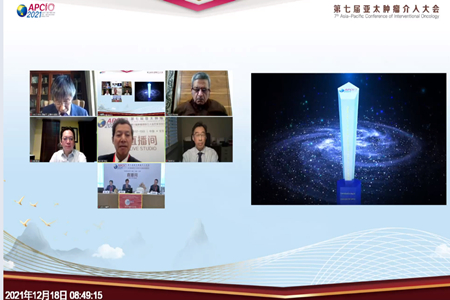 PKUCH Professor Yang Renjie presents association contribution awards to previous conference chairmen and supporters: Professor Sanjiv Sharma (upper right) from India Institute of Medical Sciences, Professor David Lu (lower right) from University of California, Los Angeles, and Professor Alex Tang (lower left) from Malaysia Subang Medical Center.
On the last day of the conference, Professor Yang Renjie completed the handover ceremony online and Shanghai will be the host city of the next APCIO.
Written by: Lang Lang
Edited by: Ye Yimeng