Peking University, September 29, 2022: The final of the 5th "Blooming Cup" Contest for 5G Application in Health Care, jointly sponsored by China Academy of Information Communication Technology (CAICT) and China Mobile Communication Group Co., Ltd., was held in Beijing

on September 14, 2022

. A total of 1,299 items participated in this event specially designed for health care. The project "Application of 5G+Integrated First Aid System meigin Pre- and Post-hospitalization during the Winter Olympic Games at Chongli Clinic of Peking University Third Hospital", which was led by Professor Ao Yingfang of Chongli Clinic of Peking University Third Hospital (PKUTH), won the first prize in the final after preliminary and second round competitions.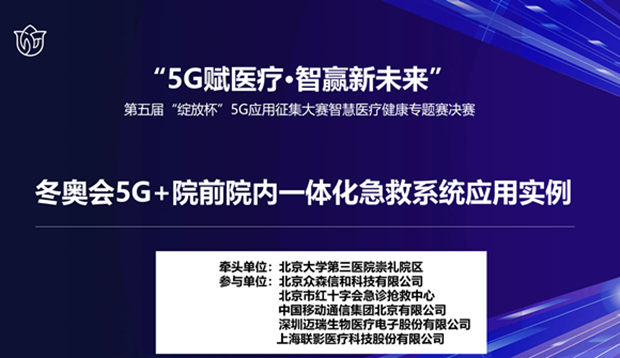 Based on 5G+Internet of Things (IoT) technology, employing medical data acquisition terminals, intelligent medical facilities and wearable information equipment independently developed by China, and directed by the command center of Chongli Clinic of PKUTH, the project has built a medical security and dispatching platform with seamless connection of pre- and post-hospitalization, ambulance and helicopter transfer for the Winter Olympic Games.
The project has successfully completed the medical security tasks of Beijing Winter Olympic Games and Winter Paralympic Games, and won the Collective Award for Outstanding Contribution to the two grand events and was highly praised by Ms. Jenny Shute, Vice Chairman of the Medical Committee of the International Ski Federation.
In the post-Olympic period, it can be extended to the construction of the regional system of "five centers" for emergency and first-aid and will play an important role in improving the service capacity of grass-roots hospitals, promoting medical reform and hierarchical diagnosis and treatment, helping public hospitals achieve high-quality development, and realizing the Healthy China strategy.
Written by: Wu Zhaoxia
Edited by: Meng Bin
Source:
Peking University Third Hospital