Dean of Yale School of Public Health Elaborates on Climate Change and Health
Apr 11, 2018
Peking University, April 11, 2018:
On the afternoon of March 23, 2018, held by PKU School of Public Health, the Public Health Lecture Room welcomed a keynote speaker from Yale School of Public Health (YSPH), Dr. Sten H. Vermund, Dean of YSPH, epidemiologist and pediatrician, who has been devoted to health promotion, reproductive health among youths, prevention of AIDS, global health and fields alike. The speech attracted over hundred teachers and students.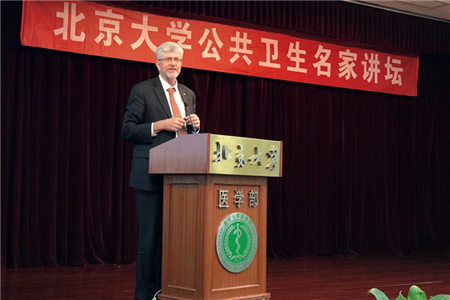 After the lecture, teachers and students present actively raised questions and received a detailed answer to each of them by Dr. Vermund. In the end, Professor Meng Qingyue, dean of School of Public Health, and Professor Chen Juan, deputy Party Secretary of School of Public health, presented the crystal plate of "Public Health Lecture Room" to Dr. Vermund.

Written by: Lang Lang
Edited by:
Liu Xin, Zhang Jiang
Source:
School of Public Health
Link:
http://bynew.bjmu.edu.cn/zhxw/2018n/195908.htm