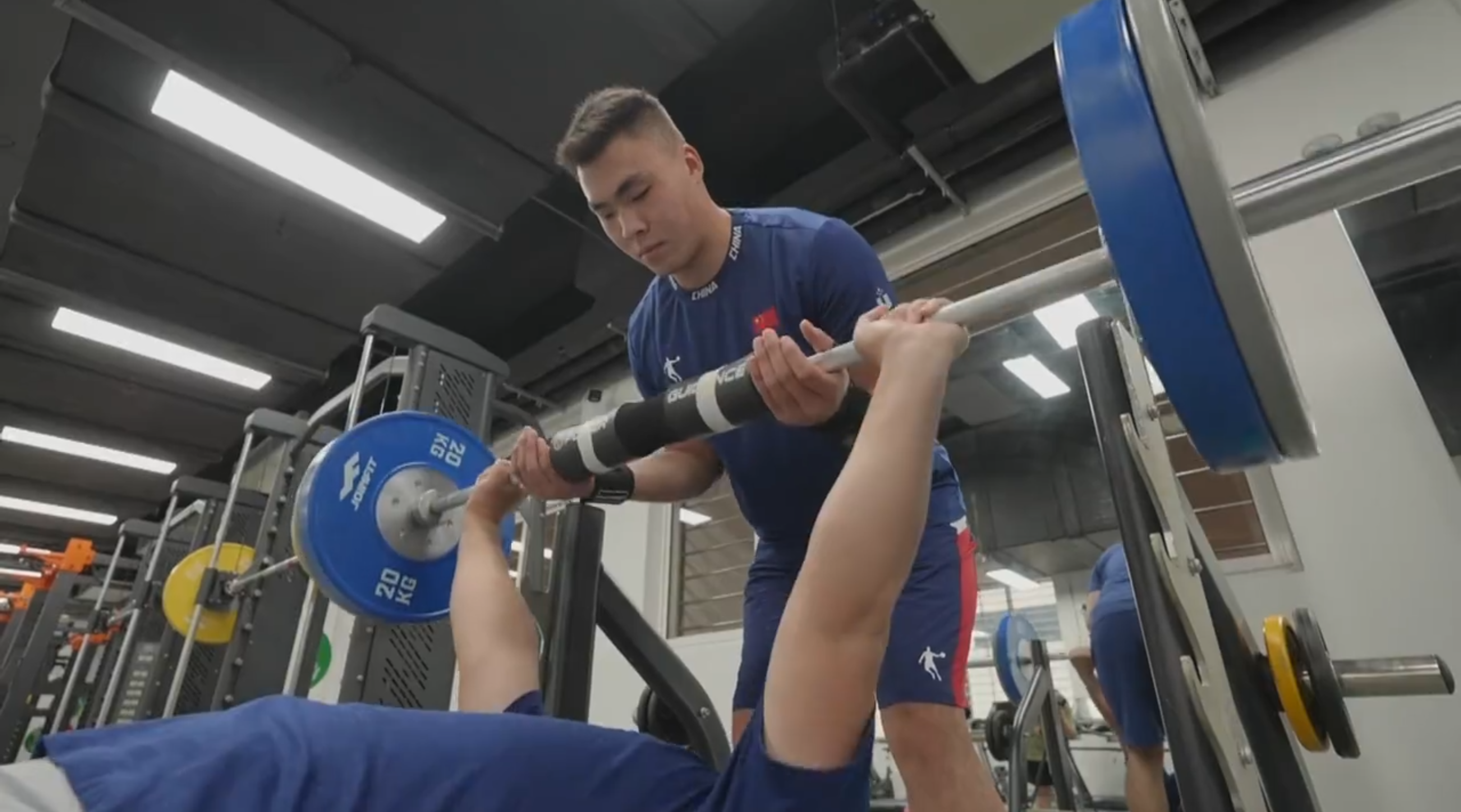 Xing Jiadong of China helps his brother Xing Jialiang during weightlifting practice in Qinhuangdao, north China's Hebei Province. /China Media Group
Peking University, August 8, 2023: As you stroll around the Universiade Village in Chengdu, it's hard to miss the Xing twins, Chinese field event athletes from Peking University.
Xing Jiadong and Xing Jialiang, twin brothers from north China's Inner Mongolia Autonomous Region, share more than just their birthdate of May 26, 2001. Born just 30 minutes apart, their shared passion for sports has only strengthened their bond.
At the Universiade, Jiadong competed in the discus throw, while Jialiang took part in the shot put. With stalwart figures and matching appearances, the twins mirror each other in nearly every aspect of life.
The same height, studying at the same university, their similarities even extend to their personalities. Speak to them, and you'll find both are introverted, often exchanging glances as if to find support in their shared shyness.
Their journey in athletics began with a bang at the 2015 National Middle School Track and Field Championships. Jiadong secured sixth place in the discus throw, while Jialiang finished fourth in the same event, catching the attention of coaches from the High School attached to Tsinghua University.
Their new life in Beijing was challenging, filled with long study hours from 7 a.m. to 3 p.m., followed by rigorous training at Beijing Sport University until 9 p.m.. Through it all, the twins remained inseparable, each one's constant cheerleader.
Their hard work finally paid off in 2020 when they were both admitted to Peking University, majoring in law and journalism, respectively. They also continued their practice in throwing events.
At the Chengdu Universiade, representing their university and country in international competition, they felt a swell of pride.
"People in Chengdu are hospitable and sweet. When we entered the gym during the opening ceremony, we felt so thrilled," Jialiang recalled.
Wednesday evening saw Jiadong take the field first, securing ninth place in the men's discus throw. Unfortunately, he missed the chance to advance to the final three rounds. His brother, Jialiang, competed in the men's shot put and finished fourth, falling short of the podium by a mere 0.04-meter margin.
"I was out of the final rounds by just one position, and he missed the opportunity to stand on the podium as well," Jiadong said, expressing some regrets.
Despite the setbacks, the brothers demonstrated remarkable mutual support and understanding during the competition.
"I believe that sport is incredibly helpful in strengthening our willpower. We've experienced both failures and successes. The journey of growth has a profound impact on our lives, far beyond our athletic career," Jialiang observed.
▼ More on PKU News' coverage of the Chengdu Universiade:
Chengdu Universiade torch relay: Stories of the seven PKU torchbearers
PKUers shine at World University Summer Games in Chengdu
Learning from a legend
Panda Rongbao 'shows up' at PKU, and he's on a mission
In pics: Chengdu Universiade torch relay starts at Peking University
FISU Games torch relay kicks off at Peking University
Profile | Ding Ning: Carrying the torch of youth
Profile | Twin brothers at PKU help each other prepare for Chengdu Universiade
Source:
Xinhua News Agency