Peking University, December 9, 2022:
After graduating from Bilkent University in Turkey with a bachelor's degree in electronics engineering, Erdi Tac pursued his master's degree in management at Peking University HSBC Business School (PHBS). Drawn to diverse opportunities, Tac, like many international alumni, has been navigating his career in China since his graduation in 2017.
A glance at Tac's background reveals that his initial interest in China stemmed from his exchange experience at the City University of Hong Kong. This fueled his curiosity about China and eventually led to his deep bond with Shenzhen. "Why does no one talk about this place, it's the future," said Tac flabbergasted, recalling several visits to Huaqiangbei, one of Shenzhen's notable retail areas, with one of the world's largest electronics markets. In the eyes of an engineering student back then, "It was like heaven."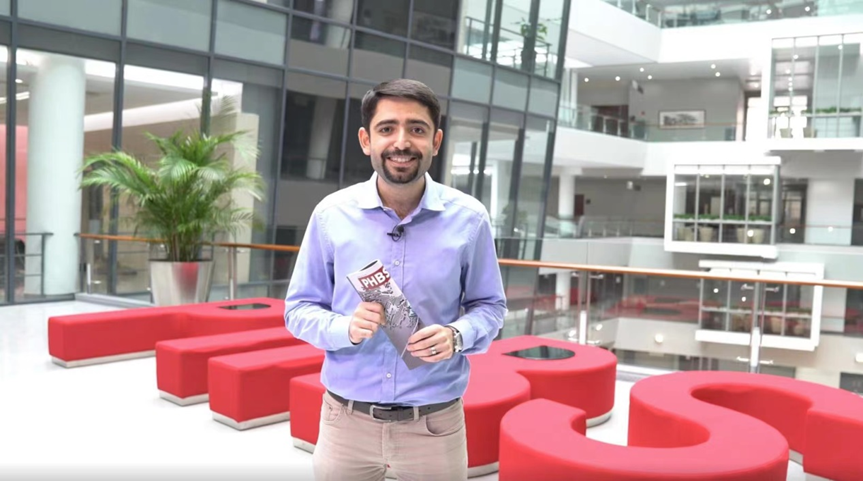 Erdi Tac attends the 15 anniversary ceremony of PHBS
Realizing that Shenzhen is like a magnet attracting global talent because of its entrepreneurial vibe, he started looking for opportunities to study there. He found that two alumni from his undergraduate university were already studying at PHBS, Peking University's young business school in South China's Shenzhen. It quickly became his top option, but coming to a place so different did require "a leap of faith."
Engineering plus management
Like most international students, Tac had always heard about how good European and American schools are, but hadn't researched what schools in Shenzhen had to offer. "It was a bit like walking the less chosen road, and the usual doubts came with it," Tac admitted. Making a shift from engineering to management in a foreign land was also a bold choice, but he saw it inevitable because his background, Shenzhen, and natural interest came together to create chemistry.
"My previous knowledge will hit the ceiling if trying to run business in the future," he noted, as his undergraduate education was more about technical skills rather than practical and theoretical training in business. Tac felt that education in management was a must for entrepreneurship and it turned out PHBS could provide a perfect setting for this — Located in China's first Special Economic Zone, and adjacent to the Asian financial hub of Hong Kong, the PHBS Shenzhen campus has a unique opportunity to leverage its location in the Greater Bay Area.
For Tac, the most important lessons he learned were actually from outside the classroom. As Shenzhen is the cradle of China's entrepreneurial companies, PHBS regularly invites entrepreneurs and business leaders from well-known Shenzhen-based companies such as Huawei, Vanke, and Tencent to provide special lectures and participate in international forums. Tac said students also had opportunities to make company visits, where they deepened their understanding of actual business practice.
Further, the management program at the school is not just confined to classroom teaching, but also focuses on teamwork. "There is almost no individual assignment; we always work as a team," Tac explained. For each assignment and class, teams were comprised of different people, which meant Tac had to work with classmates who had different working styles. He thought it was a rewarding experience, adding that "at the end of the first year, I gained the ability to work with any kind of person, because PHBS has students from all over the world and different parts of China. Imagine the diversity of cultural backgrounds."
Erdi Tac dresses up with his friends to perform at "Night On Mirror Lake" for New Year, 2015
Recalling memorable moments beyond academics, Tac said there were quite a few, for instance, partying with friends in dorms, working together on projects until the early morning, or going out on Friday nights. "Oh, I also love the new year parties, just because we all can dress up in suits, drink, and take photographs as if we were in Hollywood galas."
Fueling the dream
Many Chinese universities have internationalized their programs in recent years to attract talent from all over the world. Furthermore, various levels of government are pioneering business incubators and special economic zones. PHBS, in particular, is providing rare opportunities for young entrepreneurs via business competitions and seminars.
"I had it in mind to start my own company, but I didn't know how to do it in China. But PHBS helped me find the answer" said Tac, recalling how the school encouraged and supported his team Skynet Global to compete in the HULT Prize, the world's largest social start-up competition spearheaded by the Clinton Global Initiative in partnership with student teams from universities across the globe.
The team of four PHBS students, Erdi Tac, Xavier Lemyre, Hamza Ayub, and Jason L. Yu, won that year's first prize by putting forward a well-illustrated proof of concept and a prototype that the team developed on its own. "It was such a ride working together with a team of great friends," Tac added. "Each one of us was known to be very good at our assumed roles— a Turkish engineer, a French-Canadian economist, a Pakistani marketer, and a Chinese-Bolivian international business specialist."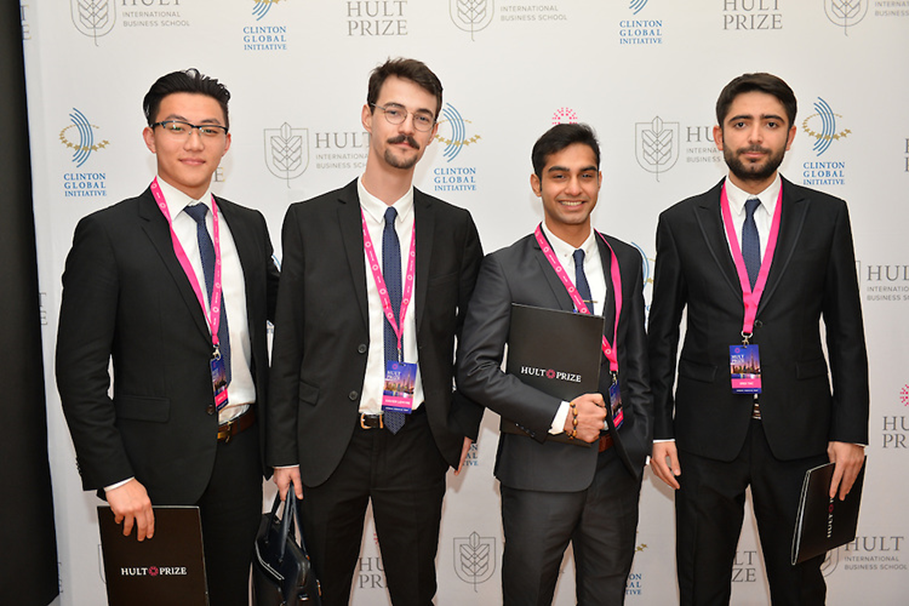 2016 Hult Prize Finals in Shangha ; from left to right, Jason L. Yu, Xavier Lemyre, Hamza Ayub, and Erdi Tac
"Three months' worth of traveling to several trade fairs, suppliers, and countless sleepless working nights were all tested in eight minutes of a well-prepared presentation. It was like putting pieces of a puzzle together," Tac recalled vividly. Though they had to work till late at night after school, on top of the student duties, he missed those moments as "every bit of it was freaking exciting and fun!"
Indeed, the cultural diversity demonstrated by team Skynet Global is on the rise in China and speaks volumes, especially about the evolution of PHBS, known for its highly competitive admission standards, and its role in the international arena of grooming the business experts and entrepreneurs of the future.
Entrepreneurship is the way to go
"I've been totally into entrepreneurship since then," Tac admitted, telling how he jumped right in even before his graduation and worked with two startups. Unlike those larger enterprises, start-ups have chaotic environments where Tac experienced the famous roller-coaster and learned very valuable lessons. However, as he recalled, "When no one knows what to do, I can almost always think of examples of similar issues I've read about and analyzed in different courses."
With a keen eye for the world's latest trends, Tac clarified his future plan: devote himself to high-barrier technology like artificial intelligence and focus on language learning. "I remained loyal to the plan for the last three years, finally mastered the technology, and found an unmet need, as well as an excellent co-founder. The result is Cathoven A.I." The start-up aims to create smart tools for language teaching apps.
The way Tac expanded his skillset did benefit him during the later waves of the COVID-19 pandemic. "With the pandemic, everything is going digital," he said, describing the education industry he's in right now. With this sudden shift away from the classroom in many parts of the globe, there has been high growth in education technology and tremendous policy changes. "We all had to adapt. Even the giants made complete strategy changes." Fortunately, being on the side of high technology, the effects Tac experienced were relatively positive. "The number of new users has been soaring every single month since then."
Representing China as the Shenzhen Hub curator, Erdi Tac attends exchange sessions with exemplary leaders and fellow shapers during the 2022 Global Shapers Community at the United Nations Office at Geneva, Switzerland
During the pandemic in 2020, Tac was also chosen to join the World Economic Forum's Global Shapers Community Shenzhen Hub, which he is leading now. It's a network of young people that comes together to drive dialogue, action and change for the world's most challenging problems. It spans over 350 cities in 170 countries and regions. Tac thought if he is building something "it should have a good impact in society and Global Shapers help you get into that shape." Recently, he joined the annual meeting with leaders from all around the world in Switzerland.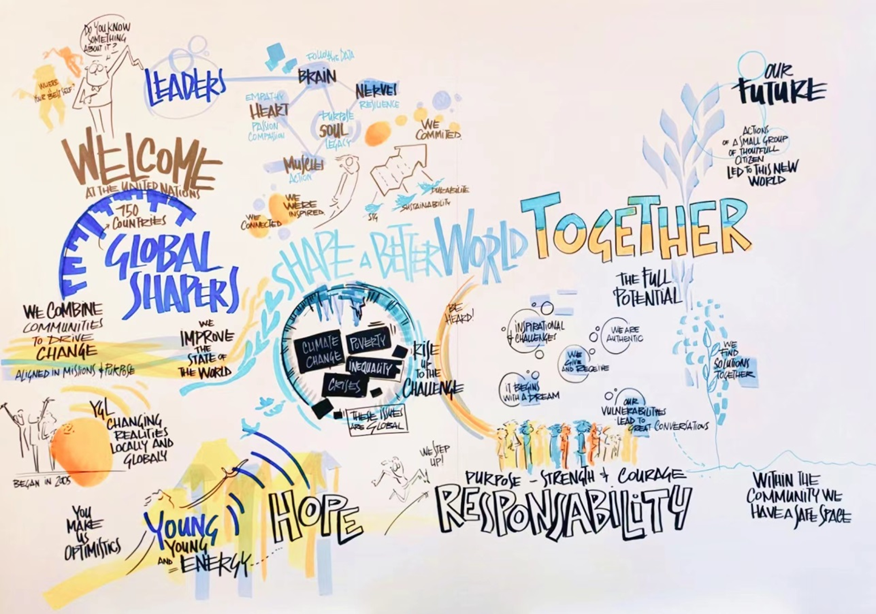 Real-time notes during the 2022 Global Shapers Summit
Looking forward to the future, Tac is well prepared for this ever-changing era: having the mindset of adapting to the situation, and moving on to the next course of action as soon as possible. "Everyone has a plan until they get punched in the face," Tac concluded, quoting the famous boxer Mike Tyson. As technology continues to shape the business landscape, Tac remains on track to leverage the entrepreneurial vibe and resources in Shenzhen, China's front-runner in tech innovation and PHBS's home.
Written by:
Annie Jin
Edited by:
Jonathan Pearson, Dennis Meng
Source:
HSBC Business School